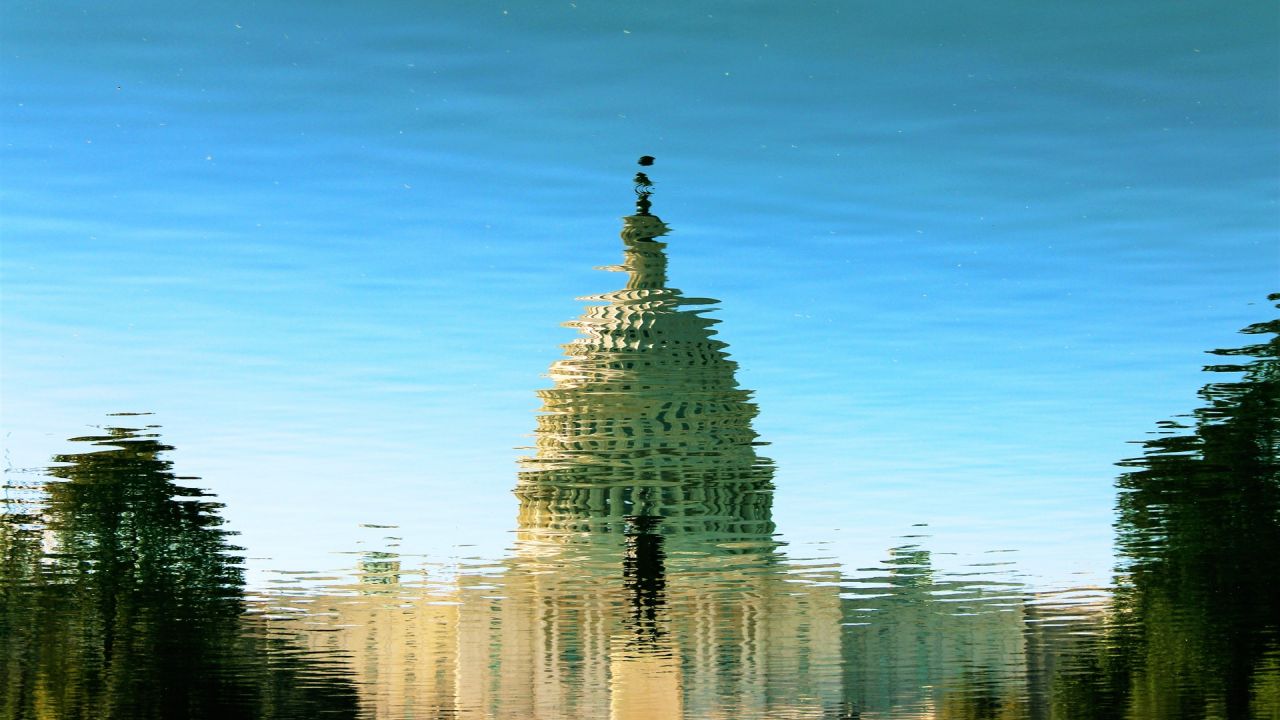 February 3, 2021
While Republican lawmakers continue to grab headlines with outrageous behavior and obstructionism, President Biden has been derailing them in the only way no one has tried yet: ignoring them and governing. Only two weeks into his administration, this approach appears to be enormously effective.
The two Republican factions continue to compete for control of the party. That struggle has been personified this week by the relative standing of new Georgia Representative Marjorie Taylor Greene and established Wyoming Representative Liz Cheney, the House Republican Conference Chair, who is the third person in the line of Republican House leadership.
In her two weeks in Congress, Greene has made the news with her support for the extremist QAnon movement, harassment of school shooting survivor David Hogg, and past support for executing Democratic politicians, among other things. After news emerged that she had agreed with a Facebook commenter that the 2018 Parkland school shooting was a "false flag" operation, Democrats were outraged that Republican leadership assigned her to the House Education and Labor Committee. They demanded House Minority Leader Kevin McCarthy strip her of committee assignments.
Meanwhile, Cheney has won the ire of pro-Trump Republicans by voting to impeach the former president for instigating the January 6 attack on the Capitol. Trump's supporters, including Representative Jim Jordan (R-OH), want to strip Cheney of her leadership role in the party, and Representative Matt Gaetz (R-FL) traveled to her home state of Wyoming to urge voters to turn her out of office. Still, some observers think the Trump faction is attacking Cheney simply to provide the kind of sound bites that will please their voters.
Today, McCarthy said he would not punish Greene for her statements, and the Republicans on the House Rules Committee said they would not strip her of committee assignments (although McCarthy stripped former Representative Steven King [R-IA] of his assignments after racist comments). Later, when the House Republicans met for the first time this session, about half of them gave Greene a standing ovation when she rose to speak.
[UPDATE: The House will vote on the issue of Greene's committee assignments.]
Thrilled at the attention she is getting, Greene told the Washington Examiner that there is no difference between establishment Republicans and the Democrats, and she is eager to bring more action-oriented people like her to Congress to help Trump with his plan, "whenever he comes out with [it.]"
And yet, at the same meeting, when party members held a secret vote on leaving Cheney in her leadership position after she voted to impeach Trump, they did so, by a vote of 145-61-1. Increasing numbers of Republicans—including Senate Minority Leader Mitch McConnell—are eager to put daylight between themselves and the Trump wing, likely because they know that the political and legal calculus has changed now that the Democrats are in power.
Biden continues to put the government on firm footing. He came into office with a series of executive actions at hand to do exactly what he promised during the campaign: combat the coronavirus pandemic and bolster the weakening economy.
To that end, he is moving forward quickly with a $1.9 trillion coronavirus relief package. Today, the Democratic Congress took steps to prepare the way to pass the measure without Republican votes if necessary, although Biden met yesterday with ten Republican senators and says he is willing to talk with Republicans if they are serious. What he refuses to do, though, is what tripped up President Barack Obama, who negotiated with Republicans for months over the Affordable Care Act, only to have all but one of them refuse to vote for the measure.
Biden has also launched a sweeping set of plans to combat climate change—including today calling on Congress to end the $40 billion taxpayer subsidies to fossil fuels— bringing a wide range of interests behind the plans.
The new administration has also reestablished norms. Yesterday, for example, the Senate confirmed Alejandro Mayorkas as the Secretary of the Department of Homeland Security. This is a big deal because it gives DHS an actual Senate-confirmed head, which it has not had since at least 2019 as Trump appointed various acting heads, including Chad Wolf. According to the Government Accountability Office and a number of judges, Wolf was in the office illegally.
Biden has also reinstituted the oversight that was largely ignored by the previous administration. Today, Robert Stewart Jr., who won more than $38 million in federal contracts to deliver N95 masks despite the fact he had none and had no way of getting any, pleaded guilty to three counts of making false statements, wire fraud, and theft of government funds. Also today, Treasury Secretary Janet Yellen announced the hiring of a number of officials who will be part of a crackdown on enforcement of tax laws both at home and abroad; the Internal Revenue Service estimates that about $441 billion a year in taxes owed are not collected.
Also today, in his first interview since taking office, Biden promised that none of his family members will work at the White House.
Biden has moved quickly to get rid of the political appointees Trump tried to burrow into the federal government. Yesterday, Biden fired all ten of the anti-labor activists Trump had put on the Federal Service Impasses Panel, the panel in charge of resolving disputes between unions and federal agencies when they cannot resolve issues in negotiations. The head of the union of federal employees, representing 700,000 federal employees, thanked Biden for his attempt to "restore basic fairness for federal workers." He said, "The outgoing panel, appointed by the previous administration and stacked with transparently biased union-busters, was notorious for ignoring the law to gut workplace rights and further an extreme political agenda."
The two themes of Republican factionalism and the Democrats' return to American norms came together today. After negotiating for weeks, McConnell and Senate Majority Leader Chuck Schumer (D-NY) finally came up with a plan to organize the Senate, which will turn the chairs of committees over to the Democrats.
This means that Biden's pick for attorney general, Merrick Garland, should finally get a hearing for his confirmation. The attorney general is a leading figure in our national security apparatus, overseeing our legal system as well as the FBI. Former Senate Judiciary Chair Lindsey Graham (R-SC) was slow walking a hearing for him, but as soon as Senator Dick Durbin (D-IL) takes the gavel, Garland will be on the schedule.
If he is confirmed, Garland will oversee the prosecution of those involved in the attempt to overturn the results of the 2020 election. Garland is known as a straight shooter who will uphold the law impartially.
Today, Reuters broke the news that the Justice Department is considering charging those engaged in the Capitol riot under the federal Racketeer Influenced and Corrupt Organizations Act (RICO). RICO cases are complicated and take a long time to put together, but the law was designed to enable prosecutors to reach those, like criminal ringleaders, who keep their own hands clean but tell others to commit crimes.
If the Department of Justice is indeed considering RICO, which sweeps in a wide range of participants in a crime, Republicans not associated with the attack on the Capitol might have good reason to back away from those who are.
We are pleased to be presenting daily posts from Heather Cox Richardson's "Letters From an American" email newsletter. You can sign up to receive it in your inbox here.