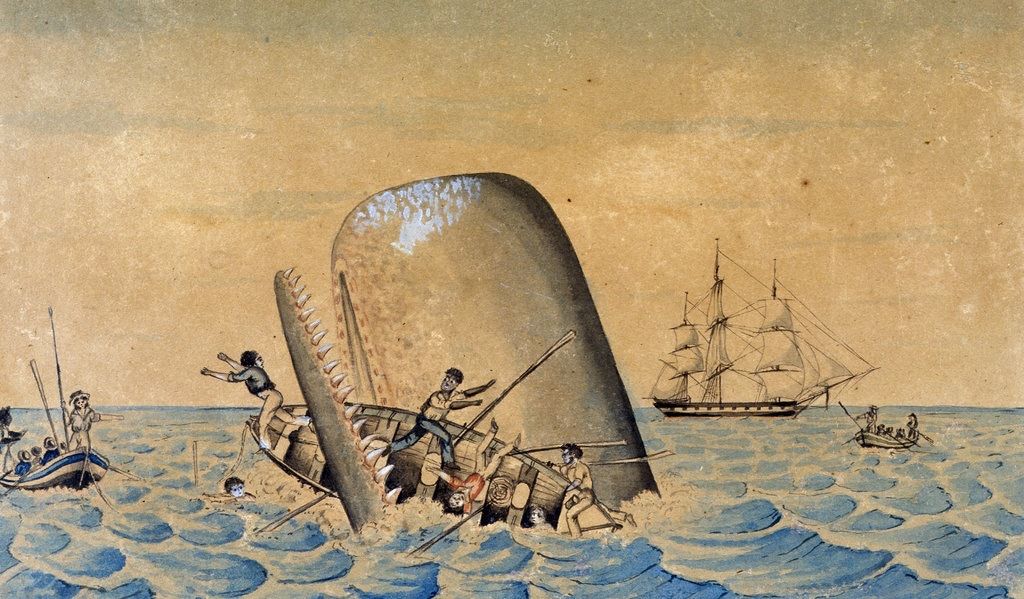 Even if you haven't read Herman Melville's classic American novel, Moby-Dick, you are probably quite familiar with the concept of "the white whale" — an obsessive search for a goal that is not attainable and might ultimately lead to your demise.
Choreographer and director Bill T. Jones' most recent work, Deep Blue Sea, takes inspiration from Moby-Dick. Deep Blue Sea doesn't focus on the iconic figures in the novel but rather on a cabin boy named Pip. The cabin boy appealed to Jones not only because he was the only Black character, but also he related to Pip's loneliness and abandonment by his ship and crewmates.
In Melville's telling, this character that I identify with. 'The ocean jeeringly kept his finite body up, but drowned the infinite of his soul and took him down, down, down to meet the miser-man, Wisdom, in all of his hoarded heaps. And he saw God's foot on the treadle of the universe and his mind cracked. From that day forward–' 'cause he was rescued– 'his shipmates called him mad. Man's insanity is heaven's sense.' Beautiful, isn't it? And every artist would like to think that they're sort of a mad speaker of truth.—Bill T. Jones
The Search for Meaning
Analysis of Moby-Dick is nearly an industry in itself. But the volume does not mean that the output is anything less than fascinating — and it provides for an enjoyable dispute.
Kurt's Andersen's episode of American Icons won a Peabody Award.

Herman Melville's white whale survived his battle with Captain Ahab only to surface in the works of contemporary filmmakers, painters, playwrights and musicians. Kurt Andersen explores the influence of this American Icon with the help of Ray Bradbury, Tony Kushner, Laurie Anderson and Frank Stella. Actor Edward Herrmann is our voice of Ishmael and Mark Price narrates David Ives's short play Moby-Dude.
On the occasion of what would have been Melville's 194th birthday, The Atlantic dug into its archive and drew out a 1940 debate on the meaning of Moby-Dick between some of the most famous authors and critics of the time.
Literary Hub shows that Moby-Dick criticism is by no means dormant — showing up today in memes and as a forewarning of the disaster of climate change.
In Search of Herman Melville
Analysis of Herman Melville himself is seeing a renaissance. In 2019, New Yorker writer Jill Lepore wrote "Herman Melville at Home," about the role of Melville's land-bound farm on his creative output. Andrew Delbanco's new work, Melville: His World and Work, places Melville in the heart of 19th-century life.  (Read an excerpt.)  PBS' American Experience episode "Into the Deep" brings the world of whaling to life.