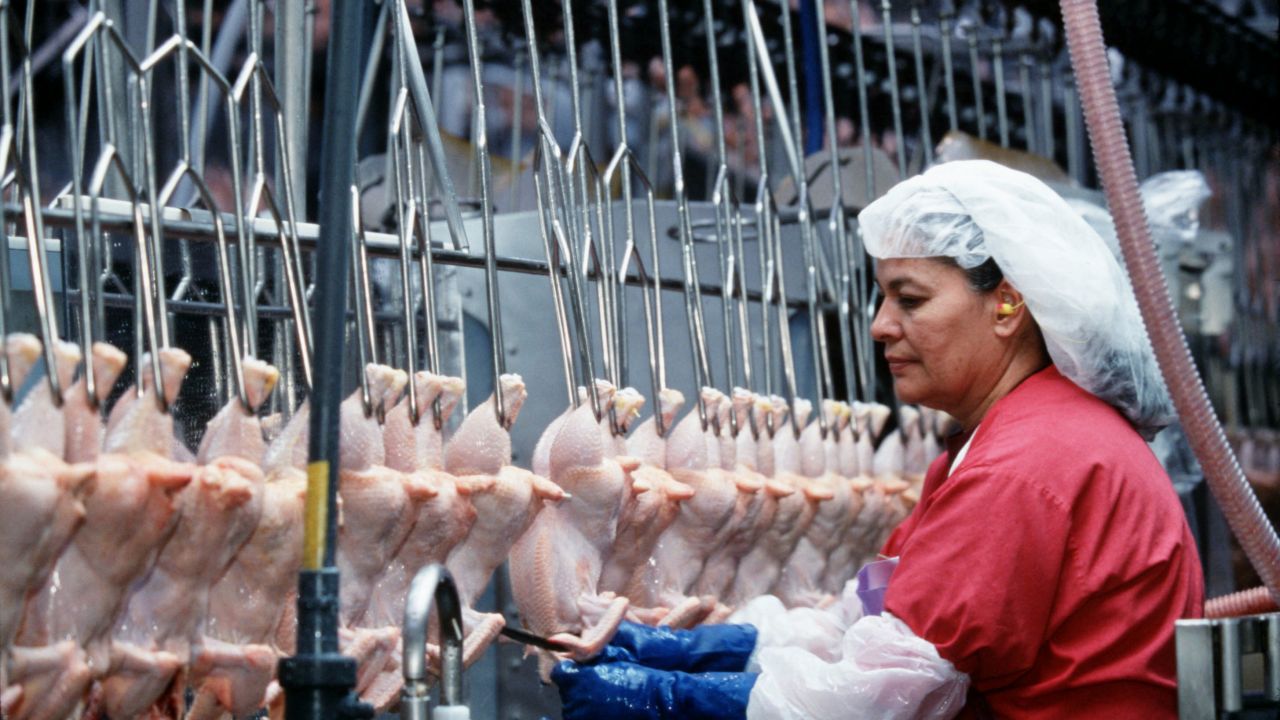 This post originally appeared at Civil Eats.
It has been a rough few weeks for Tyson Foods, the nation's largest poultry producer.
On Sept. 5, the company announced that it was planning to build a $320 million poultry complex outside of Tonganoxie, Kansas — a relatively well-appointed bedroom community in Kansas City with a population of 5,300. The plant was designed to be a first-of-its-kind, fully integrated operation that would have included everything from a hatchery to slaughter and processing. It would require 1,600 new employees and process 1.2 million birds a week.
The Tyson plant was also a long-kept secret with the code name Project Sunset. Local lawmakers were asked to sign nondisclosure agreements when considering welcoming it to town, and the company is said to have worked through intermediaries when negotiating with the landowner over the 300-acre lot it would occupy.
But once the deal was done and the plan was made public, word traveled fast, and residents of the town started a group called Citizens Against Project Sunset (CAPS) and threw up a "No Tyson in Tongie" Facebook group that swelled to over 5,000 members. By last Friday, 2,500 people had gathered in a city park to oppose the development.
Then, on Monday, the Leavenworth County commissioners had rescinded its offer to pledge $500 million in revenue bonds for the facility. The next day, Tyson sent a letter to the county announcing that it had put the plans for the plant on hold.
In its letter, the company wrote: "We still have interest in Leavenworth County, but will prioritize the other locations in Kansas and other states that have expressed support."
For the people who had thrown themselves into the fight, Tyson's abandoning the plant was positive, if not definitive. "As a community, we will remain vigilant … we will continue to attend city council, county commission and planning and zoning meetings. We will continue to contact our local, county and state officials to ensure that Tyson Foods does not pursue our area in the future," CAPS wrote in a public statement.
Lingering caution aside, the speed with which the residents of Tonganoxie organized and responded to the potential plant is staggering.
Lingering caution aside, the speed with which the residents of Tonganoxie organized and responded to the potential plant is staggering.
"It's common to see some sort of protest, or people coming to town meetings. But I've never seen this large of a movement nor a movement that was this effective at halting a plant this quickly," said Christopher Leonard, a journalist who spent several years reporting on Tyson for both the Associated Press and his book, The Meat Racket: The Secret Takeover of America's Food Business.
But what happened in Tonganoxie didn't happen in a vacuum. Last year, when North Carolina-based Prestage Farms tried to put in a $240 million pork-processing plant in Mason City, Iowa, a similar coalition of farmers and concerned citizens showed up in droves to put repeated pressure on the city's county councilmembers, who eventually voted not to approve the plant.
Hundreds of residents also showed up last year to a public hearing in Nickerson, Nebraska, resulting in an eventual vote against a proposed chicken plant there. It's tough to say definitively whether or not these incidents are part of a larger wave of animosity toward new developments by multimillion-dollar meat producers in the middle of the country, but they're likely to change the way companies like Tyson do business in the future.

Big Impacts on a Small Town
Tonganonxie residents maintain a range of reasons for opposing the Tyson plant — including concerns about animal welfare, environmental impact (the smell alone has gotten a lot of attention on social media), the impacts on the infrastructure of the town and the sheer traffic caused by the large number of trucks that need to come and go from a business of that size.
Kirk Sours manages Tailgate Ranch, which surrounds the proposed location on three sides. He said he's concerned about the "178,000 birds a day being hauled up and down the road and everything that goes with that." And because of tax abatements the state of Kansas had promised Tyson, the citizens would have been on the hook for the wear and tear on the roads.
"You cannot overstate how much the truck traffic tears up country roads, puts strains on bridges, causes traffic accident," said Leonard, who has visited several communities that are host to Tyson plants. "It really tears up the infrastructure. Then of course there's the environmental toll, which costs a lot of money to contain."
And yet, in a poorer, more rural community, Sours says, there probably would have been less opposition to the mega-plant. He points to the median income in Leavenworth County — $63,000 a year — and compares it to the jobs that Tyson would have offered, which brings in closer to $36,000 a year. "So you'd be immediately diluting your economic base," he said.
"I think this is a model that can work in an area with a low population going through an economically depressed period," said Sours. And he's probably right. After Mason City turned down the Prestage pork plant, the company found a home outside Eagle Grove, Iowa—a rural area with a small population and a median income of only $26,000 a year.

Keeping Outsiders Out
Whether current Eagle Grove residents will apply to work at the Prestage plant remains to be seen, though; most meat processing plants are now staffed almost entirely by immigrant and refugee populations from places like Somalia, Latin America and South Asia. For this reason, the opposition to new meat-processing plants often gets entangled in the larger backlash against immigrants that has taken shape in some parts of rural America in recent years and fueled by the current administration. After leaving Mason City, for instance, Prestage's spokesperson attributed what happened there to racism on the part of the town's population.
That kind of sentiment was present — though not prominent — back in Tonganoxie as well. "I think you're going to hear [anti-immigrant sentiment] just about anywhere you go these days," Sours said. But he added that the organizing members of CAPS made sure that such messages didn't infiltrate the public discussion too heavily.
"When we started this, we basically set the parameters and said, 'Look guys, this is a losing argument,'" adding that the monitors of the Facebook group worked to keep anti-immigration comments out of the discussion. "We've got too many other good arguments to make to try to go down that road," said Sours.
Leonard says it would be a shame to see immigrant workers scapegoated in that way, but he added that the burden on a town's infrastructure, when 1,600 new people move in all at once, is a reality that's impossible to sugarcoat.
"A big plant like this will put a strain on a public school system in a small town, because regardless of who's filling these jobs — whether they're white Trump voters or Somali refugees — that's a really large influx of people," he said. "If you've got a small, struggling public school system, they're going to need more resources to get caught up. You have to increase classroom size, hire new teachers and increase the infrastructure of the school system — and that takes money."
And yet, tax giveaways to the companies proposing these projects often mean there's often no money to pay those costs. "That simultaneously suffocates the pubic school system while putting an unprecedented strain on it," said Leonard.

What's Next?
Some Tonganoxie residents worry that the hold on the plant is only temporary. Long-time resident Andrew Kolman pointed to one concern that several have raised on Facebook. "I think the feeling now is that Tyson and the state have put a lot of effort into this project already to back out just because of funding," he explained by email. "One of the commissioners who voted to rescind the bond announced he is stepping down, so a proponent of the project could [potentially] become commissioner soon."
If that happens, Sours says the neighboring ranch has another card up its sleeve. On Monday, the ranch announced that if the Tyson plant went forward, the ranch owners (who are in their 80s) could opt to put the surrounding 240 acres in a conservation easement. If that happened, it would put Tyson in a tricky place if the plant caused pollution on the land.
"We wouldn't have anywhere near as much power environmentally against a corporation like Tyson as a conservation easement program would," said Sours. "I guarantee that was a factor. "
Although it may never come to that; the CAPS statement reads: "We will continue to wear our 'No Tyson In Tongie' T-shirts and talk to our neighbors about our concerns. Our conversations with environmental and agricultural experts will continue. We are in this for the long haul."
And, as is the case with much of the current civic upheaval, the upside for many Tonganoxie residents may be the lasting desire to engage more fully in shaping the place where they live. In a Sept. 20 post to the Facebook group, member Tana Walker put it well.
"Before Tyson came town, I honestly had no idea who my County commissioner was … now I have some of their names in my phone," she wrote. "Before Tyson, I had no idea that zoning even existed. Now I could tell you the difference between every zone and the process to change it … There is an election in six weeks. Before Tyson, I probably wouldn't have voted in it. Now I am going to be the first person in line…"