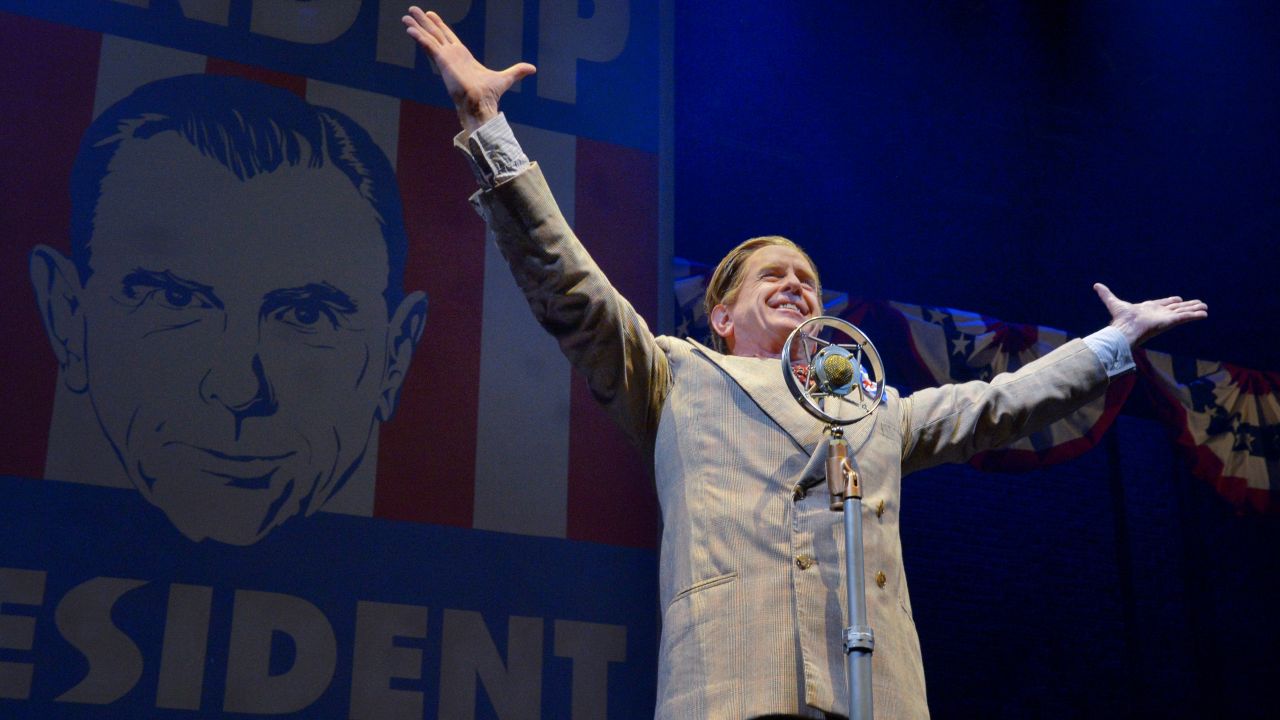 It has been a bewildering campaign season for many Americans, but perhaps for none so much as Tony Taccone. Since February, an eerie question has haunted the veteran theatrical writer and director: Is his art imitating life? Or is it the other way around?
Taccone is the artistic director of the Berkeley Repertory Theatre, which on Sunday wraps up a six-week run of It Can't Happen Here, a play that seems ripped from today's headlines even though the plot is based on a novel of the same name that is more than eight decades old.
"When you read the book, the parallels are shocking; they're honestly shocking," Taccone said in an interview earlier this week.
It can't happen here. Can it?
There's no question that Taccone sensed a certain topicality in the story Nobel laureate Sinclair Lewis wrote in 1935 about a self-consciously bombastic orator who wins the presidency by portraying America as weak and promising to make it better. But he never expected a show that is quite as relevant as his has become. "It's like: It can't happen here. Can it?" he said.
When Taccone and his team began began casting about for a play to fill an unexpected hole in his schedule earlier this year, Donald Trump was one of 16 candidates vying to become the Republican Party's presidential standard-bearer. "Las Vegas literally gave him a 1 percent chance of winning the nomination," Taccone recalled. "It was entertainment at the time." He and his team (Tony Kushner was among those who served as a sounding board for early drafts) began cranking out scenes, figuring that by the time the actors took the stage in the fall, their show would be an interesting rumination on a path the nation had not taken.
"We did the play thinking he would never get the nomination," Taccone said of Trump. "As the weeks went on, this bizarre, surreal sensibility started to happen, where you are writing the play and then you are reading the papers. And you're going: 'Oh my God. Oh my God! This thing is happening.'"
But if the story, Sinclair Lewis' response to the rise of Adolph Hitler in Germany and the presidential ambitions of Louisiana populist Huey Long in the US, makes for a trenchant critique of Trump and his supporters, it also, Taccone said, "deeply challenges" those on the other side, including many in the famously liberal California community that is home to his theater.
That's because the central character of the play and Lewis' novel is not Buzz Windrip, the senator who, on the strength of his bombast, wins the presidency and brings dictatorship to America. Rather it's Doremus Jessup, a humane, intelligent — if more than slightly self-righteous — small-town newspaper editor whose existential ineffectuality in the face of Windrip and his minions becomes the central drama of the story.
"Doremus Jessup in some ways is everyman. He's a progressive liberal, libertarian-influenced, independent thinker," Taccone said. And, not unlike the way Taccone and his colleagues felt about Trump at the beginning of the year, he also "just thinks Windrip doesn't have a chance. He just doesn't believe that a guy who's saying these things is going to gain enough traction."
Jessup's fatal miscalculation, as Taccone sees it: "He really, really underestimates the level of suffering that a lot of his fellow citizens — people he doesn't have much contact with — are experiencing. Very much like, I would say, people like me, who live in a very liberal area of the country, are out of contact with people who support people like Donald Trump. There's people who feel like they've been left behind."
One of the many unnerving parallels Taccone found between the novel and real life came "when Trump started calling these people 'the forgotten people,'" he said. "In the book, Buzz Windrip allies himself with the League of Forgotten Men. This is a group of people who are sort of evangelically organized and who feel like they are disenfranchised from the country."
Nightly performances of the play have turned into a kind of barometer of the political mood outside. Taccone detects the changes in the audience's reaction to Buzz Winthrop. In the cavernous theater, balconies are decked with red, white and blue bunting to resemble a political convention hall, and during Winthrop's speech accepting his party's presidential nomination, audience members are turned into extras, directed by actors carrying cue cards to "CHEER" or "CLAP."
As the polls have tightened toward the end of the presidential campaign, the ticket holders have turned mutinous. "There are pockets of the audience who will boo him even when we ask them to cheer," Taccone said. "People will shout back. There's a different thing going on. People feel now there's just a lot at stake."
Honestly, I feel like some cold water's been dumped on my head. I think the book said, 'Wake up.'
The play has changed the people who have seen it and worked on it. "People come up to me all the time and say, 'Oh my god, you got me going,'" Taccone said. Berkeley Rep partnered with a local museum that has a building-sized screen to mount live outdoor screenings of this year's presidential debates. "Over 1,000 people showed up every single time. It's been amazing," Taccone said. "And it has felt good that people could see other people watching the debate, as opposed to in your car or in your living room, you know, freaking out."
Members of the theater's staff have been taking days off to travel to the nearby battleground states of Nevada and Utah to help register voters. And on Tuesday, Taccone has declared a day off for his company "so they can make sure everybody votes."
As for Taccone: "Honestly, I feel like some cold water's been dumped on my head," he said. "I think the book said, 'Wake up.'"
Months of living with Lewis' novel have given birth to an artist recommitted to citizenship. "What it says, what it really puts out there is, if you become complacent or lazy or you think that the issues that are being discussed in Washington, the politics doesn't have an effect on your lives, you're wrong. You're wrong. The decisions that are being made — by the Congress, by the Supreme Court, by the local legislature, by your city council — affect your life," Taccone said.
"And it is in your interest to understand as best you can what those issues are, to try to find a voice and agency inside of those issues, to find a community and help them to build a dialogue," he added. "And my God, if that isn't the lesson of the last nine months, what is?"