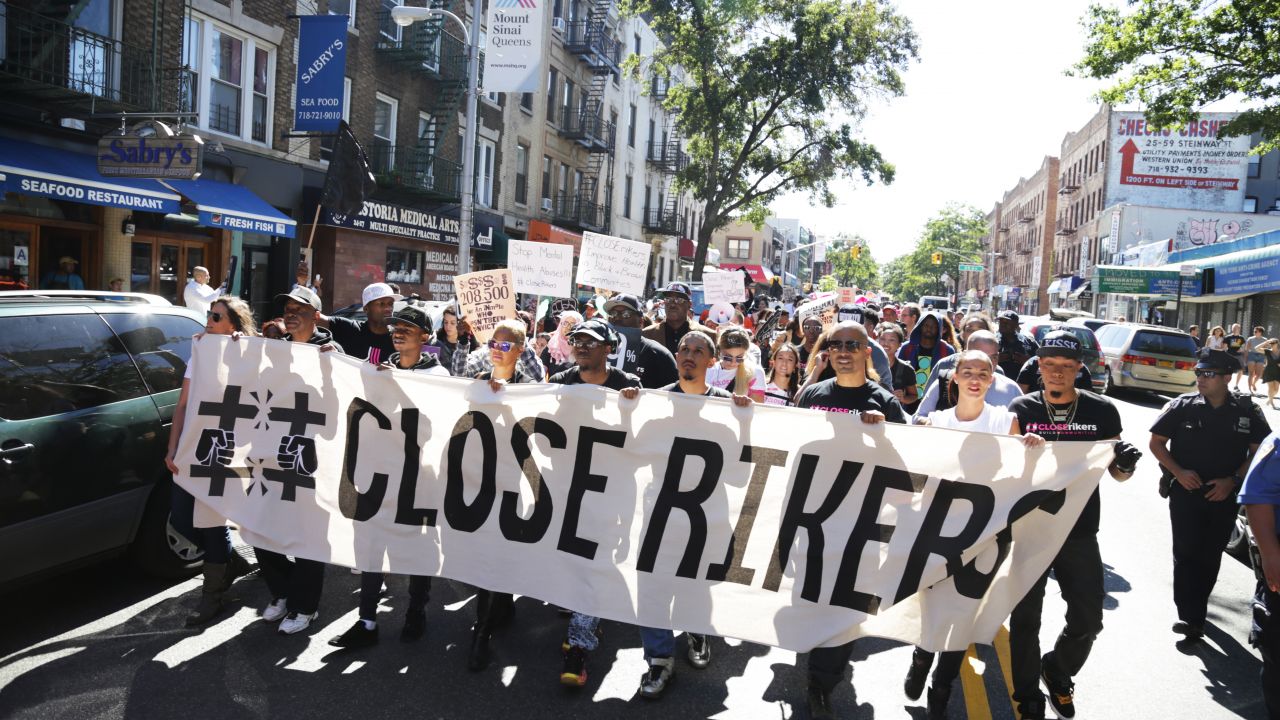 "I'll give it to you straightforward," New York state Sen. Gustavo Rivera said Saturday. "There're two different ways to make the argument. You can make a moral argument, or you can make a fiscal argument." Rivera was at a rally attended by hundreds outside the gates of New York City's notorious Rikers Island prison. The protesters want to convince the city and state government — and in particular Mayor Bill de Blasio, who is up for re-election in 2017 — to shut the prison down.
The campaign to close Rikers has become part of the rallying cry of a nationwide push for criminal justice reform and an end to mass incarceration, which disproportionately affects minorities. Located in one of America's most progressive cities, the prison is often described as a vestige of the 19th century. Built on a sinking landfill, the smell of which permeates the prison's cells, Rikers has long been the site of physical violence and mental health abuses, prompting a 2014 lawsuit and civil rights investigation by the US attorney's office.
"The moral argument we all have seen and we all have read and many of you here have experienced yourselves," continued Rivera, speaking first in English, and then in Spanish. "The moral argument is that 80 percent of the people in there have not even been convicted of a crime and yet we treat them as though we are punishing them…
"On the fiscal side, $208,500 per individual — $208,500 per individual. Do you think that we could use that in our communities? Could we use that to make our schools better? Could we use that for economic opportunities in our districts?"
Protesters Saturday marched nearly 2 miles from Astoria, Queens, to the entrance of the heavily guarded Rikers Island Bridge that leads to the prison. They called out to onlookers, telling them 79 percent of inmates at the prison are simply detained while awaiting trial because they cannot afford bail. They said 89 percent of inmates are black or Latino, pointed to the six-figure cost of keeping inmates housed on the island and noted that violence against prisoners by corrections officers has risen every year from 2008 through 2014.
They also decried the human cost of a prison where a homeless veteran, who had been arrested while huddled in the doorway to a city housing project on a cold night, essentially baked to death in February 2014 in a cell that was heated to more than 100 degrees Fahrenheit.
And they held signs with the face of Kalief Browder, who, after being arrested at the age of 16, accused of stealing a backpack, spent three years at Rikers without ever standing trial. Like many at the prison, he tried to commit suicide numerous times. After being released and starting classes at a community college, he struggled to shake the memory of his time on the island, and eventually, at age 22, succeeded in taking his own life.
"He didn't get tortured in some prison camp in another country. It was right here!" his lawyer, Paul Presita, told The New Yorker, which had profiled Browder before his death, casting him as just one example of the many New Yorkers whose lives have been derailed by a criminal justice system that many at the protest Saturday described as antiquated and powerfully destructive to the city's most vulnerable communities. Browder's story attracted the attention of many, from Jay Z to Sen. Rand Paul (R-KY), who has tried to build a libertarian case for criminal justice reform.
In 2015, Mayor de Blasio agreed to some changes at the prison, but protesters said they were far from enough. They say they want the prison shut down.
De Blasio's office has said that doing so would cost billions, and, while a symbolic victory for criminal justice reformers, closing it down would direct attention and resources away from other efforts to improve the city's jails that the administration says would have more impact.
But de Blasio's hand might soon be forced. City Comptroller Scott Stringer is positioning himself to run to de Blasio's left in the New York City mayoral primary — a notable bar to clear, given that de Blasio himself ran in 2013 as a progressive answer to Michael Bloomberg's years as mayor. But de Blasio's approval ratings are low, and Democratic rivals have taken notice.
Stringer dropped by the protest Saturday to champion the activists' cause, which he first supported in 2015. "New York City should be the national model when we think about corrections policy," Stringer said. "We should not be the urban shame in this country."
Like many who marched on Saturday, Glenn Martin, founder and president of JustLeadershipUSA and one of the leaders of the protest, was himself incarcerated at Rikers — a two-day stint when he was 16 and accused of shoplifting. He believes the demise of the prison is inevitable. "Eventually, every elected official will be saying, 'Close Rikers,'" he declared, "because we will be in an environment where there's nothing else to be said but 'Close Rikers.'"
Scroll down for more photos of the protest.