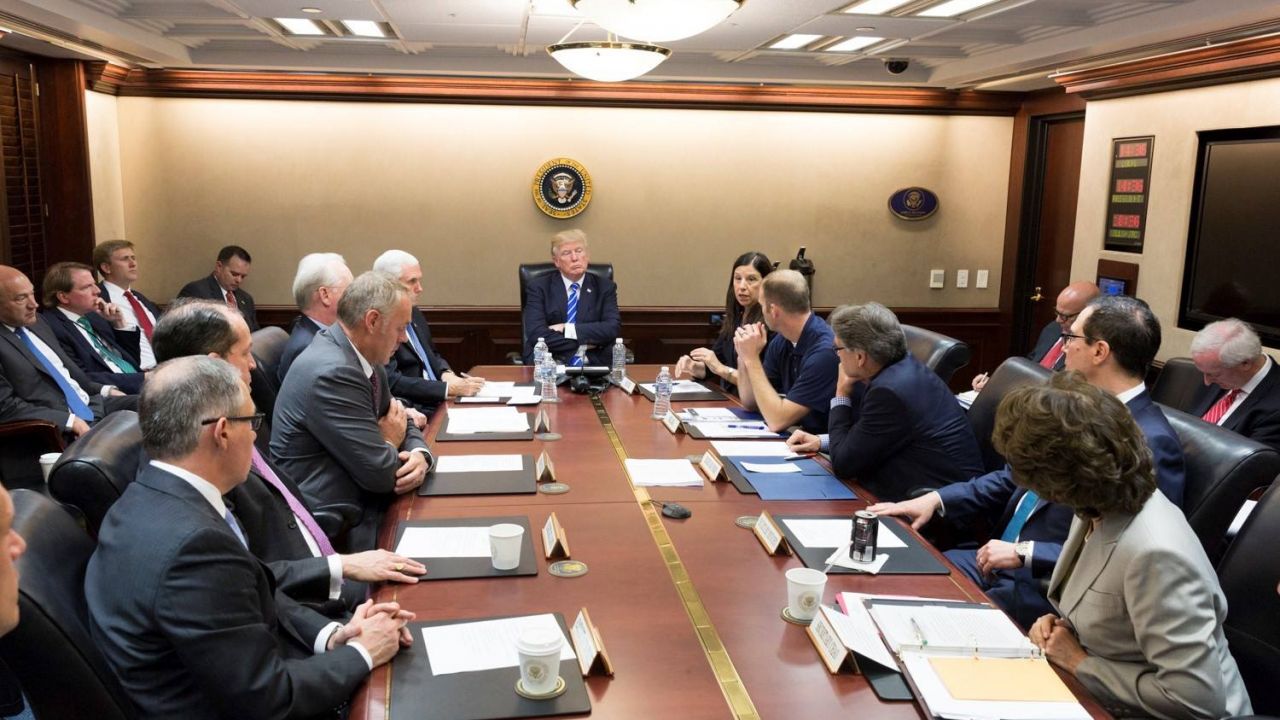 Today coronavirus infections continued to mount in the vicinity of the White House. At least 34 people near Trump have contracted the virus in the past few days. The press corps near the White House is down to a skeleton crew as the White House press secretary, Kayleigh McEnany, and four press aides have tested positive. So have top aide Stephen Miller and Admiral Charles Ray, the vice commandant of the Coast Guard Admiral.
A third White House press staffer has tested positive for coronavirus, meaning three of McEnany's deputies are now working from home. The West Wing press areas are essentially being run by a skeleton crew because of the recent outbreak.

— Kaitlan Collins (@kaitlancollins) October 6, 2020
Along with other military leaders, Ray attended an event celebrating Gold Star families last Sunday at the White House. That event included some of the same people who had been at the event the previous day in honor of Amy Coney Barrett, whom Trump nominated to take the seat of the late Justice Ruth Bader Ginsburg on the Supreme Court. Those who attended both events included Trump and the First Lady.
Remember when Trump blamed military and law enforcement for Hope Hicks getting COVID? It never made sense why she, and now him, would blame military personnel for giving it to them. Well…did you know there was a Gold Star Mother's Day event at the White House on Sunday?

— Fred Wellman (@FPWellman) October 6, 2020
Senior military leaders attended meetings with Ray last week in a secure room at the Pentagon, and now are self-quarantining. They include the Chairman of Joint Chiefs of Staff General Mark Milley; the Vice Chairman; the Army chief of staff; the Naval Operations Chief; the Air Force chief of staff; the CyberCom Commander; the SpaceForce operations chief; the director of the U.S. National Security Agency, Gen. Paul Nakasone; the Chief of the National Guard, Gen. Daniel Hokanson; and the deputy commandant of the Marine Corps, Gen. Gary Thomas.
BREAKING: CBS News reports top U.S. military officials quarantined after COVID19 exposure:
Chairman of Joint Chiefs of Staff
Vice Chairman
Army chief of staff
Naval Operations Chief
Air Force chief of staff
CyberCom Commander
SpaceForce operations chief
(@davidmartinmep reports)

— David Begnaud (@DavidBegnaud) October 6, 2020
The White House has apparently not done any contact tracing, and it declined the help of the Centers for Disease Control and Prevention to do it.
The administration appears to be committed to a strategy of community spread, rejecting the use of masks and of distancing. Deputy press secretary Brian Morganstern told NPR's Mary Louise Kelly that the White House still does not require masks because "everyone needs to take personal responsibility."
As this news broke, I was speaking live with deputy press sec Brian Morganstern from the White House.

He confirmed masks are still not required in the WH, and that they don't have a mask rule because "everyone needs to take personal responsibility."https://t.co/60FHyaFy2G https://t.co/b9WsFTrYD2

— Mary Louise Kelly (@NPRKelly) October 6, 2020
That the White House appears to be the center of a coronavirus hotspot has hurt Trump's reelection campaign. The infections in the face of the fact that the administration refused to take the virus seriously, the ride around the hospital to wave at supporters while endangering Secret Service agents, the struggle to the balcony in a strongman scene, all appear to have demonstrated not Trump's strength, but his weakness.
His behavior today has reinforced that sense. Trump left the hospital last night and returned to a locked-down White House. The few aides who met with him were dressed in PPE, while the West Wing is virtually abandoned as people have decamped to work from home. Trump has been on a Twitter spree today, tweeting and retweeting his old material, "the Russia Hoax" and Hillary Clinton's emails, which now feel like ancient history, disconnected from today's pressing crisis. Tonight, he tweeted: "I have fully authorized the total Declassification of any & all documents pertaining to the single greatest political CRIME in American History, the Russia Hoax. Likewise, the Hillary Clinton Email Scandal. No redactions!" He hit the same points again in another tweet: "All Russia Hoax Scandal information was Declassified by me long ago. Unfortunately for our Country, people have acted very slowly, especially since it is perhaps the biggest political crime in the history of our Country. Act!!!"
He sounds desperate. And on the heels of his tweets, Representative Ted Lieu (D-CA) tweeted to the Justice Department "Per the President's orders, can you please provide the [House Judiciary] Committee the full unredacted Mueller Report immediately? Thank you."
Other dropping stories make it look like the tide is running against Trump.
Patricia and Mark McCloskey, the St. Louis, Missouri, couple who held guns on protesters in June, were indicted today by a grand jury on charges of exhibiting guns and tampering with evidence. Trump invited the McCloskeys to speak at the Republican National Convention. "What you are witnessing here is just an opportunity for the government, the leftist, democrat government of the City of St. Louis to persecute us for doing no more than exercising our Second Amendment rights," McCloskey said.
Two weeks ago, the administration blocked strict guidelines for a coronavirus vaccine, but today the Food and Drug Administration (FDA) released those guidelines over White House objections. This will make a vaccine before the election unlikely. Trump tweeted "New F.D.A. Rules make it more difficult for them to speed up vaccines for approval before Election Day. Just another political hit job!"
Today, the New York Times revealed the findings of an internal investigation by the Justice Department's inspector general Michael Horowitz into the policy of separating children from their parents at our southern border. The policy was engineered by Stephen Miller, but the Justice Department has tended to blame then-Department of Homeland Security Kirstjen Nielsen for the policy. Horowitz's investigation has established that then-Attorney General Jeff Sessions and his deputy Attorney General Rod Rosenstein were far keener on the policy than she was. In a sign of changing times, a 32-page response to the Horowitz's investigation, written by Miller's ally Gene Hamilton, said that Justice Department officials had simply followed orders from the president.
Facebook, too, sees the writing on the wall, and has announced that it will ban all QAnon conspiracy theory accounts. These accounts spread disinformation, including the idea that a heroic Trump is secretly leading an effort to round up a ring of pedophiles and cannibals based in the nation's entertainment and political elites. The ban is one of the broadest Facebook has ever enacted.
Today, Federal Reserve Chair Jerome Powell said that a new coronavirus relief bill is imperative, but just hours later, Trump announced on Twitter that he was cancelling further talks between the White House and House Speaker Nancy Pelosi. Stocks dropped 600 points, and vulnerable Republican senators panicked. Biden released a statement including a pithy condemnation: "Make no mistake: if you are out of work, if your business is closed, if your child's school is shut down, if you are seeing layoffs in your community, Donald Trump decided today that none of that — none of it — matters to him. There will be no help from Washington for the foreseeable future. Instead, he wants the Senate to use its time to confirm his Supreme Court Justice nominee before the election, in a mad dash to make sure that the Court takes away your health care coverage as quickly as possible." A few hours later, Trump changed his tune.
BREAKING: The NY Times and the Boston Globe have both endorsed Joe Biden for President.

Every major newspaper in America should. NOW.

— BrooklynDad_Defiant! (@mmpadellan) October 7, 2020
Today both the New York Times and the Boston Globe endorsed Biden, and General Michael Hayden, the retired four-star general who served as the Director of the CIA under President George W. Bush, released a video not just endorsing Biden, but also warning that "If there is another term for Trump, I don't know what happens to America." "Biden is a good man," Hayden says. "Trump is not."
Financial services company Goldman Sachs today forecast that the Democrats will take both the White House and the Senate, and said a Democratic sweep would mean a faster recovery and thus would be good for the economy. Moody's Analytics, a subsidiary of another financial services company, recently found that Biden's plans would add 7.4 million more jobs to the economy than Trump's would.
Today in Gettysburg, Pennsylvania, a town hallowed by history, Biden gave a blockbuster speech calling for the nation to put aside division and come together. He talked about race: "Think about what it takes for a Black person to love America. That is a deep love for this country that for far too long we have never fully recognized." He talked about disparities of wealth: "Working people and their kids deserve an opportunity."
And he talked about Lincoln, and how, at Gettysburg, he called for Americans to dedicate themselves to a "new birth of freedom" so that the men who had died for that cause "shall not have died in vain."
"Today we are engaged once again in a battle for the soul of the nation," Biden said. "After all that America has accomplished, after all the years we have stood as a beacon of light to the world, it cannot be that here and now, in 2020, we will allow government of the people, by the people, and for the people to perish from this earth.
"You and I are part of a great covenant, a common story of divisions overcome and of hope renewed," he said. "If we do our part, if we stand together, if we keep faith with the past and with each other, then the divisions of our time can give way to the dreams of a brighter, better, future."
We are pleased to be presenting daily posts from Heather Cox Richardson's "Letters From an American" email newsletter. You can sign up to receive it in your inbox here.