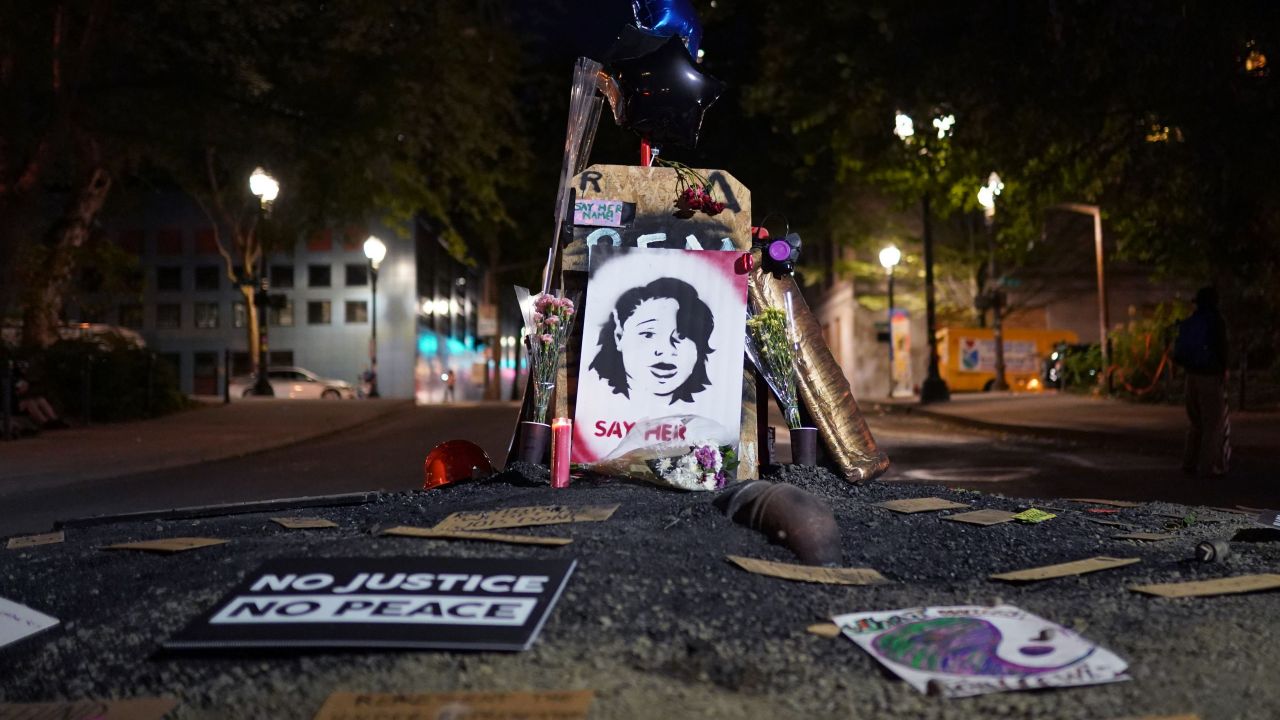 September 24, 2020
Tonight, protesters in Louisville, Kentucky, Philadelphia, Baltimore, New York City, Rochester, and other cities are calling for justice and reminding observers that Black Lives Matter after a grand jury on Wednesday declined to charge the three officers involved in Breonna Taylor's murder. The grand jury did indict Brett Hankison, one of the officers involved, on charges of first-degree wanton endangerment for shooting into her apartment and that of her neighbors without a clear line of sight. His actions, according to the charge, exhibited "extreme indifference to the value of human life," Hankison had to post a bond of $15,000.
On March 13, three plainclothes Louisville police officers broke down the door of Breonna Taylor's apartment as part of an investigation of a man they believed was a drug dealer in a different part of the city. Taylor had once dated the man, and police say they believed he had used her apartment to receive packages. They broke in without announcing who they were, and when they came through the door, Taylor's boyfriend, who had a license to carry a gun, thought they were criminals and shot one of them in the leg. The three officers fired off 32 shots, six of which hit Taylor, a 26-year-old emergency room technician.
She died within minutes.
The officers found no drugs.
After Taylor's death, the officers involved filled out an incident report that said they had not forced their way into the apartment—witnesses and crime scene photographs show they did—and listed Taylor's injuries as "none."
On September 15, Taylor's family and the city of Louisville announced they had reached a record-breaking $12 million settlement in the shooting, Louisville's largest ever for police actions and one of the largest in the nation for the shooting of a Black American by law enforcement officers. The settlement includes a wide range of police reforms.
But when announcing the criminal charges, Kentucky Attorney General Daniel Cameron explained that Hankison's bullets had not hit Taylor, so he could not be charged in her death. And since her boyfriend had shot at them first, the officers who did kill Taylor were justified in their use of force. It is unlikely there will be other charges, he said. The lawyer for Taylor's family has called the six-month investigation a cover-up, and has asked Cameron to release the transcripts of the grand jury proceedings.
Democratic Governor Andy Beshear agreed that "It's time to post all the information…. All the facts, all the interviews, all the evidence, all the ballistics, to truly let people look at the information…. One of the problems we've had over the last six months is a total lack of explanation and information," he added. "And the vacuum that's created there — our emotions, frustrations — can truly fill that. It's time for people … to be able to come to their own conclusions about justice."
Cameron, a Republican, cited the pending trial and an FBI investigation as a reason to keep the evidence under wraps. "At this point, I don't think it's appropriate" to release more information, he said.
"I have to say, as an attorney, that the decision didn't surprise me," said Savala Trepczynski of the University of California Berkeley School of Law. "It's very hard to hold the police accountable in a deep way… given the system that's in place and how it tends to favor police at every turn. As a person, though, the (decision) is upsetting, disappointing, angering — all of those things. I felt grief, a familiar grief."
The idea that our laws are written in such a way that they privilege white people and disadvantage people of color, especially Black Americans, is the principle at the heart of critical race theory. This is the theory that Trump has called "un-American propaganda," and which he has ordered federal agencies to stop addressing.
Trump learned about critical race theory from Tucker Carlson's show on the Fox News Channel, and that show, too, was in the news today. A federal judge dismissed a lawsuit brought against Carlson by Karen McDougal, a former Playboy model who claims to have had an affair with Trump before he became president. In 2018, on his show, Carlson accused McDougal of extorting Trump. She sued him for defamation.
Lawyer Erin Murphy argued for FNC that Judge Mary Kay Vyskocil, a Trump appointee, should toss the lawsuit because Carlson's show is not news. It is commentary, Murphy said, and so he has no obligation to tell the truth. Murphy said that a reasonable viewer should recognize that Carlson simply provides hypothetical statements to offer "provocative things that will help me think harder," and his accusations against McDougal, couched as questions, were simply provocations. "What we're talking about here, it's not the front page of The New York Times," Murphy said. "It's Tucker Carlson Tonight, which is a commentary show."
Today Vyskocil agreed with FNC's lawyers. "The statements are rhetorical hyperbole and opinion commentary intended to frame a political debate, and, as such, are not actionable as defamation," she wrote. Vyskocil agreed with FNC lawyers that the "general tenor" of Carlson's program indicates to the audience that he is not explaining the news, but rather is "engaging in 'exaggeration' and 'nonliteral commentary.'" She said: "Given Mr. Carlson's reputation, any reasonable viewer 'arrive[s] with an appropriate amount of skepticism'" about anything Carlson says.
We are pleased to be presenting daily posts from Heather Cox Richardson's "Letters From an American" email newsletter. You can sign up to receive it in your inbox here.