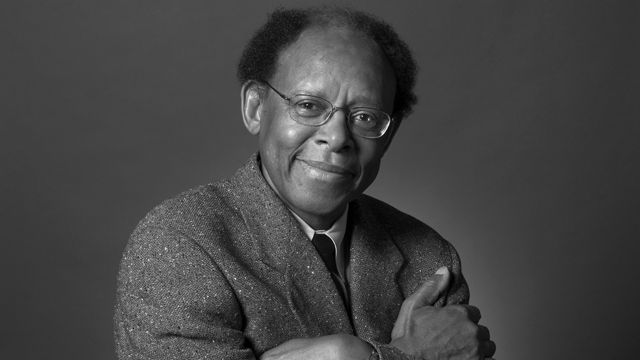 James Cone grew up in the small town of Bearden, Arkansas in the 1940s and 50s. His family lived in the "colored section" of town, an experience which he often describes in his writing and lectures as being "decisive" in his development as a theologian. He frequently questioned how the white citizens of his town could consider themselves good Christians while subjecting their black neighbors to racial segregation and daily bigotry. After becoming a pastor at 17 and leading congregations at several small churches, Cone opted for a more academic route in his theological development, earning his M.A. and Ph.D. in systematic theology from Northwestern University in 1963 and 1965.
After completing his graduate education, Cone taught religion and philosophy at Philander Smith College in Arkansas and then at Adrian College in Michigan. As the civil rights and Black Power movements gained momentum, he began writing about the movements' respective leaders, Martin Luther King Jr. and Malcolm X, and connecting their ideas to Cone's own experiences of oppression and suffering. Cone published Black Theology and Black Power in 1969 and A Black Theology of Liberation the following year; the books are considered the two foundational texts of black liberation theology.
In 1970, Cone joined the faculty of Union Theological Seminary in New York, where he became the Charles A. Briggs Distinguished Professor of Systematic Theology in 1977. His other books include God of the Oppressed (1975), For My People: Black Theology and the Black Church (1984), Martin & Malcolm & America: A Dream or a Nightmare? (1991), and The Cross and the Lynching Tree (2011). The latter won the 2012 Nautilus Silver Award and was named one of the top religion books of 2011 by The Huffington Post. Dr. Cone died in 2018.
Any message that is not related to the liberation of the poor in a society is not Christ's message. Any theology that is indifferent to the theme of liberation is not Christian theology. Liberation theology became and remains, a powerful philosophy and movement throughout the world.
— Dr. James H. Cone
Black Liberation Theology
Divinity schools and universities around the world include James Cone on their reading lists. Cone is known as the founder of black theology — a philosophy Cone first laid out in Black Power and Black Theology in 1969:
As we examine what contemporary theologians are saying, we find that they are silent about the enslaved condition of black people. Evidently they see no relationship between black slavery and the Christian gospel. Consequently there has been no sharp confrontation of the gospel with white racism. There is, then, a desperate need for a black theology, a theology whose sole purpose is to apply the freeing power of the gospel to black people under white oppression.
Dr. Cone's address "The Cross and the Lynching Tree" stands as one of the most cited and respected speeches in our time.
View an excerpt here:

Dr. Cone talked with Bill Moyers many times. Below you can view their 2007 discussion of "The Cross and the Lynching Tree."
View Bill Moyers 2013 talk with James Cone and Taylor Branch on MLK's Fight for Economic Equality