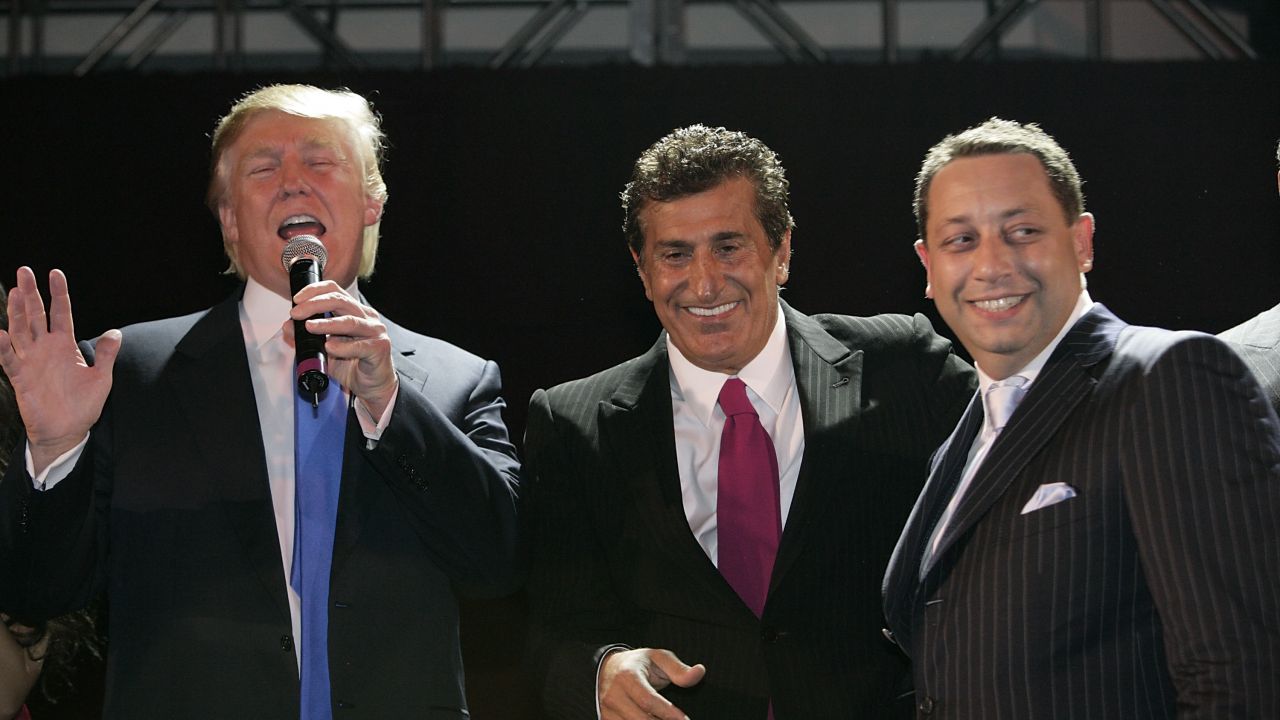 "Would you be willing to speak under oath to give your version of the events?"
ABC News' Jonathan Karl asked Donald Trump on June 9, 2017. A day earlier, former FBI Director James Comey's appearance before the Senate Intelligence Committee had put Trump in the crosshairs of a potential obstruction of justice investigation.
"100 percent," Trump said.
But does a serial liar become truthful when placed under oath? Perhaps Trump's previously sworn answers to questions about Felix Sater offer a clue. As special counsel Robert Mueller "follows the money" from Russia to Trump and his associates, Sater could be someone to watch.
Who is Felix Sater?
Born in 1966, Sater was about 8 years old when he emigrated with his parents from the Soviet Union to the heavily Russian enclave of Brooklyn's Brighton Beach. After attending Pace University briefly, he dropped out and became a Wall Street stockbroker. In a 1991 barroom fight, he stabbed a man in the face with the broken stem of a margarita glass and was sentenced to prison. In 1993, he became part of a stock scheme that allegedly relied on Mafia crime families for protection. In 1998, Sater pled guilty to federal charges and, pursuant to a cooperation agreement, avoided another stint in prison by helping authorities go after mob figures.
For the next several years, he worked with the FBI and the US attorney's office in New York. Sater also reportedly cooperated with the CIA in tracking down stinger missiles sold on the black market in Central Asia, thereby keeping them out of terrorists' hands. As an informant, he was productive. During Loretta Lynch's 2015 confirmation hearing to become attorney general, she said Sater had provided valuable and sensitive information "crucial to national security and the conviction of over 20 individuals, including those responsible for committing massive financial fraud and members of La Cosa Nostra."
Russia/Trump/Sater
In 2002, Sater was still cooperating with the government when he and his company, Bayrock Group — a Trump Tower tenant — began working with Trump on a series of real estate deals. According to Sater's subsequent deposition, in 2005 Trump also gave Bayrock an exclusive arrangement to develop a Trump Tower project in Russia.
"I'd come back, pop my head into Mr. Trump's office, and tell him, you know, 'Moving forward on the Moscow deal,'" Sater said. "And he would say 'All right…' I showed him photos, I showed him the site, showed him the view from the site. It's pretty spectacular."
According to Sater, the two men became more than business associates. When Ivanka and Donald Trump Jr. visited Moscow in February 2006, Donald Trump Sr. asked Sater to keep an eye on them. "He asked if I wouldn't mind joining them and looking after them while they were in Moscow." Sater said. He summarized the attitude of Trump's children as "nice, big city, great. Let's do a deal here."
On Sept. 19, 2007, as Trump spoke at the launch party for Trump SoHo — a Trump/Bayrock project that special counsel Robert Mueller is reportedly investigating and in which Trump received an 18 percent interest — Sater stood with him.
Trump Swears to Tell the Truth
Two days after a Dec. 17, 2007 article in The New York Times illuminated darker aspects of Sater's past, Trump testified under oath about their relationship.
Q: "[W]hat kind of interaction did you have with Mr. Sater prior to the article appearing?"

TRUMP: "Not that much, not very much…. I would say that my interaction with Felix Sater was, you know, not —was very little." [p. 411]
That was just the beginning.
By 2010 Sater was no longer at Bayrock. He was a "senior adviser to Donald Trump." At least, that's what it said on the Trump Organization business card he carried. He also had a Trump Organization email address and office. The phone number on his card had belonged previously to a lawyer in the office of Trump's general counsel. As recently as December 2015, Sater's LinkedIn profile boasted his prior experience as "senior adviser to Donald Trump, The Trump Organization, January 2010 – 2011 (1 year)."
Less than three years after leaving the Trump Organization, a BBC reporter asked Trump about Sater's alleged prior connections to organized crime. Trump stood up and ended the interview. Four months later, Trump testified under oath about that episode and Sater.
Q: "Do you recall being interviewed?"

TRUMP:  "No, I don't."

…

Q: "Do you recall when you met Mr. Sater for the first time?"

TRUMP: "No. Many years ago. I don't know him well at all, but it was many years ago." [p. 148]
But apparently, Trump knew Sater well enough to vouch for him:
"I don't think he was connected to the Mafia. He got into a barroom fight. In fact, he was supposedly very close to the government of the United States as a witness or something, but I don't think he was connected to the Mafia… I don't think he was connected to the Mafia and I don't know him very well, but I don't think he was connected to the Mafia… I don't see Felix as being a member of the Mafia." [pp. 149-150]
Then the lawyer asked Trump about the 2007 New York Times article describing Sater's unsavory past:
Q: "Do you recall reading it at the time it came out?"

TRUMP: "I just vaguely remember the article, but we weren't dealing much with him [Sater]. We were dealing with Bayrock. We weren't dealing much with him, so — I think this was maybe the article where it talked about the barroom fight, actually, but I vaguely remember it." [p. 156]
Finally came more focused questions about the man who said he'd escorted Trump's children around Moscow and popped into Trump's office to discuss plans for Trump real estate deals around the world.
Q: "About how many times have you conversed with Mr. Sater?"

TRUMP: "Over the years?"

Q: "Over the years, if you can estimate?"

TRUMP: "Not many. If he were sitting in the room right now, I really wouldn't know what he looked like." (pp. 156-157)
Not Done Yet
Sater may have been "forgotten," but he was far from gone. According a Feb. 19, 2017 article in The New York Times, Sater said he was working on a plan for a Trump Tower in Moscow as recently as 2015; however, Trump's budding presidential campaign brought that project to a halt.
On Dec. 2, 2015, an Associated Press reporter asked Trump about Sater. "Felix Sater," Trump replied. "Boy, I have to even think about it. I'm not that familiar with him."
Nevertheless, Sater told Politico, he visited Trump Tower in New York during July 2016 on business that he described as "confidential." And in late January 2017, Sater surfaced again at the Manhattan Loews Regency Hotel on Park Avenue to meet with Trump's personal attorney, Michael D. Cohen, and Andrii Artemenko, a pro-Putin lawmaker from Ukraine. Artemenko and Sater gave Cohen a peace plan that would settle the dispute in Ukraine and rid Russia of US sanctions. Cohen was supposed to deliver the plan to then-national security adviser Michael Flynn, but less than a month later, Flynn was out of a job.
Which Takes Us To Comey
Trump blamed Flynn's undoing on intelligence "leaks."
That's how Trump rolls. When the truth finally emerges to unearth his latest scandal, he blames "leakers" — a label he's used often to describe former FBI Director Comey. Given Trump's remarkable memory lapses concerning Felix Sater, will he swear to tell the truth and then contradict Comey's version of their private conversations? Maybe not.
Only five weeks after Trump's June 9 Rose Garden performance, reporters for The New York Times asked him about his Feb. 14 encounter with Comey: "Did you actually have a one-on-one with Comey then?"
"Not much," Trump replied. "Not even that I remember. He was sitting, and I don't remember even talking to him about any of this stuff."
Maybe Trump's lawyers have reminded him that prosecutors have a difficult time getting a perjury conviction based on a witness' claimed lack of recollection. Or maybe Trump responds like other blunderbuss bullies who back down when someone finally stands up to them. One thing seems clear: James Comey, Felix Sater and others remember things that Trump wants to forget. Eventually, truth prevails.