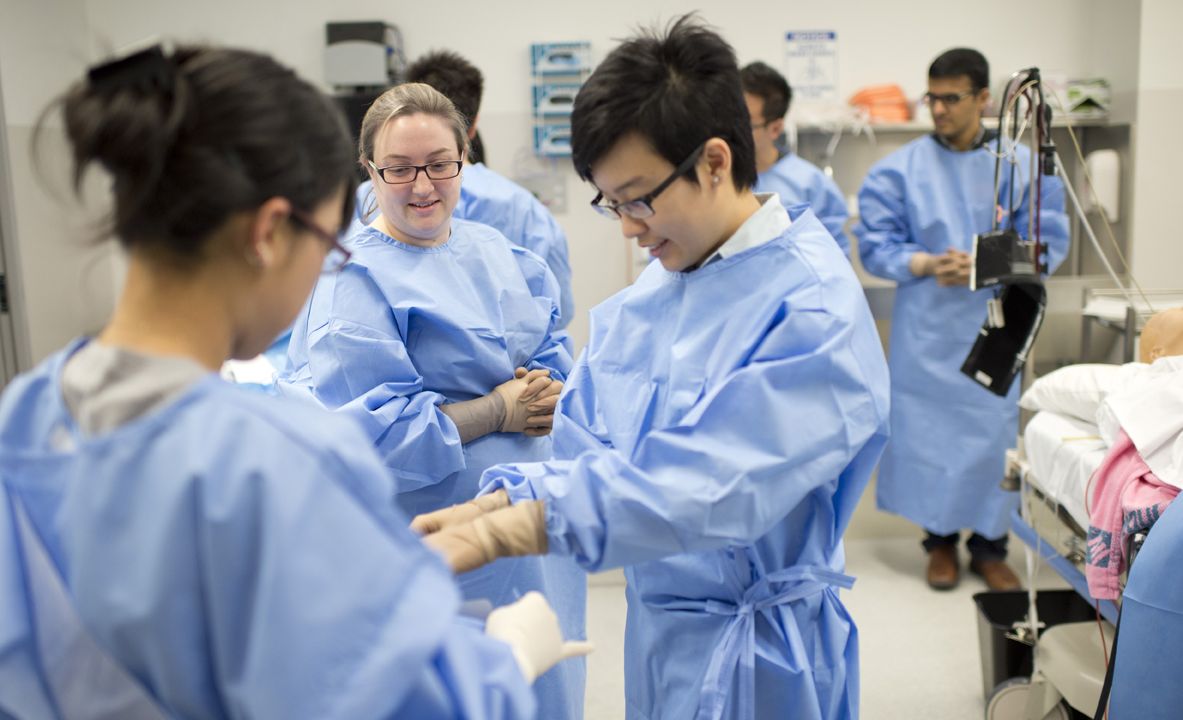 When I arrived in New York as a young journalist from Sydney, Australia in 2003, not even the dazzle of the big city could conceal the extent of my surprise over three conditions of American society.
One, the racism that still played out; a dark underbelly of a nation painted on the resigned faces on the 4 subway as I traveled home to Crown Heights every day. Two, the air of individualism you could smell on the streets. Yes, there were the Wall Street financiers, but it was everywhere — in the delis, on the bikes of restaurant delivery boys peddling furiously into the night. It seemed to whisper, "Hey girl, you might make it if you try hard enough, but you're on your own now, good luck!"
There's good reason why American politicians are gushing over health care down under. Bernie Sanders was back at it again on the Senate floor last week, and even Donald Trump has praised Australia's health care system this year. Here's why.
— Christine Kearney
And then finally, there was the American health system. If the first two issues were steeped in American history, health care seemed different. To the outsider, it was nearly unfathomable why the most prosperous nation on earth had not fixed a decades-old problem, that was only becoming a costlier and increasing burden as each year passed.
We had all heard about it. Horror stories spread back home of Australians who had forgotten to take out travel insurance in the US only to end up with six-figure hospital bills. But it was different when right before my eyes — back then some 45 million people carrying the burden of being uninsured. (Little did I know I would soon join them.)
Despite coverage of 2003's Medicare Prescription Drug, Improvement and Modernization Act, when I quizzed American journalists why there were not more stories, why there didn't seem any sense of urgency to overall change, I would often be met with a small shrug, and resignation that all those stories had been done before. Change had failed. It wasn't a scoop.
If that was the sense among some journalists, I still wondered why the public wasn't more restless. I had to conclude many everyday Americans were simply clueless about how other countries worked.
But now, they're beginning to know. A couple weeks ago, Americans heard Bernie Sanders gush how Australia's universal health care is wildly more efficient and effective than America's. Sanders told the Senate floor: "Not only does Australia guarantee universal health care, spend less on health care per capita, and pay less than we do for many health services, they have better health outcomes."
Sanders was capitalizing on Donald Trump admitting back in May to a visiting Australian Prime Minister Malcolm Turnbull, "you have better health care than we do." Yet analysts say the now defeated "skinny repeal" of Obamacare Trump backed would have made the US system less like Australia's, not more. And Democrats have rightly pointed out the Australian system includes a publicly funded Medicare system far more comprehensive than America's that covers all ages.
This isn't refutable. Study after study ranks America way down and Australia among the best overall health care in developed nations. Just two weeks ago, a new study by a team of American researchers found the United States spends far more on health care than other high-income countries, with spending levels rising continuously over the past three decades.
A recent study by the Commonwealth Fund think tank compared the quality of health care systems of 11 high income countries based on 72 indicators, ranking Australia's mixed public-private system among the top three overall, along with the UK and The Netherlands. It also ranked highest on Administrative Efficiency and Health Care Outcomes.
Despite the praise, Australia's health care system still depends on a mixed market structure (like the US), using both public and private sectors to provide funds to deliver health care. And it's not without its failings, including sliding down the world rankings on equity, with people in rural and poorer areas less able to access quality health care, and in general out-of-pocket costs for everyone continuing to increase.
The federal government funds Medicare, a universal public health insurance program providing free or subsidized access to care for Australian citizens…Private health insurance (PHI) is readily available and offers more choice of providers, faster access for nonemergency services, and rebates for selected services.
— The Commonwealth Fund
But that is little consolation for the US, which ranked last overall, last in access, equity and health care outcomes, and next to last in administrative efficiency, as reported by patients and providers. Only in care process did it perform better, ranking fifth.
The authors concluded: "Despite spending nearly twice as much as several other countries, the country's performance is lacklustre."
That America's health care system overspends isn't exactly news to Americans.
But the tendency to reject change isn't just politics, say analysts, it's also human nature, whether in Australia or America.
"There's the human tendency to get used to the benefits you have, or the system you have," says Australian-American relations expert, Associate Professor Brendon O'Connor of the Sydney-based think tank The US Studies Centre.
Another underlying reason Americans might have difficulty changing their thinking on health care could be buried in the second of my initial observations in New York — the overall effects of such a free-market leader, he noted. Not least the view that Australians see health care as a right, while in America's that's still debatable.
O'Conner believes that is why in America "you have some of the world's best health care, and you also have some of the biggest gaps in coverage."
"It goes to a little bit to the heart of America as a more free-market, laissez faire, more capitalist society," he said. "The idea of a government providing a one-stop shop for health care like the United Kingdom, or even like ours, I would argue is an anathema to American values and traditions."
Still, while for now a Republican-controlled Congress is hardly going to push for an increase in the government's role, O'Conner believes "something is sort of changing" and any new president and new Congress might give hope to more universal health care.
"People realize it's a very expensive system, it doesn't cover as many people or [offer] benefits like other systems in the western word, so a little bit of comparative analysis rightly leads American politicians and a lot of policymakers to think, 'Hang on, this system isn't all its cracked up to be and it's got a lot of faults.'"
In the meantime, while America's health care system remains broken, it still plays an important role in Australian politics.
"The American model is presented as bit of monster, politically, in campaigns," said O'Conner. "It's one of those good examples of America being a kind of dystopia or disfunction that Australians want to avoid. It's been a pretty regular trope of the Labor Party to say, 'Look, we don't want to go to that American model.'"