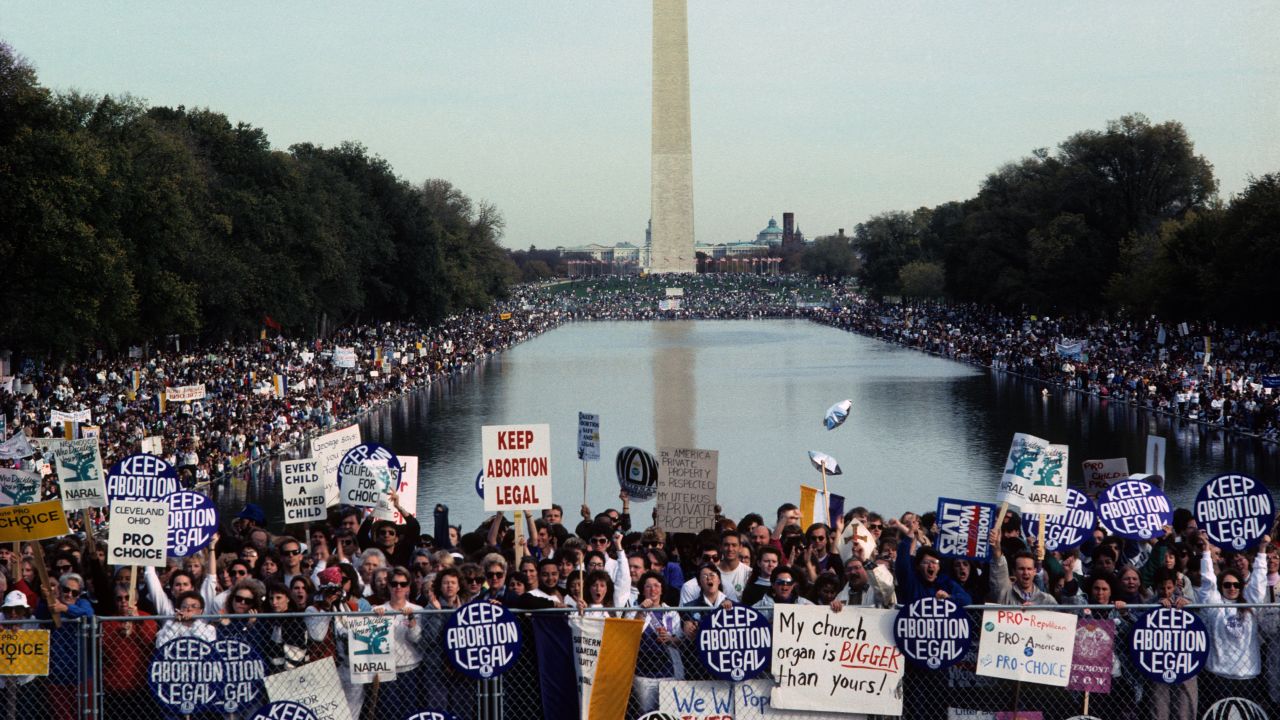 In 1965, illegal abortions made up one-sixth of all pregnancy- and childbirth-related deaths, according to the Guttmacher Institute. Today, more than four decades after the 1973 Roe v. Wade Supreme Court decision legalized abortion nationwide, it is an extremely safe medical procedure. At the same time, over the last six years, hundreds of new anti-abortion state laws have made it increasingly difficult for women in many states to gain access to abortion clinics and have forced many providers to close.
In this post we've collected a number of articles that examine the realities of terminating a pregnancy before and after Roe v. Wade. They chronicle the roadblocks faced by women seeking an abortion over the last 50 years, including the growing number of impediments that exist today, despite the 1973 Supreme Court decision.
---
"The Abortionist on The Circuit of Fear," by Marlene Nadle, The Village Voice, Aug. 18, 1966
When Marlene Nadle wrote this article in 1966, about 5,000 women were known to die from illegal abortions annually "at the hands of an incompetent bungler." Nadle speaks with Dr. Nathan Rappaport, who never imagined he would break the law, but in the end performed illegal abortions for almost 40 years. He began performing abortions two years after he set up his medical practice in Queens, New York, when "a relative begged me to perform one, and I finally did it on the kitchen table." Demand increased once the Great Depression began, he says, as "more and more women asked me for abortions because they could not afford to feed another mouth." Rappaport would later spend nine years in prison and was stripped of his medical license for performing the procedure.

"Dr. Spencer, 1889-1969: Last Trip to Ashland," by Susan Brownmiller, The Village Voice, Jan. 30, 1969
Susan Brownmiller visited Dr. Robert Douglas Spencer, an abortion doctor in the heart of Pennsylvania coal country, shortly before his death in 1969. Spencer began performing abortions in the 1920s and continued to do so until his last days, charging practically nothing for the illegal procedure because "he believed in them." When asked by Brownmiller — who would go on to write the groundbreaking book Against Our Will: Men, Women, and Rape — why he performed abortions for women, he said, "I could see their point of view."

"Lessons From Before Roe: Will Past Be Prologue?" Rachel Benson Gold, The Guttmacher Institute, March 1, 2003
As the legality and availability of abortion increasingly came into question under President George W. Bush, Rachel Benson Gold looked back at the choices available — and not available — to women before abortion was legalized throughout the country. She writes, "At best, these choices could be demeaning and humiliating, and at worst, they could lead to injury and death. Women with financial means had some, albeit very limited, recourse to a legal abortion; less affluent women, who disproportionately were young and members of minority groups, had few options aside from a dangerous illegal procedure."

"What Americans Have Forgotten About the Era Before Roe v. Wade," Tara Culp-Ressler, ThinkProgress, Nov. 19, 2014
Tara Culp-Ressler speaks to Dr. David Grimes about his book, Every Third Woman in America: How Legal Abortion Transformed Our Nation. In the beginning of his career, Grimes, who provided abortions for 40 years, cared for women who were injured by the unsafe abortions that were performed in the 1970s before Roe v. Wade. "When the laws began to change, almost overnight, deaths from septic abortion disappeared," he tells Culp-Ressler. "The current juggernaut of laws are designed to drive women back into the back alley," he says.

"Study Shows Dangers to Women Blocked from Seeking Abortion Care," Renee Bracey Sherman, Ebony, Nov. 18, 2015
A 2015 survey of women in Texas led researchers to estimate that between 100,000 and 240,000 women aged 18-49 in the state have tried to end a pregnancy on their own without medical assistance. "Researchers noted that poverty, in addition to legislative and social barriers, created challenges that left women with self-inducing as their only option," Bracey Sherman writes. The researchers also found that women who are denied abortions are three times as likely to live in poverty two years later.

"The Christian Doctor Fighting for a Woman's Right to Choose," Dr. Willie Parker, BillMoyers.com, April 14, 2017.
In this excerpt of his new book Life's Work, Dr. Willie Parker, a religious man, talks about his personal journey and how he came to be one of the nation's foremost Christian reproductive rights advocates. Parker drives from his home in Birmingham, Alabama to the last remaining abortion clinic in Mississippi a few days a month. He provides abortion services there as well as in Alabama and Georgia.
Parker is chair on the board of Physicians for Reproductive Health, which works to "improve access to comprehensive reproductive health care, including contraception and abortion, especially to meet the health care needs of economically disadvantaged patients." The organization has trained physician advocates in 42 states and DC, providing "compassionate patient care" as well as serving as "the evidence-based voice in the news and in policy."

"TRAP Laws Erode Access to Abortion," BillMoyers.com, Nov. 10, 2017
Between 2011 and now, some 395 abortion restrictions were passed by states — twice as many as in the previous decade, according to the latest numbers from the Guttmacher Institute. These laws, called Targeted Regulation of Abortion Providers, or "TRAP," laws, put in place regulations for abortion clinics that are medically unnecessary and difficult for clinics to meet, forcing many to close. In this article, BillMoyers.com takes a look at the many kinds of TRAP laws that have been enacted in recent years and their effect on women and providers nationwide.