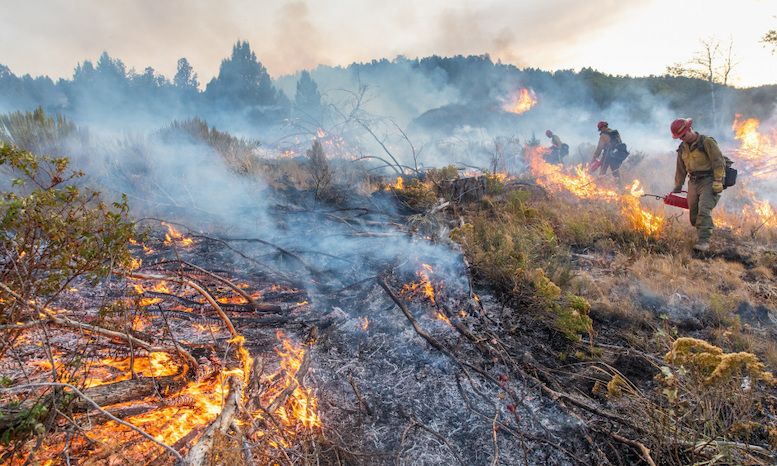 August 21, 2020
After the cascade of news in the past several days and the Democratic National Convention, today was a relatively calm day… at least in politics.
There are, though, some important stories.
The first is getting less play than it should: the nation has lately been hit by a series of environmental catastrophes. California is in the midst of a brutal heat wave, and has been hit by 560 fires, many of them sparked by lightning. Some of the fires have come together to create two dozen large and complex conflagrations. Land the size of Rhode Island has been burned over, six people have died in the fires, and one hundred thousand Californians have been evacuated from their homes. Air quality is dangerously bad.
Chauvin, LA

First city in history to be within two forecast cones at once? pic.twitter.com/EFevp74eib

— Greg Diamond (@gdimeweather) August 21, 2020
California's ability to fight the fires has been hampered by a lack of prison inmates, who have been used to fight fires since the 1940s. Usually the state can mobilize 192 inmate firefighting crews, but this year, the coronavirus has thinned their ranks both from disease and from release, as the state sent inmates home to relieve crowded facilities and slow the virus's spread. Less than half the crews are available this year.
Inmate firefighters make up to $5.12 a day (that's not a typo) and earn two days off their prison sentence for each day firefighting. Each year, they provide about 3 million hours of emergency response time to the state.
In an extremely rare weather event, two tropical depressions — Laura and Marco — are currently developing in the Gulf of Mexico. If they become hurricanes, the event will be unique: never before in recorded history has the Gulf had two hurricanes at the same time. Weather Channel meteorologist Greg Diamond notes that the town of Chauvin, Louisiana, has the dubious honor of being located at the site where both forecast cones overlap.
Illinois and Iowa were hit with a "land hurricane" or "derecho" on August 10. The winds of up to 110 miles per hour damaged homes and businesses in Iowa and destroyed at least 10 million acres of crops. Many are still without power. Iowa Governor Kim Reynolds (R) asked for $3.9 billion in federal aid on Sunday, and Trump tweeted that he had "Just approved (and fast) the FULL Emergency Declaration for the Great State of Iowa."
But, in fact, he approved only about $45 million in aid to repair government buildings and utilities and remove debris from them. He did not fund assistance for homeowners or farmers. This appears to reflect the Republican conviction that the federal government has no role to play in providing a safety net for individuals.
There are a few political stories as well today.
Postmaster General Louis DeJoy testified before the Senate. He acknowledged that the changes he has made at the United States Postal Service have slowed mail delivery —the LA Times had a ghastly story today about rotting parcels and shipments of dead chickens in mail facilities in California— but says he will not replace the sorting machines he has had removed because "they're not needed." He promises the USPS will be able to handle the expected volume of mail-in ballots this fall, and insisted he had made "no changes in any policies with regard to election mail for the 2020 election." In fact, internal USPS documents show clearly that the USPS intended to treat ballots according to their marked postage, rather than all as first-class mail, as it has done in the past. Treating ballots as bulk mail would have slowed delivery.
The Senate hearing before the Republican-led Senate Homeland Security and Governmental Affairs Committee was announced after the House Oversight Committee had arranged a hearing for Monday with DeJoy and USPS Board of Governors Chair Robert Duncan. While senators of both parties today expressed concerns over delays in the mail, the hearing was much friendlier than Monday's, in front of a committee led by Democrats, is likely to be.
Trump's apparent embrace of the QAnon conspiracy theory has put Republicans in an uncomfortable spot. The victory of QAnon supporter Marjorie Taylor Greene in her conservative district in Georgia Tuesday means she will likely be going to Congress, along with her racism, anti-Semitism, and adherence to the belief that Trump is leading a secret crusade to purge the world of a gang of pedophiles and cannibals who have taken over governments and economies. When Illinois Representative Adam Kinzinger tweeted that there is "no place in Congress" for QAnon, Greene retorted: "He's a never Trumper who did nothing to stop the Russian collusion conspiracy/witch hunt…. America can't afford any more RINOs!" (A "RINO" is a "Republican in Name Only," an epithet used since the 1990s to purge the party of moderates.)
"If she's the future of the Republican party, we're in trouble," said freshman Representative Denver Riggleman (R-VA), who was replaced in his primary by a far-right candidate. And there's the rub for Republican leaders: QAnon supporters like Trump, but their extremism threatens to turn off all but fellow extremists. So far, Republican leaders have been quiet about the QAnon believers in their midst, but there are rumblings of discontent from lower lawmakers at the inclusion of conspiracy theorists in their caucus.
There are signs that some Republican candidates are desperate. In Arizona, Martha McSally, who was appointed to her seat by Governor Doug Ducey in late 2018 after losing an election for Arizona's other senate seat, is running significantly behind her Democratic challenger, former astronaut Mark Kelly. (Kelly is married to former Arizona Representative Gabby Giffords.) Tonight, news leaked that at a recent event McSally said: "We're doing our part to catch up, you know, to get our message out. But it takes resources. So, anybody can give, I'm not ashamed to ask, to invest. If you can give a dollar, five dollars, if you can fast a meal and give what that would be." After pushback on Twitter over the statement that people should go hungry to fund her campaign, a spokesperson said McSally had been joking.
BREAKING: The Second Circuit DENIES Trump's request for a stay of Manhattan DA Vance's subpoena pending appeal and schedules arguments for Sept. 1.

Trump previously announced plans to seek a stay from SCOTUS.

Background, @CourthouseNews https://t.co/pkMdUNO9HY pic.twitter.com/Tizmnkn1td

— Adam Klasfeld (@KlasfeldReports) August 21, 2020
The president's tax returns were back in the news again today. Yesterday, Federal Judge Victor Marrero dismissed the president's argument that the Manhattan district attorney's subpoena for eight years of his taxes was "wildly overbroad." Marrero permitted the subpoena to stand. Trump's lawyers then filed an emergency motion to block a grand jury from obtaining the records. The court today denied their request and scheduled a hearing about the matter on September 1. Trump's lawyers have argued that the presidency makes Trump "constitutionally different" from other people, and thus should be treated differently than others. The court disagrees. Yesterday's decision prompted Trump to complain, "This is just a continuation of the most hideous witch hunt in the history of our country."
New: Federal judge denies Trump's request to put ruling over subpoena for president's financial records on hold to allow time to appeal.
"Court is not persuaded that appellate review would be successful..This argument cannot suffice to show irreparable harm," Judge Marrero wrote

— Jim Sciutto (@jimsciutto) August 21, 2020
Finally, the White House has made no statement on the poisoning of Russian opposition leader Alexey Navalny. European leaders as well as American politicians of both parties have condemned the attack.
We are pleased to be presenting daily posts from Heather Cox Richardson's "Letters From an American" email newsletter. You can sign up to receive it in your inbox here.