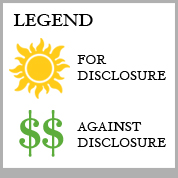 Earlier this summer, Senate Democrats failed for the second time in their attempt to pass the DISCLOSE Act, a bill that would require all super PACs, trade groups, unions and nonprofits to disclose the names of donors who contribute over $10,000 for political purposes. Democrats needed 60 votes to advance the legislation, but they only were able to get 51. The Senate bill was a stripped down version of a similar bill that succeeded in passing the House of Representatives in 2010, but failed to pass in the Senate.
Click on the maps below to see how your state's representatives voted in the 2012 Senate vote and the 2010 House vote.
2012 Senate Vote
Vote: 51 yes, 44 no, 60 needed to pass. See all votes »
2010 House Vote
Vote: 219 yes, 206 no, majority needed to pass. See all votes »
Even if the DISCLOSE Act did make it out of the Senate, it would have to be voted on by the current House of Representatives. House Minority Leader Nancy Pelosi (D-CA) said this week that if Democrats retake the House in November, the DISCLOSE Act would be one of her top priorities.