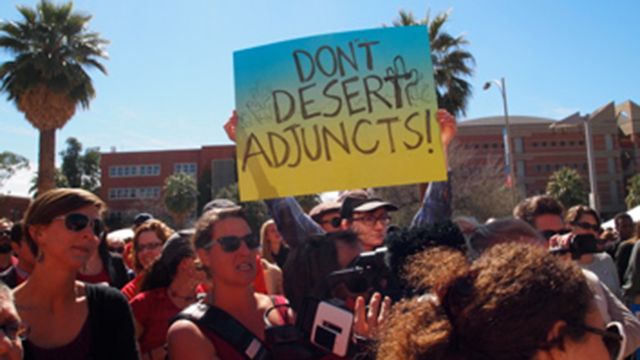 About 300 people protest at the University of Arizona on February 25, 2015 as part of a nation-wide action calling for better wages and working conditions for adjunct professors. (Photo/John Washington)
On Wednesday, adjunct faculty at the University of Arizona (UA), myself included, walked out and taught-in as part of the first-ever National Adjunct Walkout Day. At least 300 of us — adjunct professors, students and tenure-tracked faculty — came out to the campus mall, deciding to dig in and call for fair wages and better working conditions for the part-time, temporary employees who make up the majority of higher education instructors.
I've been teaching creative writing classes at UA since the fall, and have a one-year contract, which is good for an adjunct.
What most provokes my students about the situation facing the adjuncts who teach them are the numbers. Even fans of our top-seeded basketball team think $1.9 million a year — the salary of UA head coach Sean Miller — is grotesque. The next cringe comes when considering UA President Anne Weaver Hart's potential performance bonus of $170,000, which would be the cherry to her $600,000 annual salary. And then this: UA English Department adjuncts teach over 100 writing courses to 2,500 students each semester. Teaching full-time, and often putting in more than 40 hours a week, we earn a salary of just $33,050 a year. And many adjuncts haven't received a pay raise in over a decade, not even a cost-of-living adjustment.
Newly seated Republican Governor Doug Ducey recently slashed higher education spending in Arizona by $75 million dollars, while sending nearly the same amount of state funds, $70 million, to private prisons. Arizona State University (ASU) President Michael Crow responded by calling for "modernization," wanting the state's public universities to be "as free and able to operate on an entrepreneurial basis as possible." (ASU is governed by the same Board of Regents as UA.)
Crow's modernization is a euphemism for privatization, which is another leap towards corporatization, a trend that is happening at universities across the country. The focus is shifting away from the horizon of higher learning and toward the bottom line of profitability, paying adjuncts as little as administrators can get away with.
I'm expecting to have to go back on the job hunt in May. Many, despite having doctorate degrees, strong publication history and expertise in their field, work on a semester to semester basis and are often contracted mere weeks before the start of classes. This insecurity is part of what we're trying to change.
I'm still regarded as contingent, less-valuable, dispensable — in a word: adjunct.
Working for a public university, I'm trying to establish a good relationship with the public. Like any decent relationship, it should be a give and take. I take a salary and give my heart and knowledge to the classroom and the community. I've been holding up my end. Despite the congenial chitchat with the administration on campus, however, I'm still regarded as contingent, less-valuable, dispensable — in a word: adjunct.
Most adjuncts I know are in the business because they love teaching, because they believe in its power. Fellow UA English Department adjunct Sean Rys wrote that the classes adjuncts teach "do more than cultivate robust reading and writing practices; they also teach students how to orient themselves to the world, how to inquire and question." This is what is at stake when we cut funds and exploit our teachers. We cut students loose. We unanchor them from the foundations of critical thinking. We shove them into the world with less direction, less knowledge.
It comes down to respect. In order to respect students we have to respect their teachers. As Rys explained, adjuncts are walking out "to illustrate that non-tenure track faculty are not, as the 'adjunct' label suggests, subordinate or auxiliary." Adjuncts are walking out to illustrate that while the education of future generations is in our hands, our hands are being tied.
I know I could give more to my students if I didn't have to scramble with all the extra work — I'm also a freelance journalist and translator. I know I could establish stronger relationships with my students and deeper community ties if I didn't have to start job-hunting again in May.
Cynthia Diaz, an undergraduate and first generation college student, said at our teach-in: "I thought all professors and TAs who taught classes were living a great life, but our [adjunct and non-tenure track] teachers are being treated unfairly. I pay a large amount of money to be here, but less than a quarter goes to our instructors." The UA currently only spends 24 percent of its revenues on instruction, which is an eight percent decline from 2003. Diaz, in a statement much more profound than it may at first seem, concluded: "We want our teachers to teach."