The average African-American household takes home around 40 percent less income than a similar white family. The gap between non-Hispanic whites and Hispanics (who can belong to any race) is just over 30 percent (Excel file).
But racial income inequality pales in comparison to the racial gap in net worth — in household wealth accumulated through one's lifetime and passed from generation to generation — especially between whites and blacks. It's the living legacy of hundreds of years of structural racism in our past.
And, according to a new study by the Pew Research Center, that wealth gap has grown significantly since Wall street crashed the economy…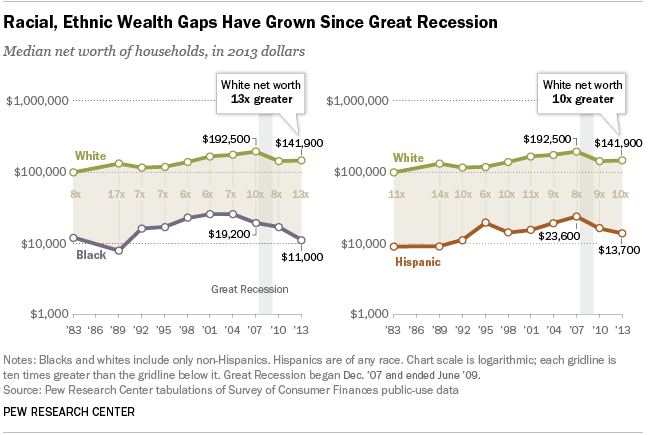 The study's authors note that while accumulated wealth dropped across the board during the crash, there has been "a stark divide in the experiences of white, black and Hispanic households during the economic recovery."
From 2010 to 2013, the median wealth of non-Hispanic white households increased from $138,600 to $141,900, or by 2.4 percent. Meanwhile, the median wealth of non-Hispanic black households fell 33.7 percent, from $16,600 in 2010 to $11,000 in 2013. Among Hispanics, median wealth decreased by 14.3 percent, from $16,000 to $13,700.
They offer a number of possible explanations for the disparity. Foremost among them is that financial wealth — stocks, bonds and the like — has recovered much more rapidly than housing wealth, and whites are far more likely than blacks or Latinos to own those kinds of financial assets, either directly or through their retirement accounts.
Ta-Nehisi Coates on the Case for Reparations
As I've written before, this widening wealth gap explains the persistence of higher poverty and unemployment among African Americans and Latinos with an empirical rigor that theories about poor culture or declining families lack. Accumulated family wealth allows white families to smooth their kids' path to the middle class in myriad ways — like by being able to help pay for higher education, buy a first home or come up with seed money to start a business.
One additional note: This study may understate the true magnitude of the racial wealth gap because the Federal Reserve data on which it relies shows a smaller disparity than most previous data sets. In fact, the same Pew researchers, using a different source of government data, found that "the median wealth of white households [was] 20 times that of black households and 18 times that of Hispanic households" back in 2009.

This work is licensed under a Creative Commons Attribution-NoDerivatives 4.0 International License.