One of the few bright spots in Tuesday's election results was the passage of a higher minimum wage in four red states: Alaska, Arkansas, Nebraska and South Dakota. President Obama has said that raising the federal minimum wage — currently $7.25 an hour — to $10.10 is an economic priority for his administration, but congressional Republicans have blocked legislation at every turn. In April, only one Republican senator, Bob Corker of Tennessee, broke party ranks to vote yes on a motion to proceed on the Minimum Wage Fairness Act. The bill died in the filibuster.
As Rachel Cohen noted earlier this week in The American Prospect:
In light of this, it's interesting to see a state like South Dakota — a state that hasn't supported a Democrat for president in decades — vote to raise the wage by a 53 percent margin. The initiative will result in 62,000 South Dakotans taking home higher paychecks. In an email to The American Prospect, Zach Crago, executive director of the South Dakota Democratic Party, said, "It's about rewarding hard work with an honest wage. That message resonates with South Dakotans. Republican candidates oppose it at their own peril."
Starting next year, more than half the states will mandate higher minimum wages than the federal standard.
And as much of a victory as that might sound like for low-wage workers and their advocates, it's still not enough. In every state in the union, even those that mandate a minimum wage high above the federal mark, such as Washington state, where it's currently $9.32 (rising to $9.47 in 2015), it's still not enough to pay the rent. Earlier this year, the National Low Income Housing Coalition released this map, showing the number of hours a low-income earner would need to work per week in order to afford the rent on a two-bedroom apartment without paying more than 30 percent of their income. (click on map to enlarge)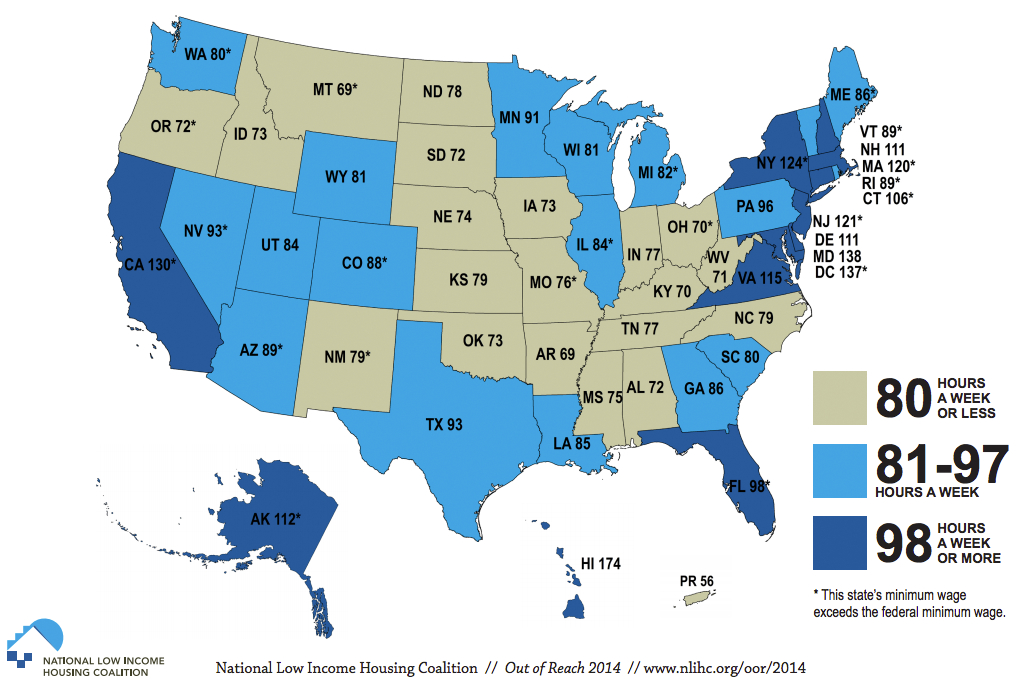 According to NLIHC's report released earlier this year, Out of Reach 2014, "a minimum wage worker today has to work, on average, 104 hours a week to afford a modest two-bedroom rental unit." Many advocates talk about a "living wage" when they talk about $15 an hour, as some fast-food workers have been striking for recently. But according to the NLIHC report, a full-time minimum wage worker can't afford a one- or two-bedroom rental unit in any US state.
The hourly wage that we'd have to hit in order make the rent on a 40-hour work week? $18.92 an hour.