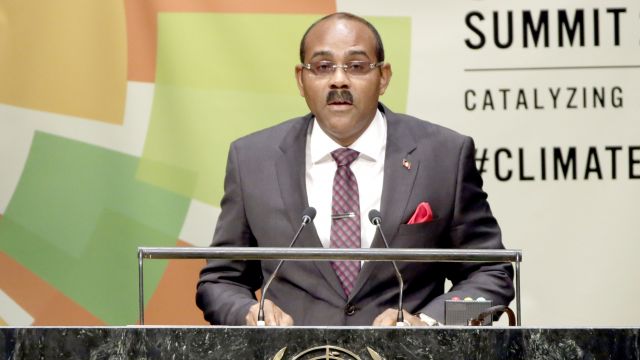 Prime Minister Gaston Browne, of Antigua and Barbuda, addresses the Climate Summit at United Nations headquarters, Tuesday, Sept. 23, 2014. (AP Photo/Richard Drew)
At yesterday's UN Summit on Climate Change in New York, diplomats from around the world demonstrated a rough consensus on the broad issues facing the international community as a result of global warming: greenhouse gases have jumped to record levels and continue to climb, the planet's getting hotter, sea levels are rising and the weather is becoming increasingly volatile. And if developing countries are to adapt, they'll need help from wealthy countries that are responsible for decades of greenhouse gas pollution.
For a handful of peoples around the globe, climate change is no longer a future threat — they're facing the consequences right now. Hearing that a global consensus is beginning to emerge among world leaders is not encouragement enough for those whose ways of life — and actual lives — are imperiled.
"For us this is not an academic discussion or statistical game. We have real economies at risk and real lives at stake." — Gaston Browne, prime minister of Antigua and Barbuda
Gaston Browne, the recently elected prime minister of Antigua and Barbuda, a nation comprised of twin Caribbean Islands, delivered a critical yet realistic message. "We, like many other small-island developing states, contribute the very least to the conditions that cause climate change. We are the victims of the profligacy of others. Therefore, there should be no surprise that the people of Antigua and Barbuda, like the people of other small-island developing states are angry and frustrated," Browne said.
"They are angry because despite all the efforts to develop their economies… the devastating effects of climate change destroy their work and set them back year after year, putting our sustainable development pathway off track," Browne said. "For us this is not an academic discussion or statistical game. We have real economies at risk and real lives at stake."
Witnesses to a changing world
Many community activists from areas that are already being hit hard testified about the challenges they face as climate change worsens.
"The water is really coming up, and the people are forced to think about where to go," said Christina Ora, a youth organizer from the Solomon Islands. "Back home, you can't just get up and leave. If it's not your land, you can't go there, conflicts will come up." A chief on one island told her that as the tides rise around his community, he's looking for somewhere to send his children to live. But "when this island goes down," Ora recalled him saying, "I'm going down with it."
Alina Saba, a community organizer from a remote region of Nepal, said her village survives by growing only a few crops in the Himalayans. "With the increasing temperature, if that crop goes extinct, they don't have anything except death or migration," she said. "Over the last five years they have been losing land — just as they're ready to harvest crops — to landslides. It goes unreported… It's so isolated and no one knows about this, but it's happening due to climate change."
The summit tested wealthy nations' commitments to making the Green Climate Fund (GCF), designed to help nations deal with the plights of communities like Ora's and Saba's, a functional reality. The UN created the fund in Copenhagen in 2009 to help poorer countries mitigate and adapt to climate change. But so far, the fund is not off to a great start. Though the UN hopes to raise $100 billion by 2020, and developing nations have called for $15 billion, wealthy countries have so far pledged only $2.3 billion — $1 billion of which came from France yesterday. The US has not yet pledged any funds. And in any event, these commitments are unenforceable — the money may never make it to the GCF if countries decide not to keep their promises.
In his speech before the General Assembly, President Obama did announce a new executive order requiring the US to take climate change into account when investing in international development programs. "That is a big, big move," said Julia Marton-Lefèvre, the director general of the International Union for Conservation of Nature (IUCN).
The president also drew cheers when he told a hushed General Assembly, "Just a few minutes ago I met with Chinese Vice-Premier Zhang Gaoli, and reiterated my belief that as the two biggest emitters we have to lead. It's what big nations have to do." The US and China have been at loggerheads over the issue in the past, and that has so far been a key factor in the international community's failure to reach a global deal.
Progress on deforestation
This UN summit did see a tentative victory for groups that have had their homes ruined by reckless deforestation, which plays a part in contributing to climate change.
In a pledge called The New York Declaration (named for the city in which it was announced), 40 companies — many of them brands recognized worldwide — as well as a number of governments, NGOs and indigenous groups, pledged to help cut tropical deforestation in half by 2020 and stop it entirely by 2030. Among the companies that signed onto the declaration were many that handle palm oil — including Cargill, Dunkin' Donuts and Krispy Kreme — the production of which has lead to a dramatic reduction in old growth forests in tropical regions.
"We need strong laws to protect forests and people, as well as better enforcement of existing laws." –Greenpeace International Executive Director Kumi Naidoo
"Even the business community is beginning to realize that the effect of climate change will impact us all: It will impact everyone, everywhere, from every walk of life, and therefore business will be impacted seriously," Bianca Jagger, the IUCN's ambassador for the Bonn Challenge — an initiative to restore the world's degraded and deforested lands — told BillMoyers.com.
"We see the natural disasters that are taking place all the time. We see what happened in New York, in New Orleans, what's happening in the world — they had to come to terms with the fact that this will not just impact people in the developing world, but that it will impact, of course, business."
Environmental advocates fighting deforestation expressed luke-warm approval, saying they wished the declaration had gone further.
"We need strong laws to protect forests and people, as well as better enforcement of existing laws," said Greenpeace International Executive Director Kumi Naidoo. "The New York Declaration is missing ambitious targets and tangible actions. Halting the global loss of natural forests by 2030 … means that years of continued forest clearance still lie ahead of us. While we are celebrating announcements on paper today, forests and forest peoples are facing imminent threats that must be averted if we want the Declaration to become reality."
Rainforest Action Network (RAN) Director of Communications Christopher Herrera said in a statement, "these are still only voluntary commitments in a public forum. These corporations still must turn these statements into actionable policies and demonstrable shifts in practice throughout their global supply chains."
If the partners make good on their pledge, it would also help with efforts to curb global warming. The UN predicts it would prevent the emission between 4.5 and 8.8 billion tons of carbon dioxide each year by 2030, the equivalent of getting rid of all one billion cars that are currently on the world's roads.

This work is licensed under a Creative Commons Attribution-NoDerivatives 4.0 International License.