Some opponents of campaign finance reform argue that "money is like water," and will always find its way through the cracks regardless of what limits are in place. But in a real-world experiment that's had tragic consequences for American democracy, that claim has been proven false.
In 2009 and 2010, the Supreme Court used a series of cases — Emily's List v. FEC, Speech Now v. FEC and Citizens United v. FEC — to effectively gut most limits on "independent expenditures" in elections. And a flood of dark money followed. As Harvard law scholar Lawrence Lessig told BillMoyers.com back in April, "if money always finds its way in, we wouldn't have seen that. The rules changed and the amount of money and the size of the influence of large contributors went up dramatically."
So it turns out that the rules really do matter. And an analysis by the The PBS Newshour on Monday revealed that, with seven weeks of heavy spending to go before the 2014 election, the record for the most money spent by outside groups in a midterm cycle has already been broken. What's more, it's the most spent in any election other than the 2012 presidential race.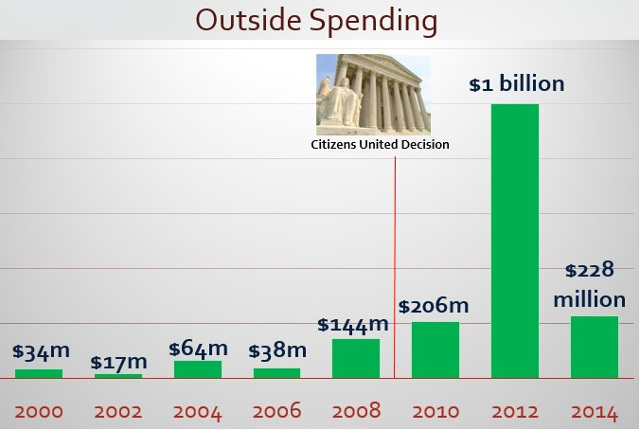 There have been and continue to be efforts to rein in this avalanche of dark money. Senate Republicans recently filibustered a proposed Constitutional amendment that would have overturned Citizens United, but activists promise to continue that fight.
Lawrence Lessig's "Super PAC to end all Super PACs" — the Mayday PAC — has raised $8 million for a trial run backing a handful of pro-reform candidates in 2014, and Lessig hopes to use this experience to go much bigger in 2016.
And over the weekend, Peter Olsen-Phillips wrote on the Sunlight Foundation's blog about a new "anti-Super PAC."
A new super PAC has a different plan to take big money out of elections: Get candidates to sign a 'no dark money' pledge that would discourage money from anonymous sources.

The committee, CounterPAC, launched its first attack ads Tuesday in a Colorado House race. And while the committee doesn't have the nationwide pool of donors of MayDay — another PAC that's embracing the irony of raising big money to get money out of politics, it is making ripples through other means.

CounterPAC, funded by former Kongregate CEO Jim Greer and Google engineer Matt Cutts, is pushing federal candidates to accept a dark money armistice. Under the pledge, candidates that benefited from independent expenditures with undisclosed sources would agree to give 50 percent of the value of that expenditure to charity. Just how that agreement would be enforced is unclear.

Who's Buying Our Midterm Elections?

CounterPAC's staff said their approach was based on the DISCLOSE Act. It would still allow outside groups to accept million-dollar checks as long as they came from disclosed sources.

The PAC is targeting races in Alaska, Colorado, Georgia, Iowa and West Virginia. In West Virginia, where incumbent Democrat Nick Rahall is fighting to hold on to his Third District seat in an increasingly Republican state, Republican challenger Evan Jenkins has gone a step further — pushing the Rahall campaign to disavow all outside spending and PAC contributions.

So far, Rahall hasn't budged. Incumbents tend to rake in heaps more PAC money than newcomers and the Democrat's campaign has pulled in around $1.7 million from political committees, compared to Jenkins' $200,000. Rahall's refusal has given his opponent a new tool to bludgeon his opponent in press releases.

In Colorado, CounterPAC is doing some bludgeoning of its own.

On Tuesday the group went live with its first attack ad, a $120,000 expenditure slamming Rep. Mike Coffman, R-Colo. went. His opponent, Democrat Andrew Romanoff, agreed to sign the pledge if Coffman would follow suit.
Read the rest at the Sunlight Foundation.

This work is licensed under a Creative Commons Attribution-NoDerivatives 4.0 International License.