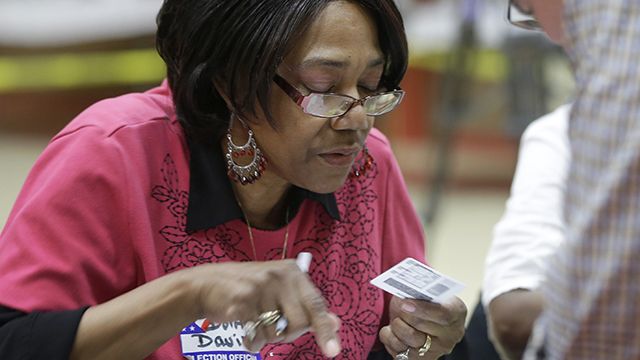 Election worker Dorothy Davis checks a voter's ID in Little Rock, Arkansas, for Arkansas' party primary elections on Tuesday, May 20, 2014. (AP Photo/Danny Johnston)
This post originally appeared at the Brennan Center for Justice blog. For more Brennan Center voting updates, sign up for their newsletter.
Latest Developments
Signs of Bipartisan Reform, but Photo ID Snags Voters
Although partisan voting feuds continue to rage, a number of states have moved to expand access to the ballot in 2014. Additionally, many glitches have developed as states implement new restrictions for the first time this year.
Increasing Voting Access
Last week, Illinois became the latest state this year to improve voting, passing a bill to create a same-day registration pilot program for November's election. Hawaii, Massachusetts, Minnesota and Nebraska passed other measures, some on a bipartisan basis, to increase access.
Some of these reforms were included in a set of recommendations issued by the Presidential Commission on Election Administration — a bipartisan panel charged with developing new ideas to modernize voting after a wave of restrictions led to confusion and long lines in 2012.
"Compared to that period, this is more of a mixed bag," the Brennan Center's Jonathan Brater told USA Today. "We're certainly optimistic that more states are going to be moving to make voting easier."
Photo ID Obstacles
A raft of new photo ID laws, in effect for the first time in 2014, has snagged voters in recent primary races. In Arkansas, for example, two dozen primary ballots were thrown out because of the state's new ID requirement and the law tripped up the winner of the Republican gubernatorial primary. Some voters without ID were also turned away during Tuesday's Alabama primary. Reports show few complications, however, in nearby Mississippi.
These problems will likely grow worse in higher-turnout races this fall, the ACLU's Dale Ho told MSNBC. "They demonstrate exactly why we've filed motions to put these laws on hold until they've been thoroughly vetted by the courts."
The Brennan Center will be releasing an updated analysis of 2014 voting laws in the coming weeks.
State Updates
Alabama – Last week, NAACP LDF urged Secretary of State Jim Bennett (R) to allow people without photo ID to cast a ballot in Tuesday's primary election. "In clear violation of the Voting Rights Act, the State of Alabama has proposed a set of rules that will require an otherwise eligible voter who lacks the required photo identification to prove his or her identity by the 'voucher' of a class of mostly white poll officials," LDF wrote. Bennett recently announced the state had produced more than 2,300 free IDs. Read more here.
Arizona/Kansas – A decision on voter registration rules in Arizona and Kansas could come by the end of September, The Wichita Eagle reported. The 10th Circuit Court of Appeals will hear oral arguments in August on whether the two states can require proof of citizenship when voters sign up using the federal registration form. The Brennan Center, with Kirkland & Ellis, represents the League of Women Voters US and its state affiliates in the case.
Ohio – If lawmakers don't act on a photo ID bill by the end of the year, the conservative group Ohio Christian Alliance pledged to push a ballot initiative in 2015. Meanwhile, Secretary of State Jon Husted (R) took a step toward increasing election efficiency by directing county officials to produce election administration plans in advance of each contest. The directive specifically asks officials to use tools endorsed by the Presidential Commission on Election Administration and the US Election Assistance Commission.
Virginia – In preparation for the state's new photo ID law, which goes into effect July 1, the Board of Elections held 13 training sessions for officials in May and will offer more online training in June.
Media Round-Up
In The New York Law Journal, Myrna Pérez and election law expert Jerry H Goldfeder broke down the current legal landscape on voter ID laws.
A new study from the University of Southern California found strong evidence that racial bias plays a role in legislative support for voter ID requirements.
The Seattle Weekly profiled Matt Barretto, a University of Washington political science professor whose research has been instrumental in fighting ID restrictions.
Voting activists should abandon the voter ID issue and focus on other ways to expand access to the ballot, including modernizing registration, argued writer Stephen Lurie at The Washington Post.
---
This post originally appeared at the Brennan Center for Justice blog. For more Brennan Center voting updates, sign up for their newsletter or connect with them on Facebook and Twitter.