Every week Moyers & Company producer Gail Ablow shares her must-read money and politics stories.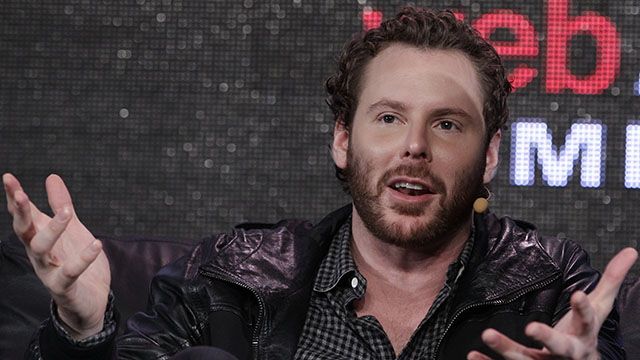 Napster co-founder Sean Parker speaks at the Web. 2.0 Conference in San Francisco, Monday, Oct. 17, 2011. (AP Photo/Paul Sakuma)
White House Hosts 'Next Generation' Young and Rich –>  Jamie Johnson, an heir to the Johnson & Johnson fortune and director of two HBO Documentaries, Born Rich and The 1%, was back on the elite beat recently for The New York Times. He reported on a "discreet, invitation-only summit" hosted by the Obama administration for the scions of billionaire family fortunes. The goal was to encourage their youthful idealism and to "empower" this next-generation of philanthropists to work with the White House to solve real problems. Among those problems: "Climate Change," "Millennial Healthcare" "Revitalizing Cities" and "Human Trafficking." But you have to wonder if anyone discussed another real world problem making the headlines this week: income inequality. It's the issue that is propelling Thomas Piketty's blockbuster bestseller, Capital in the Twenty-First Century to the top of the Amazon bestseller list. Piketty's book provides stunning evidence that the income gap between these young philanthropists and their families and the other 99.9 percent of the population will continue to grow wider.
Napster billionaire's next mission: Conquer politics –> Sean Parker, the 34-year-old Napster inventor and Facebook billionaire, is taking on politics and preparing to make a significant investment in the 2014 election cycle, according to Alexander Burns and Alex Byers at Politico. They write that Parker, who has already given some $4 million to political causes in the past, is ready to do more. He plans to create a civic start-up called 'Brigade' that will develop tools to enhance voter education and participation. While Parker has, thus far, mostly donated to the Democrats, Burns and Byers report that will change this year. In an effort to fix the broken political process, Parker's political associates say that he will be donating to Republicans who are willing to compromise on issues like immigration reform and to moderate Republicans staving off primary challenges from the right.
Meet the Doctor Who Gave $1 Million of His Own Money to Keep His Gun Research Going –> In the aftermath of the Sandy Hook school shootings, President Obama proposed granting $10 million to the CDC to research gun violence as a public health issue. Rep. Jack Kingston (R-GA), the chair of the subcommittee that sets CDC funding, agreed to look for common ground. But as Lois Beckett of ProPublica reports this week, Kingston, who is currently campaigning for a US Senate seat, changed his tune. He won't support federal funding for gun violence research. Beckett also interviews Dr. Garen Wintemute, a professor of emergency medicine who runs the Violence Prevention Research Program at the University of California, Davis. Wintemute has already spent more than $1.1 million of his own money to keep his research going. By his own count, he is one of only a dozen across the country who continue to focus on gun violence. Wintemute tells Beckett that he raises private money, but he won't take money from gun groups, pro- or con-. "As a scientist, I just can't enter into such an agreement. We have to let people know what the truth is, even if the truth makes someone uncomfortable."
Why Care About McCutcheon? –> The New York Times columnist and food journalist, Mark Bittman makes a health argument for campaign finance reform. No, the Supreme Court's McCutcheon decision won't elevate cholesterol (blood pressure's another matter). But he writes that the argument that campaign finance limits restrict "free speech" is similar to the one used to defend the marketing of junk food to children. Bitman sums up the thinking: "Anyone can say anything they want, but if you can afford to say it louder and more publicly than anyone else, that's OK." It doesn't matter if it harms the health of our children or the health of our democracy. Don't despair, he concludes, get angry and act. A long-term systemic strategy should be put on the menu.
Dig Deeper
Top Ranking of Organizations Lobbying the Government, by Kent Cooper, Money Line, Roll Call
The Turn Against Transparency in Campaign Finance, by Conor Friedersdorf, The Atlantic
Self-Funding Republican Wins Primary in Race to Replace Trey Radel, by Abby Livingston, Roll Call
Tom Steyer: I'm not the Koch brothers, by Andrew Restuccia, Politico