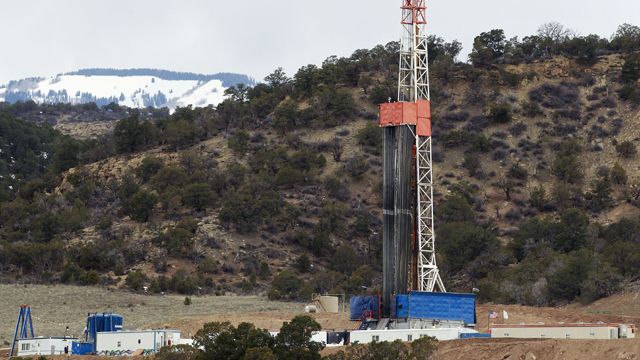 A rig drills for natural gas that will eventually be released using hydraulic fracturing, or fracking, on leased private property outside Rifle, in western Colorado. (AP Photo/Brennan Linsley)
Shale gas proponents argue that it's clean, cheap and abundantly available here at home — three benefits no other single fossil fuel shares. But a new
report
from Stanford's Energy Modeling Forum finds that burning more natural gas wouldn't do much to decrease North America's carbon footprint.
Some energy market watchers, including US Energy Secretary Ernest Moniz, say natural gas is a "bridge fuel" between dirtier fossil fuels like coal and oil, and cleaner, renewable sources of energy like wind and solar. But the Stanford study finds that natural gas would not actually deliver us across the "bridge" to a greener energy future: Having made coal less economical already, cheap shale gas will also keep renewables from capturing more of the market. Tax credits encouraging investment in wind farms and other sources of renewable energy will also likely expire at the end of this year, suppressing sustainable development further. With more shale gas production, where we are now, in terms of emissions, is where we'll stay.
Natural gas is less dirty than coal, but it's still a carbon-based fuel, and the cheaper it is, the more of it we'll use. According to the report, natural gas is so cheap that it beats out both fossil fuels and increasingly popular renewable alternatives.
The report's authors continue:
Another contributor to the modest emissions impact is the somewhat higher economic growth that stimulates more emissions. Reinforcing this trend is the greater fuel and power consumption resulting from lower natural gas and electricity prices.
The report also notes that while natural gas will stimulate our domestic economy, it won't have the same robust effect its proponents hope for. The Stanford experts predict it will add about $70 billion — "Although this amount appears large," they write, "it represents a relatively modest 0.46 percent of the US economy."