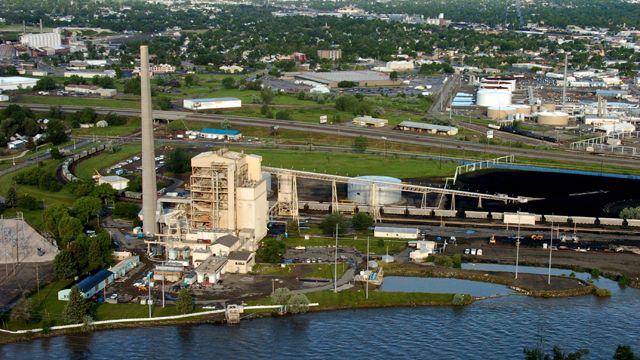 PPL Montana's J.E. Corette coal-fired power plant along the Yellowstone River in Billings, Mont. (AP Photo/Matthew Brown, File)
The Environmental Protection Agency (EPA) rolled out new regulations at the end of last week that will cap the amount of climate change-causing emissions that new power plants can pump into the atmosphere. At 1,100 pounds of carbon dioxide per megawatt hour, the cap for coal will be impossible for new power plants to meet without using carbon capture technology, which collects the emissions for storage. This technology is expensive, and will undermine coal's main appeal — its relatively low price. That, coupled with the increasing availability of inexpensive natural gas, could spell the end for coal in America — something that Republicans on the House Energy and Power Subcommittee fretted about extensively in their Wednesday hearing with EPA Administrator Gina McCarthy and Secretary of Energy Ernest Moniz.
Echoing her remarks Wednesday, McCarthy writes that the new regulations "are achievable" using carbon capture, and will not make America — in Rep. Ed Whitfield's (R-Ky) words — "the first country in the world where you cannot build a new coal-fired plant." She also defended the administration's decision to target fossil fuel-burning power plants:
We know that carbon pollution is the most prevalent heat-trapping greenhouse gas, warming our planet and fueling climate change. In 2011, power plants and major industrial facilities in the United States emitted over 3 billion metric tons of carbon pollution, which is equal to annual pollution from over 640 million cars. Annually in the U.S., carbon pollution from power plants accounts for one-third of all greenhouse gas emissions, or 40 percent of total carbon pollution, surpassing industrial sources or the transportation sector. That means power plants emit more carbon pollution than every boat, plane, train, and car in the U.S. combined.
But big coal doesn't agree that the EPA cap leaves room for new power plants and is expected to sue. "Despite their talk about an 'all of the above' approach to energy, the EPA is banning the construction of modern coal plants resulting in fewer fuel choices in the market," wrote Mike Duncan, president and CEO of the American Coalition for Clean Coal Electricity. "Despite the administration's flawed thinking, the coal industry is committed to seeking solutions to ensure that this important natural resource remains a vital part of America's energy mix for generations to come."
Noting that the dirtiest American power plants are responsible for a huge share of climate change-causing emissions, environmental advocates have for years called for power plants to be regulated across the board like other heavy polluters and claim the EPA's new regulations as a major victory. Frances Beinecke, president of the Natural Resources Defense Council, wrote Friday:
The single most important thing we can do to protect our communities from climate change is to reduce the dangerous carbon pollution from our country's largest source: power plants. Right now there is no limit on how much carbon these plants can pump into our atmosphere. America has already set standards for arsenic, mercury, and lead pollution. It's time to do the same with dangerous carbon emissions, and the standards proposed today will get us going.
Bloomberg notes that, in practice, the law's impact is likely to be minimal: Because natural gas is all the rage right now, few coal power plants are scheduled to be built in the next few years. Two new coal power plants did come online this year, and a Mississippi power plant equipped with the kind of carbon capture technology the EPA recommends will start operating in 2014.