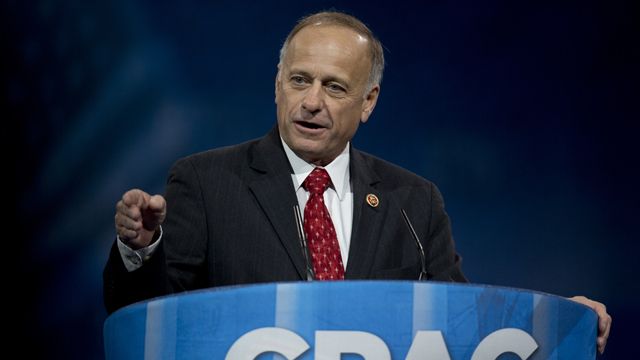 Rep. Steve King, (R-IA), speaks at the 40th annual Conservative Political Action Conference in March. (AP Photo/Carolyn Kaster)
"Since 2008, the cost of SNAP has more than doubled from $34 billion to $74 billion," complained Rep. Kevin Cramer (R-ND) in a press release defending his vote for a $40 billion cut over 10 years to the Supplemental Nutrition Assistance Program, more commonly referred to as the food stamp program. The cuts come at a time when one in seven Americans is utilizing food stamps, as unemployment remains high. As NPR reports, "the vast majority of SNAP recipients either work or are children, disabled or elderly."
But Cramer was not fazed by these statistics, instead asking on the House floor, "When did America trade the dignity of a job for a culture of permanent dependency?"
Given his remarks in favor of Americans pulling themselves up by their bootstraps, one would think that Cramer is a pure fiscal hawk, determined to rein in government spending and make citizens take care of themselves. But the reality is that this congressman has been happy to spend enormous amounts of money on his own district in order to secure his own political future.
From 1995 until 2012, his at-large North Dakota district received $10.4 billion in agricultural subsidies from the U.S. Department of Agriculture. That makes his district the single largest recipient of farm subsidies in the nation. Keep in mind that the purpose of these subsidies to make the sale of crops competitive. Without them, the recipients would lose their jobs – in other words, the subsidies, 80 percent of which go to big corporate farmers, create exactly the culture of permanent dependency that Cramer complains about. The congressman's fourth-largest sector of campaign contributions is the crop production and basic processing industry, which has given him $133,040 to run for office.
Cramer is not alone in this hypocrisy. Many other House Republicans who have harshly condemned SNAP recipients and the benefits they receive are huge takers of agricultural subsidies. Rep. Steve King (R-IA) is in a district that has been the third-largest recipient of subsidies, getting more than $9 billion since 1995. In voting for SNAP cuts this week, he ironically claimed that his "Democratic colleagues have long been for expanding the dependency class here in America."
While the biggest proponents of SNAP cuts have been Republicans, this trade-off between agricultural subsidies and hunger assistance is unfortunately not unique to that party. For example, in May, Sen. Kirsten Gillibrand (D-NY) introduced an amendment to restore $4 billion in SNAP funding by cutting agricultural subsidies. It failed, netting only 26 votes. Farm-state senators such as Al Franken (D-MN) led the charge in defeating it.
But unfortunately, Big Agriculture subsidies are not the only giveaway that takes priority over food assistance to hungry Americans. The House Republicans leading the charge for major cuts to SNAP today have been advocates of, for example, subsidies for Big Oil. In 2011, the House GOP caucus voted unanimously to protect oil subsidies that cost taxpayers $4 billion per year. House Republicans have also voted unanimously to protect subsidies to for-profit colleges totaling $32 billion per year, beating back any effort to cut taxpayer financing of these educational institutions, which are yielding little in the way of results for students.
It's also important to keep in mind that SNAP is an incredibly efficient and well-run program. Payments "that represent overpayments, underpayments or payments to ineligible households reached a record low in fiscal year 2011." And Moody's Analytics estimates that for every dollar of SNAP benefits spent, $1.70 of economic activity is created – meaning that SNAP benefits actually help the economy.
Perhaps the greatest irony in the SNAP debate is how small a chunk of the federal budget it actually is. The program, which has unusually high enrollment right now due to the poor economy, only consumes 2 percent of the budget. It remains inadequate for many of its recipients, as "90 percent of SNAP benefits are redeemed by the third week of the month" and the average monthly benefit is around $1.50 per person, per meal.
Yet the program remains vulnerable to cuts, time and time again, because its recipients do not have the resources to hire powerful lobbyists or run extensive public relations campaigns. Meanwhile, Big Agribusiness, oil companies, the defense industry, for-profit colleges, drug companies and other huge takers of federal subsidies can continue to maintain their own "dependency" on federal dollars because they have the political clout to remove members of Congress who refuse to serve their needs. In an America that is increasingly economically unequal, this corruption of our politics could soon leave millions of people hungry, sick and desperate for a simple meal.