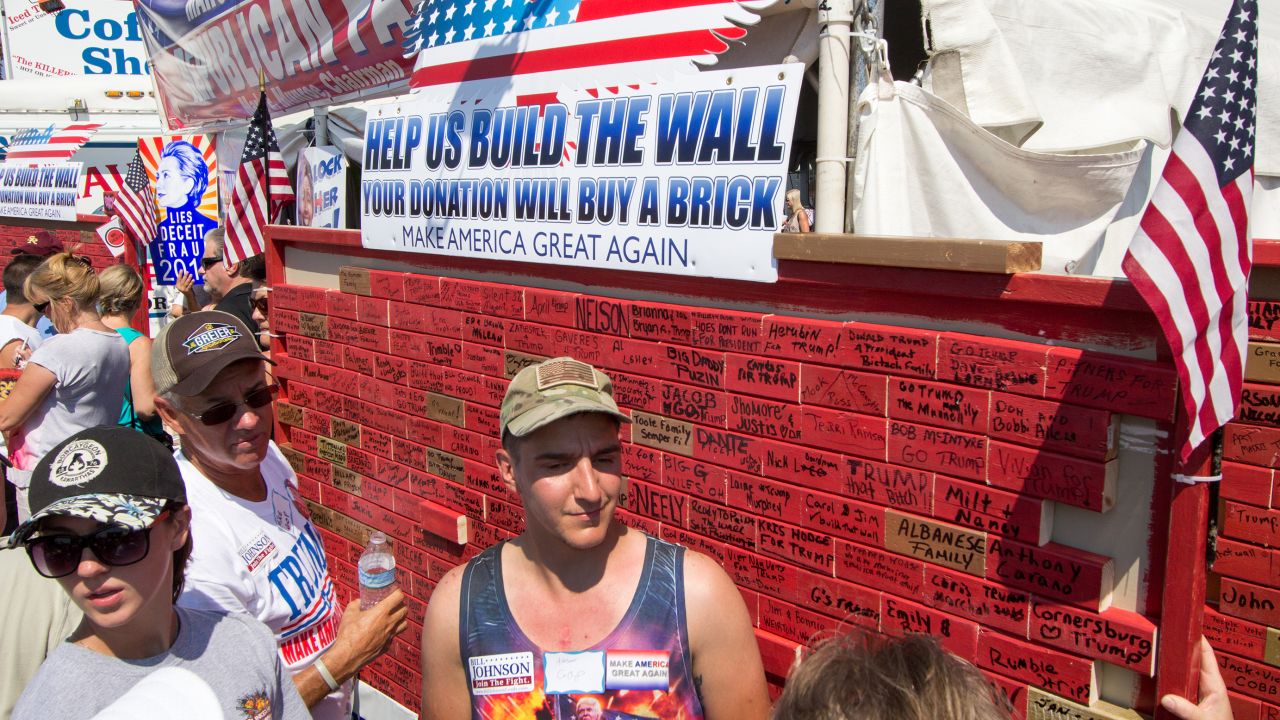 If ever there were a sign that the presidential race isn't over yet, Democrats got one this week at eastern Ohio's Canfield Fair.
On Labor Day, an iconic holiday for what used to be a reliable Democratic constituency, Republican presidential nominee Donald Trump got an enthusiastic welcome from thousands of Youngstown-area fans who waited hours in the blazing heat to see him.
This scene seemed all the more striking because it took place in a solidly blue-collar county that hasn't voted for a Republican presidential candidate since 1972. And because it was Trump's second trip to the Democratic stronghold of Mahoning County in the past three weeks.
Ten-gallon hats, overalls and blue jeans were adorned with everything from "Hot Chicks for Trump" to depictions of the candidate on a tank surrounded by a fiery scene filled with soaring eagles. Signs proclaiming "Trump: American Jobs for America" stood next to the Republican Party tent. Trump fans of all ages sported the candidate's gear with some chanting and holding aloft signs like "Black coal matters. And Trump digs coal!" A local musician, Bernard Schafer, strummed his guitar, singing "Donald's on the move" as the media and passersby looked on.
At a time when many members of the Republican Party elite are shunning Trump, Mahoning County appears to be warming to his most controversial views. The local GOP sponsored the creation of a wooden brick wall, meant to symbolize Trump's promised border wall. Fairgoers could buy a wooden brick and sign it for between $5 and $20. The event proved so successful that the party built and rebuilt the wall three separate times during the course of the six-day fair. Officials even prepared a special brick for Trump himself to sign.
Secret Service prevented Trump from signing the actual brick. The candidate instead autographed shirts, caps and caricatures of himself. Outside of the Republican tent the crowd chanted "Trump! Trump! Trump!" "You see the crowds," Trump explained to Fox News. "We're going to bring jobs back."
During Ohio's primary in March, nearly a quarter of registered Mahoning County Democrats crossed over to vote Republican. A county that Bill Clinton carried twice in the 1990s is now laced with streets peppered with "Make America Great Again" signs. The reasons for this sudden shift have been decades in the making.
The collapse of the steel industry in Mahoning during the late 1970s proved to be the first cataclysmic act in an economic tragedy that has yet to run its course. After years of watching manufacturing jobs hemorrhage from the area in the wake of plant closures, voters witnessed the 1993 signing of NAFTA, originally a vision of Republican Ronald Reagan, under President Bill Clinton.
According to the left-leaning Economic Policy Institute, Ohio suffered some of the highest jobs losses of any state as a result of NAFTA. A recent report by EPI also states that America lost 2 million jobs in 2015 due to trade deficits with nations in the Trans-Pacific Partnership. Ohio, along with fellow Rust Belt states Michigan and Indiana, made the top 10 list of states most affected. President Barack Obama has made passing the TPP trade bill a key priority during his last months in office.
Trump is seeking to take advantage of the furor over trade among Ohio voters. After touching down in Ohio on Monday, he met with labor representatives at an American Legion hall in Brook Park, a suburb of Cleveland. Tom Coyne, Brook Park's mayor and long-time Democrat, supports Trump.
"We will get back our jobs back, and we will stop companies from leaving," Trump told the audience. "Trade is a one-way street, and it's leading us to the poor house. We have to bring back jobs back to this country or we are not going to have a country."
Democratic candidate Hillary Clinton's plane sat on the tarmac in Cleveland at the same time as Trump's on Monday morning. She criticized his economic policies with a coterie of labor leaders while reiterating her opposition to the TPP.
"If Tim and I are elected, we are going to say no to attacks on unions," Clinton declared, referring to her vice presidential running mate, Tim Kaine. "No to rolling back collective bargaining; no to unfair trade deals like TPP." But both Clinton and Kaine sounded like they were for TPP before they were against it.
Democrats looked to put the focus on Trump's tax plan and previous business practices. Before Trump arrived at the Canfield Fair, local Democrats brought out AFL-CIO President Richard Trumka to denounce Trump's economic plan for the benefit of fairgoers. Vice President Joe Biden attended the fair Sept. 1 after speaking at a local United Auto Workers Hall; General Motors Lordstown plant in the village of Lordstown is one of Mahoning Valley's largest employers.
The measured responses to Trump's populist rhetoric from the Democrats stood in stark contrast to the strong emotions coming from a clearly fired-up Trump campaign.
The Labor Day campaigning occurred against a backdrop of economic stagnation for most voters. Mahoning County, where inflation-adjusted median family income peaked in 1969, and the state of Ohio serve as potent symbols of economic anxiety and voter discontent. Despite the fourth-longest economic expansion since World War II, most of the income gains since the end of the Great Recession went to the very upper-income earners.
Similarly troubling statistics haunt male workers, a demographic where Trump has gained considerable traction. The typical full-time male worker made less in 2014, adjusted for inflation, then in 1973. Labor unions, once the backbone of places like Ohio and Mahoning County, declined from a peak of 33 percent of the private sector labor force in 1955 to less than 7 percent today.
Labor Day traditionally signals the start of the heart of the campaign season, and the scenes in Ohio Monday showed Trump walking like a celebrity through longtime bastions of Democratic power. The measured responses to Trump's populist rhetoric from the Democrats stood in stark contrast to the strong emotions coming from a clearly fired-up Trump campaign.
On Tuesday, Biden pointedly encouraged Clinton to "open up" on the campaign trail. But something else besides a lack of emotional content is playing out in parts of Ohio. A visibly motivated and often angry group of voters are tuning out the Democrat's standard stump speeches and campaign promises. After Trump carried Mahoning during the Republican primary in March, local Democratic Party chairman David Betras dismissed his surprise victory. "I assure you that come the general election, voters will vote our way once we tell the story of Donald Trump," Betras stated.
However, the polls are narrowing. A seemingly disconnected Democratic response to decades of economic stagnation in states like Ohio risks alienating communities that once reliably voted for the party. It will take more than highlighting Trump's changing positions on issues or his character flaws. It will likely take a full-throated acknowledgement of the economic pain voters are feeling. A clear admission of past Democratic Party policy mistakes might enable Clinton to pick off some voters who are supporting Trump mostly on the basis of his anti-establishment approach and promises of a manufacturing renaissance. Absent that, Democrats continue to gamble on November's outcome in Ohio and elsewhere.