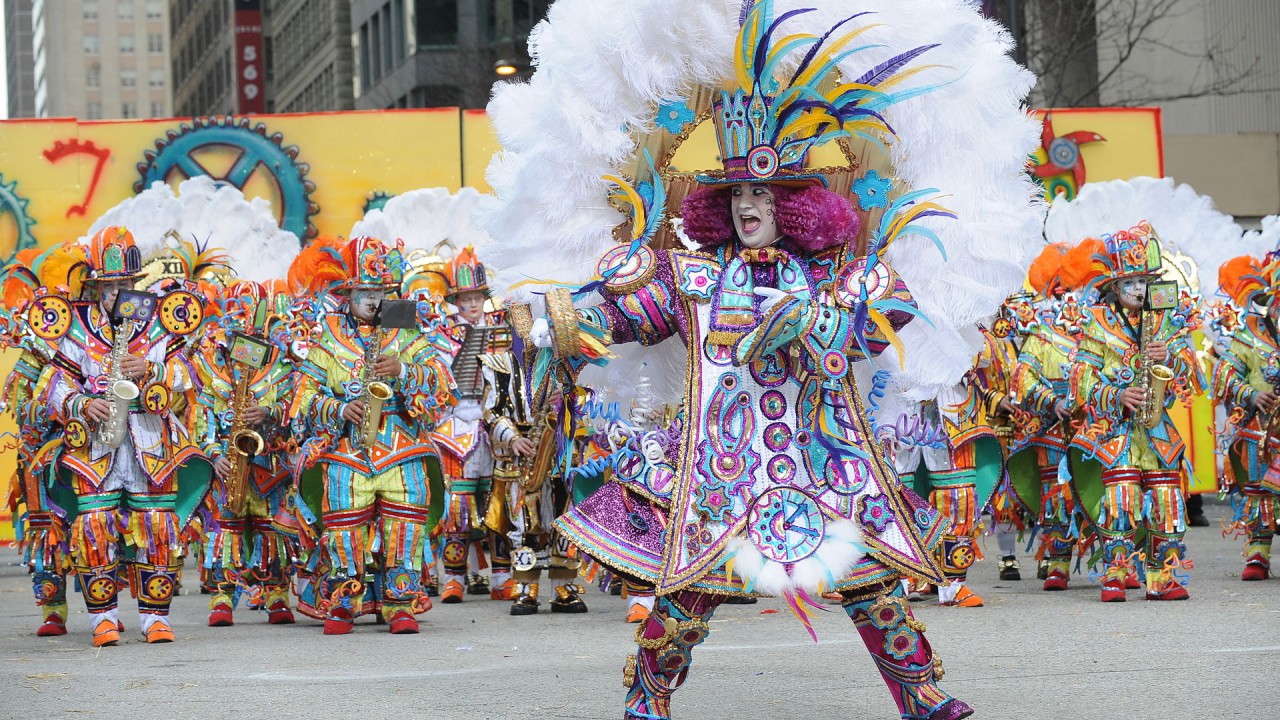 Philadelphia, Cradle of Liberty and City of Brotherly Love, was anything but on New Year's Day.
Visiting with family, we'd all decided to meet up at the annual Mummers' Parade.
Now, it is well established that I am an unabashed lover of parades both as spectator and participant, having marched in protests, fireman's carnivals, sugar beet festivals, and many other events. In high school, I was even in a freelance marching band, sort of a mobile garage band with a drum major and a couple of trombones.
So I'm a fan, and I remember watching the Mummers Parade on TV when I was a kid. Seeing it live and in person, the pageantry's even more impressive. Reminiscent of New Orleans' fabled Mardi Gras krewes, the various "brigades" in the line of march feature elaborate costumes, floats and superb musicianship.
But unlike New Orleans, the marchers are overwhelmingly white. And their comedy skills leave a lot to be desired.
The 116-year-old Philadelphia event, perhaps the oldest of its kind in the United States, is troubled – "dogged by controversy," as Angela Bronner Helm writes at The Root. "Minstrelsy has always [been] a part of the Mummer DNA, including blackface. But in 1964, under pressure from the NAACP, blackface was officially banned, yet it seems to find its way into the parade each year. This year, 'brownface' was the insult du jour, with Sammar Strutters' 'Siesta Fiesta' revelers dressed as tacos with brown face paint, including children…"
But that wasn't all, not by a long shot (for one thing, Helm forgot to mention the sombreros and serapes). In addition to the overall public drunkenness of the rowdy young crowd on the streets (I'm no prude but this was out of control), one of the other brigades in the parade crudely mocked Caitlyn Jenner, and one member was subsequently kicked out of the group for publicly spewing anti-gay bigotry.
Philadelphia's new progressive mayor Jim Kenney tweeted that it was "hurtful… Our Trans Citizens do not deserve this type of satire/insult." What's more, a gay man walking his parents' dog reportedly was assaulted by four mummers he came upon urinating in an alley.
In fairness, organizers have made some small steps toward increasing the parade's diversity. But then there was this.
As we stood in bleachers near City Hall, demonstrators from the Black Lives Matter movement arrived on the corner, anywhere from fifty to a hundred people with signs, shouting for racial and economic justice. Police on bicycles kept them from moving into the parade. Two were arrested.
Republicans and Democrats try to channel all this inchoate animosity into political support, even as they express bafflement at the widespread bitterness.
The protesters were expressing their right to speak out and to focus the rest of us on some real problems. But many of those around us exploded in rage, screaming epithets and hatred at the demonstrators. One of them, her face contorted in fury, reminded me of the infamous New Orleans "cheerleaders," the forty or so white women who in 1960 stood outside William Frantz Elementary every morning hurling threats and invective at six-year-old Ruby Bridges as she became the school's first black student.
It was ugly and frightening. New Year's blood-alcohol levels certainly played a role, but sober or not, these were working class men and women in Philadelphia lashing out, just as the right would have them do, in an incoherent frenzy of indignation without reason or solution. Racist phantoms distract from and overpower the self-interest that should have them out in the streets protesting their lack of justice, jobs and economic security just as vehemently as the Black Lives Matter movement demonstrates against police killings and so many other criminal violations of basic human rights.
Those furious Philadelphians aren't alone. A new Esquire magazine/NBC News poll finds half of all Americans angrier than a year ago. Esquire's editors write:
From their views on the state of the American dream (dead) and America's role in the world (not what it used to be) to how their life is working out for them (not quite what they'd had in mind), a plurality of whites tends to view life through a veil of disappointment. When we cross-tabulate these feelings with reports of daily anger (which are higher among whites than nonwhites), we see the anger of perceived disenfranchisement — a sense that the majority has become a persecuted minority, the bitterness of a promise that didn't pan out — rather than actual hardship. (If anger were tied to hardship, we'd expect to see nonwhite Americans—who report having a harder time making ends meet than whites… reporting higher levels of anger. This is not the case.)
As our presidential election year finally, officially begins, Democratic pollster Celinda Lake tells The Wall Street Journal that Americans "think the future is weak for themselves and the next generation, and they despair of politicians especially in Washington getting anything done." Then, pugnacious Republican pollster Frank Luntz says, "This election is about settling scores and getting even with everyone and everything" —  a distressing commentary on how low our alleged democracy has sunk, and the very heart of the Trump phenomenon that appeals to the most resentful Americans. Other GOP presidential aspirants have fallen into step, hoping to catch some of that Trump "magic," like flies to the rubbish heap.
Republicans and Democrats try to channel all this inchoate animosity into political support, even as they express bafflement at the widespread bitterness, but they reap what they sow, a whirlwind of their own creation, a betrayal of principle and nation crafted from years of kowtowing to big business and the very, very rich who bankroll their electoral desires. They have parlayed our ignorance, fear and basest instincts into power for themselves and their allies. All those years neglecting the rest of us, all those jobs and factories shipped overseas, all the tax breaks and regulatory payoffs, financiers treated as indulged scofflaws, and the evisceration of housing, infrastructure and education are turning us into a nation of numbskulls. Now that's what I call exceptionalism. Thanks.
Powerbrokers and political sycophants, from Philadelphia to Pasadena you're marching this American parade straight into the pit. You don't have to look beyond our borders for the enemy that will bring us down. Just into a mirror.