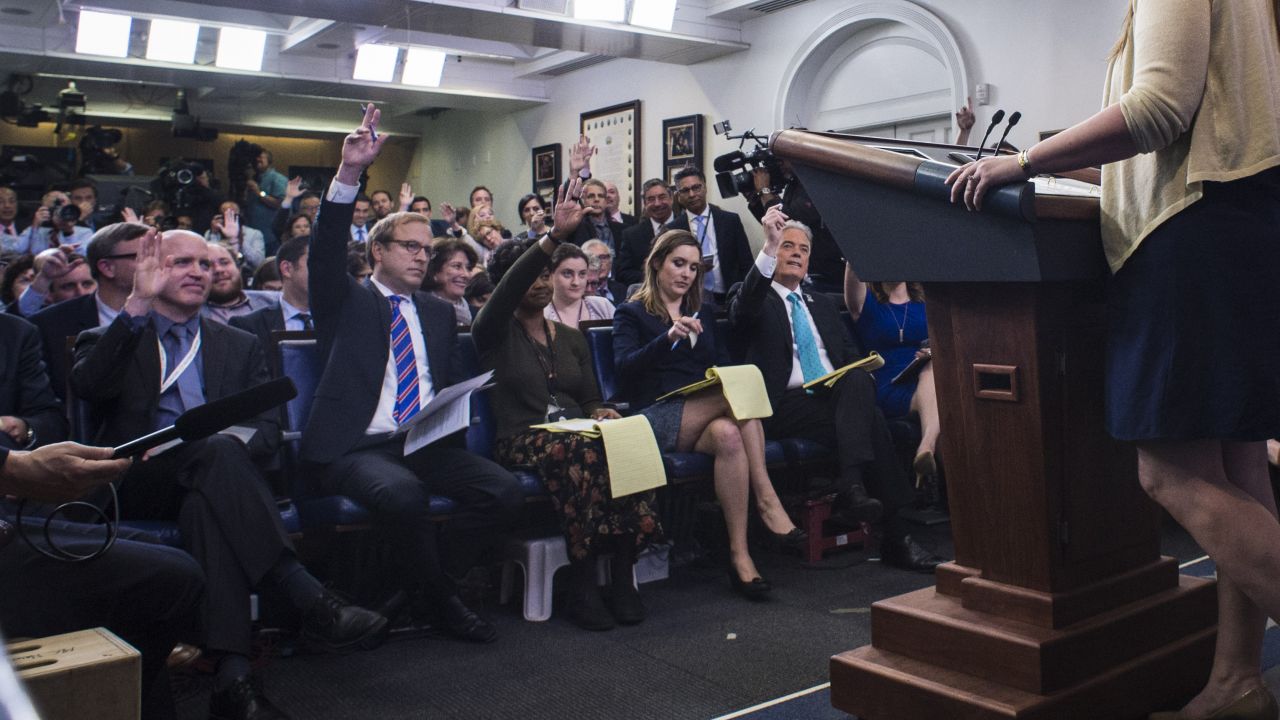 This post first appeared at Common Dreams.
The Trump administration sparked backlash once more from journalists and activists on Wednesday by continuing the "disturbing trend" of prohibiting audio and video recordings of the daily press briefing, a move that prompted many to call for more pushback from journalists and media outlets.
Some urged members of the White House press corps to boycott any briefings that did not permit audio or video, while others argued that journalists should rebel by recording briefings on their phones.
And today's WH press briefing is off-camera. So, media folks, be bold and turn the cameras (or your phones) on and record. Or don't go.

— Barbara Morrill (@BarbinMD) June 28, 2017
People whose limbs don't work are standing up and fighting this administration while too much of the press rolls over & exposes its belly https://t.co/vmLITtusi0

— Dana Houle (@DanaHoule) June 28, 2017
Obscene how journalists "can't" take the risk of recording press conferences while protesters risk arrest in GOP offices across the country.

— Samuel Sinyangwe (@samswey) June 28, 2017
CNN reporter Jim Acosta, highlighting the Trump administration's "near-total refusal" to take questions from anyone associated with his network, posted a picture from the press briefing on Monday, with the caption: "Video of this has been banned by the USA."
Author and historian Kevin Kruse responded:
In a recent column for the Baltimore Sun, media critic David Zurawik echoed these calls for members of the White House press corps—and members of the media more broadly — to resist the Trump administration's blatant attempt to interfere with the freedom of the press.
"There's a darkness spreading over Washington these days, and it might be time for everyone in the news media who cares about democracy to confront it," Zurawik wrote. "You can only talk to a bully so long before you have to act. Maybe it's time for such collective action again in taking an administration to school."
Following Tuesday's press briefing — during which deputy press secretary Sarah Huckabee Sanders was confronted by Playboy reporter Brian Karem for her "inflammatory" attacks on the media — Zurawik argued it is "past time" for someone to stand up to the White House.
"Will someone, anyone, step up and end these distressing displays of White House dysfunction and disregard for the obligation of the presidency to provide citizens with some sense of truthful information and accountability?" he wrote.
GQ's Jack Moore offered similar advice, writing: "This is a scary time. It's a crisis. The least you can do is turn your camera on."
In a statement on Tuesday, the progressive watchdog group Common Cause estimated that "there have been only five on-camera briefings by White House press officials during the entire month of June."
"This is not how an elected government behaves in a true democracy," concluded Common Cause president Karen Hobert Flynn. "Hiding behind the bully pulpit is a cowardly act far beneath the dignity of the office of the president.
This work is licensed under a Creative Commons Attribution-Share Alike 3.0 License