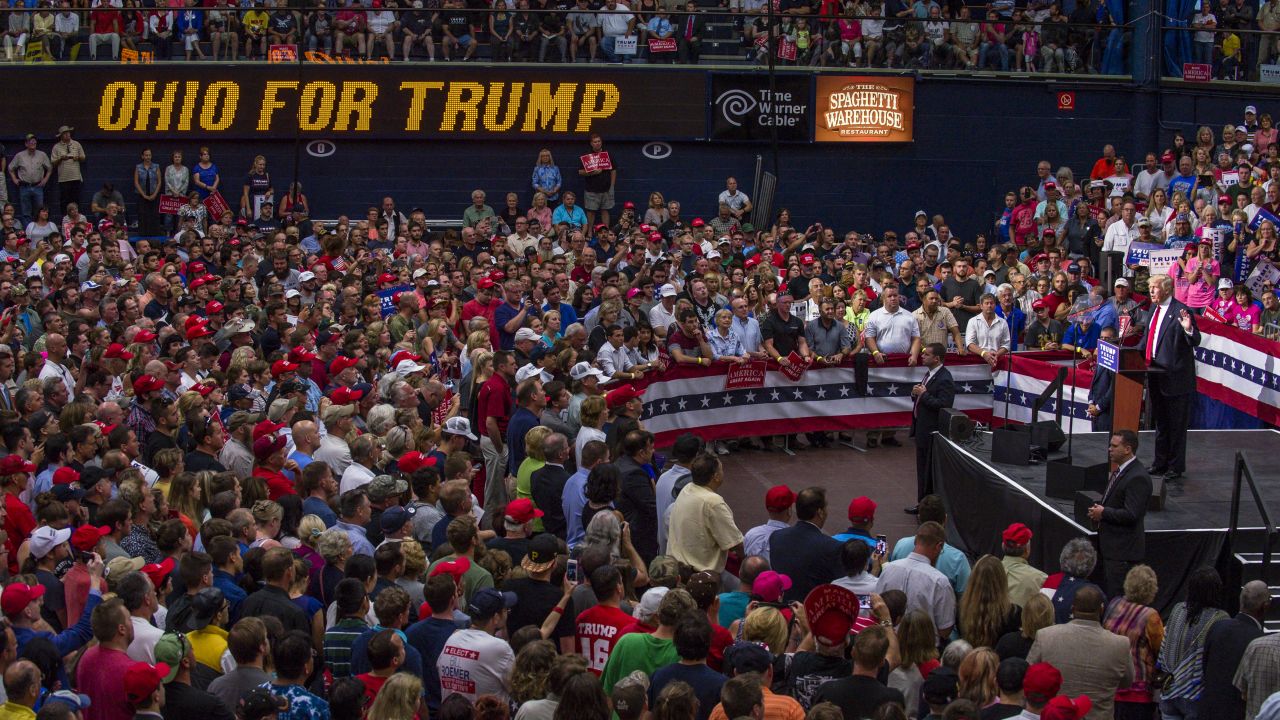 Every presidential election cycle, journalists descend on the ever-reliable swing state of Ohio in an attempt to play prophet. Since 1964, every president-elect has counted Ohio in his column; no Republican presidential candidate has ever taken the oath of office without first winning Ohio.
Once again this year, Ohio is a national bellwether — in large part because its status as a crucial piece of the electoral puzzle might not last much longer. Once a microcosm of the national economy with its farms and manufacturing towns, Ohio now encapsulates a broader sense of loss and foreboding.
Declining manufacturing employment and strong demographic headwinds are eroding Ohio's electoral strength, making the state a laboratory for how the loss of economic power is followed by a loss of political power. Faced with a proud past but an uncertain future, the Buckeye State's political and economic trajectory explain a lot about why there's a constituency for a promise to "make America great again."
Republican nominee Donald Trump made a play for that constituency Monday, when, during a visit to Akron, he repeated his promise to bring back mining and steelmaking jobs and, according to one account, picked up some union supporters as a result. Polls show Democrat Hillary Clinton running ahead of Trump in the state but by a less-than-comfortable margin.
An 'Age of Affluence' settled over Ohio, one fully celebrated across the state's cities during the 1953 sesquicentennial.
In the 1950s, things in Ohio were great, at least economically. For decades, immigrants from Europe, followed by African-Americans moving out of the South during the Great Migration, came to this new promised land; Ohio's population increased 22 percent during the boom years in the 1950s.
An "Age of Affluence" settled over Ohio, one fully celebrated across the state's cities during the 1953 sesquicentennial. By 1960, the "eight that make Ohio great" included: Cincinnati, Cleveland, Columbus, Akron, Canton, Dayton, Toledo and Youngstown. They all boasted populations over 100,000 and, with the exception of Columbus, represented the state's awesome manufacturing might—from Akron, the "Rubber Capital of the World," to Youngstown, "America's Ruhr Valley."
Today, three of the state's cities (Cleveland, Cincinnati and Toledo) rank in the top 10 list of "most distressed large cities," according to a study published earlier this year; seven of the "eight that make Ohio great" lost population in the last census, thanks largely to the loss of high-paying jobs in manufacturing, which has helped cripple large parts of Ohio.
The beginning of Ohio's deindustrialization in the 1970s attracted global attention as "regional depressions" and factory closings spread across the state, yet Ohio's problems didn't end in the Rust Belt 1980s. While Al Gore and George W. Bush prepared to face off in May 2000, Ohio's employment numbers peaked. It has yet to regain jobs lost in both the 2001 recession and the Great Recession.
According to numbers compiled by Innovation Ohio, prior to the Great Recession, one-third of jobs in the state paid above $20 an hour. In the post-recovery economy, over one-third of jobs now pay between $7 and $13.39. Much of this is the result of the collapse of manufacturing and the rise of service-sector employment.
And that now threatens the kingmaker status of the state that calls itself "the heart of it all."
The link between economics and demographics is at the root of the state's shrinking electoral power.
Ohio remains 82 percent white, and it skews older. In large parts of northeast Ohio the median age is over 40. It ranks 36 in the nation in terms of adults with college degrees. Trump's rhetorical appeals to a kind of 1950s-era economy, complete with high-paying manufacturing jobs, resonate in large parts of the state that are still struggling to reinvent themselves and reinvigorate hollowed-out cities and towns. Even if swing status seems to help Ohio little, a loss of electoral importance could be viewed as one more insult to injury.
The link between economics and demographics is at the root of the state's shrinking electoral power. In 1964, the year Ohio began its long streak of "picking" presidential winners, the state was worth 26 Electoral College votes; in 2016, only 18 will be up for grabs. Contrast that with the Southern swing state of Florida. Counted as only 14 Electoral College votes in 1964, the candidate who wins the Sunshine State in November will carry 29. Ohio's political power is also compromised as it subsequently loses seats in the US House. From a high of 24 seats during World War II, the state is now left with 16, fewer than during the late 1830s.
Take A Look: Bill Moyers and What's the Matter With Kansas? writer
Michigan was the only state to lose population in the 2010 Census, but Ohio might not be far behind. "For the last four or five years I've been predicting that Ohio's population would decline for the first time," said Mark Salling, director of the Northern Ohio Data and Information Service and senior fellow at Cleveland State University's Levin College of Urban Affairs. "It hasn't quite happened. We continue to have more babies than people leaving the state or dying, but that's the only reason. Eventually, I see Ohio losing population, which would be a headline."
The interplay between jobs and population growth is key to understanding Ohio's weakening electoral position. Salling draws a line between manufacturing and the "spinoff effect" or multiplier effect that those jobs have, producing more employment in the service sector and associated services.
"When manufacturing suffered in terms of employment, it meant that a lot of industries suffered," he said. "As a result, you get fewer people, fewer bread earners and their families. They move elsewhere to look for jobs, or they're not coming to Ohio and its cities."
It's not difficult to see how Trump could make political headway there. The bigger question is, can anyone else offer Ohioans a credible alternative?