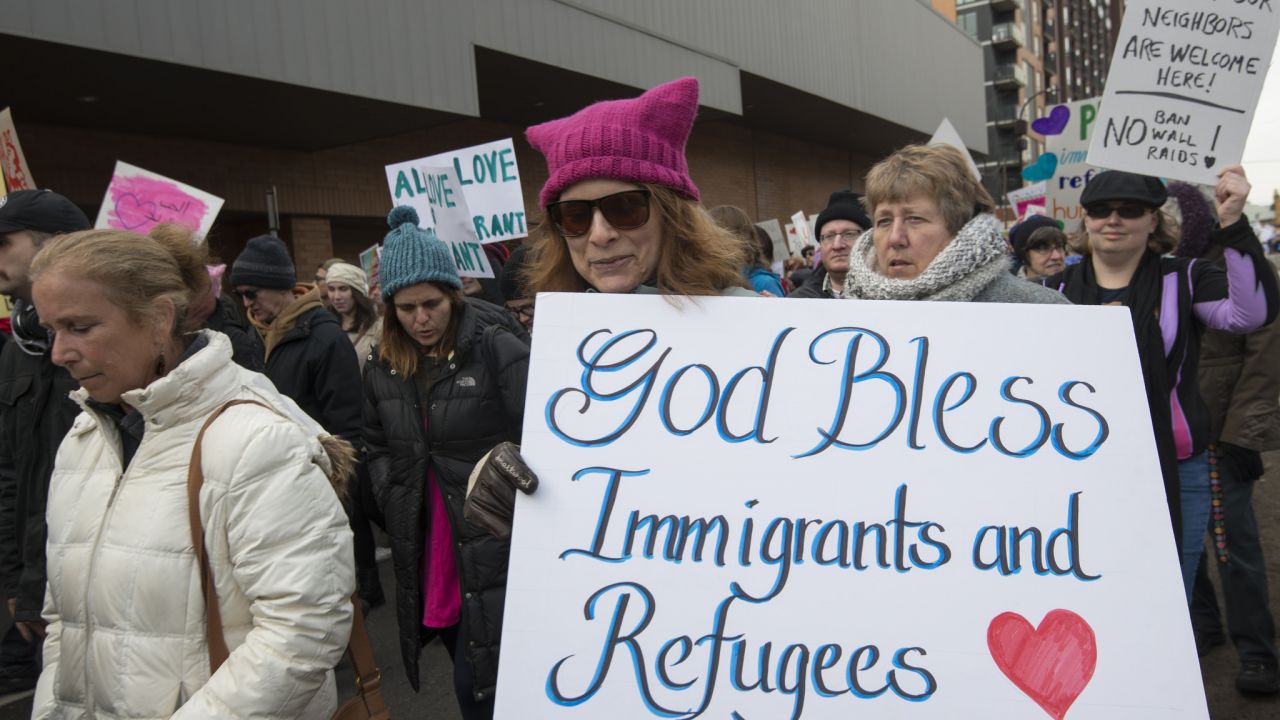 This post originally appeared at Common Dreams.
Adding yet another wrinkle to his already "inhumane" immigration agenda, President Donald Trump on Wednesday endorsed a piece of legislation that would drastically curtail legal immigration, a move that sparked a torrent of criticism from activists and immigrant rights groups.
The RAISE Act is part of a larger strategy to scapegoat immigrants and further marginalize people of color.
— Asian Americans Advancing Justice
The bill — titled the Reforming American Immigration for Strong Employment (RAISE) Act — was put forth by Sens. Tom Cotton (R-AR) and David Perdue (R-GA). If passed, the legislation would implement a "merit-based" immigration system that "would award points to green card applicants based on such factors as English ability, education levels and job skills," reports The Washington Post's David Nakamura.
Nakamura added that the RAISE Act is "a modified version of a bill the senators first introduced in April to cut immigration by half from the current level of more than 1 million green cards per year granting foreigners permanent legal residence in the United States."
A central premise of the legislation is the notion that immigration has placed downward pressure on the wages of American workers, leading to stagnation and unemployment.
Analysts have forcefully pushed back against this idea, however, arguing that immigration has positive economic effects. The reason for stagnant wages is not immigration, researchers have argued, but the staggering concentration of wealth and income at the very top.
But immigrant rights groups have emphasized that the economic objection to Trump's immigration agenda is secondary to the moral objection.
"The RAISE Act would shut the door on hundreds of thousands of families and refugees," wrote the National Immigration Law Center. "It's cruel and un-American."
Steven Choi, executive director of the New York Immigration Coalition, called Trump's endorsement of the legislation "a mean-spirited fallback to vitriol and division."
"Trump's plan to slash legal immigration is just another senseless attack on our country's values," Choi concluded.
.@POTUS' new #immigration plan: The Statue of Liberty weeps as she watches Trump flush America's moral leadership down the toilet.

— Anne Frank Center (@AnneFrankCenter) Aug. 2, 2017
The RAISE Act = Racist Attacks on Immigrants by a Selfish Executivehttps://t.co/bCE02STKAI

— Women's March (@womensmarch) Aug. 2, 2017
During his campaign for the presidency, Trump insisted that the primary focus of his immigration agenda would be on deporting undocumented immigrants with criminal records.
Trump's endorsement of the RAISE Act — along with the fact that Immigration and Customs Enforcement (ICE) continues to round up immigrants without criminal records — has put the lie to that claim, critics argue.
"The RAISE Act is part of a larger strategy to scapegoat immigrants and further marginalize people of color," said Asian Americans Advancing Justice in a statement.