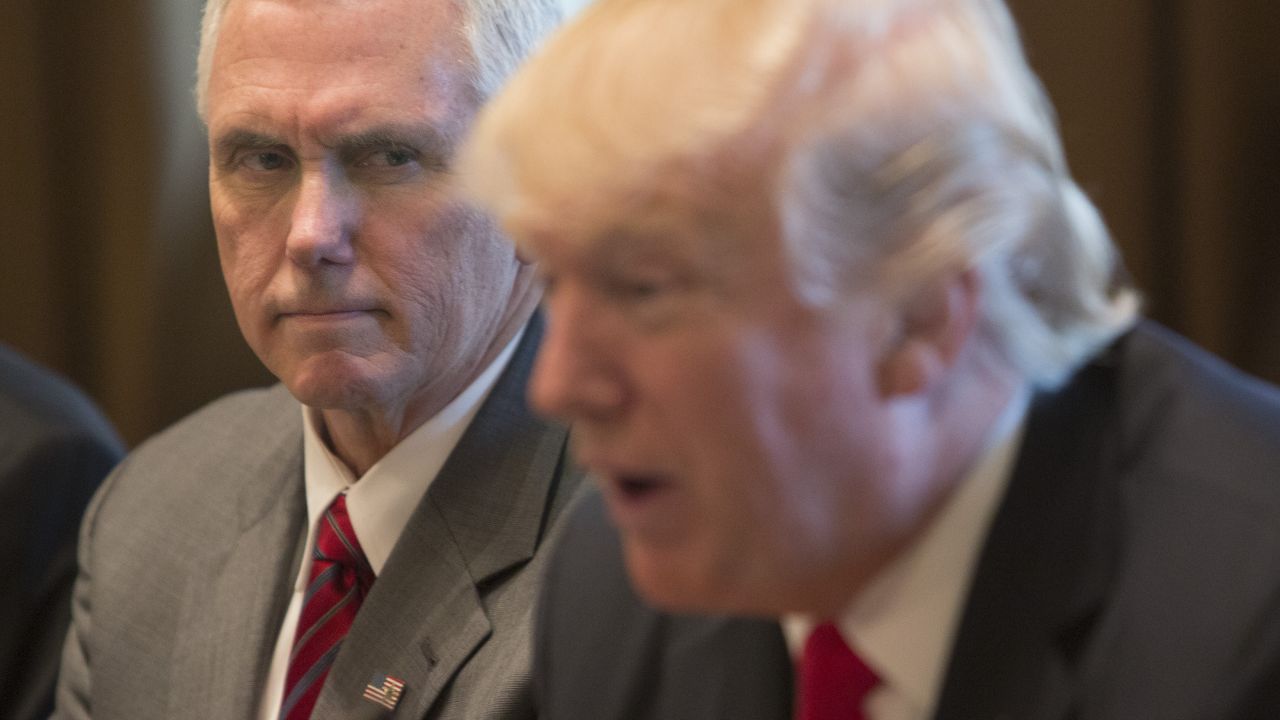 The Trump White House has produced what appear to be at least three cover-ups. They relate to:
1) former-national security adviser Mike Flynn's questionable activities relating to Turkey;
2) Flynn's role in the Trump/Russia controversy; and
3) the firing of former FBI Director James Comey.
Each is a piece of the larger picture depicted in our overall Trump-Russia timeline. But the complexity of the entire situation can render even the summary timeline overwhelming.
So as we continue to update our overall Trump-Russia timeline, we're also putting together timelines that track key players and events. Our timeline of the Comey firing is the first example. By isolating the pertinent portions of relevant entries that share a common thread, important players have fewer places to hide. Facts, truth, and clarity are Trump's adversaries.
This Pence edition of the timeline focuses on the vice president: What did he know, when did he know it, and at what points did his public statements diverge from what he knew or reasonably should have known? (The final phrase creates legal responsibility for presumed knowledge, even if the speaker in question denies it.)
Ultimately, the facts will produce answers.
NOTE: This timeline is no longer updated here as of April 2018. For the latest developments, go to our main Trump-Russia Timeline, which now appears at the Committee to Investigate Russia website and click on Mike Pence's name.

Pre-Pence Primer on Flynn

Cover-up #1: Pence, Flynn and Turkey

Cover-up #2: Pence, Flynn and Russia
April through November 2016: Mike Flynn and other advisers to the Trump campaign have at least 18 phone calls and emails with Russian officials, including six contacts involving Russian ambassador Sergey Kislyak.
During the summer of 2016: American spies intercept conversations involving senior Russian intelligence and political officials. Russians discuss using Paul Manafort and Mike Flynn — both of whom had prior contacts with Russia — to shape Trump's opinions on Russia. Former CIA Director John Brennan notices suspicious contacts between Russian government officials and associates of Trump's campaign. Brennan believes that the American election is under attack and worries that Trump's campaign might be aiding the effort. Brennan refers his concerns to the FBI, the intelligence agency leading the investigation.

[Revised May 30, 2017]

June 3, 2016: Rob Goldstone, a music publicist, sends Donald Trump Jr. an email stating that one of his clients, Russian pop star Emin Agalarov, had "something very interesting" he wanted to pass along to Donald Jr.: "The Crown prosecutor of Russia met with his father Aras this morning and in their meeting offered to provide the Trump campaign with some official documents and information that would incriminate Hillary and her dealings with Russia and would be very useful to your father. This is obviously very high level and sensitive information but is part of Russia and its government's support for Mr. Trump — helped along by Aras and Emin." (Aras Agalarov — a Putin ally and wealthy real estate developer sometimes referred to as the "Trump of Russia" — had helped sponsor the Trump-owned 2013 Miss Universe pageant in Moscow. In a later interview with Forbes in March 2017, Emin Agalarov says that he and his father had previously signed a letter of intent with their Trump counterparts to build a Trump Tower in Moscow. "He ran for president, so we dropped the idea," Agalarov said of Trump and the project. "But if he hadn't run we would probably be in the construction phase today.")

[Added July 11, 2017]

Also on June 3, 3016: Responding to Goldstone's email, Donald Jr. says, "[I]f it's what you say I love it especially later in the summer." Donald Jr. suggests they talk early during the week of June 6, when he's back from the road.

[Added July 11, 2017]

June 7, 2016: Rob Goldstone sends Donald Jr. a follow-up email: "Emin asked that I schedule a meeting with you and the Russian government attorney who is flying over from Moscow this Thursday. I believe you are aware of the meeting – and so wondered if 3 p.m. or later on Thursday works for you? I assume it would be at your office." Confirming the date and time, Donald Jr. says that then-campaign chairman Paul Manafort and Jared Kushner will also attend. The following day, they move the meeting to 4 p.m. because the "Russian attorney is in court until 3…."

[Added July 11, 2017]

Also on June 7, 2016: After winning the New Jersey primary as the Republican Party's presumptive nominee for president, Trump includes this line in his victory speech: "I am going to give a major speech on probably Monday of next week [June 13] and we're going to be discussing all of the things that have taken place with the Clintons."

[Added July 11, 2017]

June 9, 2016:Natalia Veselnitskaya, the "Russian government attorney" referenced in Goldstone's earlier emails to Donald Trump Jr., meets at Trump Tower with Don Jr., Paul Manafort and Jared Kushner. Veselnitskaya was formerly married to a former deputy transportation minister of the Moscow region. Her clients include state-owned businesses and a senior government official's son, whose company is under investigation in the United States at the time. According to Reuters, from 2005 to 2013, Veselnitskaya represented successfully the Russian FSB's interests in a legal dispute over ownership of an upscale property in northwest Moscow. The FSB is the successor to the Soviet-era KGB that Vladimir Putin headed before he became Russian president. Veselnitskaya is also one of the principal players in Russia's ongoing efforts to eliminate US sanctions that the Magnitsky Act imposes.


A third attendee is a Russian associate of real estate developer Aras Agalarov,

Ike Kaveladze

— a vice president for Agalarov's company focusing on real estate and finance. Born in the Soviet Republic of Georgia,

he came to the United States

in 1991. In 2000, a congressional inquiry led to a Government Accounting Office report that Kaveladze had set up more than 2,000 corporations in Delaware for Russian brokers and then opened bank accounts for them, without knowing who owned the corporations. According to

contemporaneous reporting in The New York Times

, "The GAO report said nothing about the sources of the money. In view of past investigations into laundering, this wave was highly likely to have arisen from Russian executives who were seeking to avoid taxes, although some money could be from organized crime… In an interview, Mr. Kaveladze said he had engaged in no wrongdoing. He described the GAO investigation as a 'witch hunt.'"

[Revised Aug. 14, 2017]

Also on June 9, 2016: Trump tweets:


How long did it take your staff of 823 people to think that up–and where are your 33,000 emails that you deleted? https://t.co/gECLNtQizQ

— Donald J. Trump (@realDonaldTrump) June 9, 2016

[Added July 11, 2017]

Late November 2016: In a meeting that includes senior Trump transition national security team members, national security adviser-designate Mike Flynn reveals he has scheduled a conversation with Russian Ambassador Sergey Kislyak. In attendance is Marshall Billingslea, a member of the team who had been a senior Pentagon official for President George W. Bush. He warns Flynn that any such communications carry risks because US intelligence agencies are almost certainly monitoring Kislyak's conversations. After the meeting, Billingsea asks national security officials in the Obama White House for a copy of the classified CIA profile of Kislyak.
Dec. 1 or 2, 2016: Unbeknownst to the press covering the comings and going at Trump Tower, Russian Ambassador Sergey Kislyak visits Trump Tower to meet with Kushner and Trump's national security adviser-designate Mike Flynn. According to a later report in The Washington Post, Kislyak reports to his superiors in Moscow that Kushner makes a surprising suggestion: use Russia's diplomatic facilities in the US for a secret and secure communications channel between Trump and the Kremlin prior to the inauguration. According to The Washington Post, Kushner wanted to use the Russian embassy so that American officials could not monitor the discussions. Later that month, an anonymous letter tipped off The Post to what Kushner had supposedly said at the meeting.

[Added May 30, 2017]

Dec. 29, 2016: On the same day President Obama announces sanctions against Russian in retaliation for its interference in the 2016 election, national security adviser-designate Flynn places five phone calls to the Russian ambassador.
Dec. 30, 2016: After Putin makes a surprise announcement that Russia would not retaliate for the new sanctions, Trump tweets:

Great move on delay (by V. Putin) — I always knew he was very smart!

— Donald J. Trump (@realDonaldTrump) Dec. 30, 2016

Jan. 15, 2017: Appearing on CBS' Face the Nation, Vice President Pence says Flynn's call to the Russian ambassador on the same day President Obama announced new sanctions was "strictly coincidental," explaining: "They did not discuss anything having to do with the United States' decision to expel diplomats or impose censure on Russia…. What I can confirm, having to spoken with [Flynn] about it, is that those conversations that happened to occur around the time that the United States took action to expel diplomats had nothing whatsoever to do with those sanctions." Dickerson also asks Pence, "Just to button up one question, did any advisor or anybody in the Trump campaign have any contact with the Russians who were trying to meddle in the election?" Pence replies, "Of course not. And I think to suggest that is to give credence to some of these bizarre rumors that have swirled around the candidacy."
Also on Jan. 15, 2017: On Fox News Sunday, Pence denies contacts between Russia and the Trump campaign. Responding to Chris Wallace, Pence says, "All the contact by the Trump campaign and associates were with the American people." On a third try, Wallace asks if Pence had ever asked Donald Trump if there were any contacts in the campaign between Trump or his associates and Russians, Pence answers, "Of course not."
Jan. 20, 2017: Trump and Pence are inaugurated.
During the week following the Jan. 20, 2017 inauguration: Trump administration officials are considering an executive order to lift unilaterally the US sanctions against Russia. Removing the sanctions also would have expanded greatly the Russian bank VEB's ability to do business in the US. Five months later, Michael Isikoff breaks the rest of the story: "Unknown to the public at the time, top Trump administration officials, almost as soon as they took office, tasked State Department staffers with developing proposals for the lifting of economic sanctions, the return of diplomatic compounds and other steps to relieve tensions with Moscow." State Department officials are so alarmed that they urge congressional leaders to pass legislation that would lock the sanctions in place. Sen. Ben Cardin (D-MD) and Sen. Lindsay Graham (R-SC) become involved.

[Added June 5, 2017]

Jan. 22, 2017: Flynn is sworn in as national security adviser, a position that does not require Senate confirmation.
Jan. 23, 2017: At Sean Spicer's first press briefing, Spicer says none of Flynn's conversations with the Russian ambassador touched on the Dec. 29 sanctions. That got the attention of FBI Director James Comey. According to The Wall Street Journal, Comey convinced acting Attorney General Sally Yates to delay informing the White House immediately about the discrepancy between Spicer's characterization of Flynn's calls and US intelligence intercepts showing that the two had, in fact, discussed sanctions. Comey reportedly asked Yates to wait a bit longer so that the FBI could develop more information and speak with Flynn himself. The FBI interviews Flynn shortly thereafter.
Jan. 26, 2017: Acting Attorney General Sally Yates informs White House Counsel Don McGahn that, based on recent public statements of White House officials including Vice President Mike Pence, Flynn had lied to Pence and others about his late-December conversations with Russian Ambassador Kislyak. According to Sean Spicer, Trump and a small group of White House advisers were "immediately informed of the situation."
Jan. 27, 2017: McGahn asks Yates to return to the White House for another discussion about Flynn. He asks Yates, "Why does it matter to the Department of Justice if one White House official lies to another?" Yates explains that Flynn's lies make him vulnerable to Russian blackmail because the Russians know that Flynn lied and could probably prove it.
Feb. 7, 2017: Sens. Cardin and Graham introduce bipartisan legislation that would bar Trump from granting sanctions relief to Russia without congressional involvement.

[Added June 5, 2017]

Feb. 8, 2017: Flynn tells reporters at The Washington Post he did not discuss US sanctions in his December conversation with the Russian ambassador.
Feb. 9, 2017: Through a spokesman, Flynn changes his position: "While [Flynn] had no recollection of discussing sanctions, he couldn't be certain that the topic never came up."
Feb. 10, 2017: Trump tells reporters he was unaware of reports surrounding Flynn's December conversations with the Russian ambassador.
Feb. 13, 2017: The Washington Post breaks another story: Then-Acting Attorney General Sally Yates had warned the White House in late January that Flynn had mischaracterized his December conversation with the Russian ambassador, and that it made him vulnerable to Russian blackmail. Later that evening, Flynn resigns.
Feb. 14, 2017: At the conclusion of an Oval Office meeting that includes Vice President Pence, Attorney General Sessions, and FBI Director Comey, Trump asks everyone except Comey to leave. The last person to leave is Jared Kushner. When Comey and Trump are alone, Trump says, "I want to talk about Mike Flynn." In a June 8 statement to the Senate Intelligence Committee, Comey recalls that Trump "began by saying Flynn hadn't done anything wrong in speaking with the Russians, but he had to let him go because he had misled the Vice President. He added that he had other concerns about Flynn, which he did not then specify." After discussing the subject of classified information leaks, Trump returns to the topic of Flynn, saying, "He is a good guy and has been through a lot." He repeats that Flynn hadn't done anything wrong on his calls with the Russians, but had misled Pence. He then says, "I hope you can see your way clear to letting this go, to letting Flynn go. He is a good guy. I hope you can let this go." Comey replies only that "he is a good guy." Comey later testifies that he understood Trump to be requesting that the FBI drop any investigation of Flynn in connection with false statements about his conversations with the Russian ambassador in December. He writes up a memorandum of his conversation and discusses the matter with the FBI's senior leadership.

[Added June 12, 2017]

Feb. 19, 2017: NBC's Chuck Todd questions Reince Priebus about Flynn's firing. The White House line was that Trump had fired Flynn because he'd lied to Vice President Pence about his conversations with the Russians about US sanctions. But that left an awkward gap of more than two weeks during which Trump apparently knew about Flynn's deception before firing him. "Why did more than a week go by before the vice president was informed of this issue?" Todd asks. "Well, I think he was always aware of the issue as to whether or not he talked about sanctions," Priebus answers. Later, Todd asks about the more than two-week delay between Yates' disclosure of Flynn's deception and Trump's decision to fire him. "Waiting that long, do you regret that it looks like that the vice president is essentially not in the loop?" Todd asks. "No," Priebus replies, "the vice president's in the loop on everything, Chuck."
March 2, 2017: The New York Times reports that the White House has confirmed a previously undisclosed meeting involving Mike Flynn, Jared Kushner, and Russian Ambassador Kislyak. According to The Times, "Michael T. Flynn, then Donald J. Trump's incoming national security adviser, had a previously undisclosed meeting with the Russian ambassador in December to 'establish a line of communication' between the new administration and the Russian government, the White House said on Thursday. Jared Kushner, Mr. Trump's son-in-law and now a senior adviser, also participated in the meeting at Trump Tower with Mr. Flynn and Sergey I. Kislyak, the Russian ambassador."

[Added May 30, 2017]

March 30, 2017: The Wall Street Journal reports that Mike Flynn is seeking immunity from prosecution in return for testifying before congressional intelligence committees. The next day, his lawyer confirms, "Gen. Flynn certainly has a story to tell, and he very much wants to tell it, should circumstances permit."
March 31, 2017: Trump tweets:

Mike Flynn should ask for immunity in that this is a witch hunt (excuse for big election loss), by media & Dems, of historic proportion!

— Donald J. Trump (@realDonaldTrump) March 31, 2017

April 19, 2017: The White House refuses the March 22 bipartisan request from the House Oversight Committee for more information and documents relating to payments that former national security adviser Mike Flynn received from entities affiliated with the Russian and Turkish governments.
April 25, 2017: Flynn reportedly receives a message from Trump to "stay strong." When the story appears on May 18, the White House does not respond to a request for comment.
April 28, 2017: The chair and vice chair of the Senate Intelligence Committee send letters to several former Trump campaign advisers, including Carter Page, Mike Flynn, Paul Manafort and Roger Stone. Among other requests, the letters ask for a "list of all meetings between you and any Russian official or representative of Russian business interests which took place between June 16, 2015 and Jan. 20, 2017." The letters also request information about any such meetings of which they are aware, as well as all documents relating to Trump campaign communications with Russian officials or business representatives. The committee also seeks information about any financial and real estate transactions related to Russia from June 15, 2015 through Trump's inauguration.
May 11, 2017: The Senate Intelligence Committee sends Mike Flynn a subpoena for documents that he'd refused to produce voluntarily in response to the committee's April 28 letter request.
May 19, 2017: Vice President Pence faces added scrutiny on what he knew about Flynn's connections to Turkey and Russia — and when he knew it. Democrats on the House Oversight Committee post a Nov. 18, 2016 letter from Rep. Elijah Cummings (D-MD) to Pence, who at the time was vice president-elect and chair of the presidential transition team. The letter expressed concerns about national security adviser-designate Flynn's ties to those countries. In response to the posting, Pence's spokesperson states, "The vice president stands by his comments in March upon first hearing the news regarding Gen. Flynn's ties to Turkey and fully supports the President's decision to ask for General Flynn's resignation." A White House aide adds, "I'm not sure we saw the letter." Democrats on the House Oversight Committee then post the formal Nov. 28, 2016 transition team message acknowledging receipt of Cummings' letter.
May 22, 2017: Rather than produce documents in response to a subpoena from the Senate Intelligence Committee, Mike Flynn invokes his Fifth Amendment right against self-incrimination.
May 31, 2017: The House Intelligence Committee approves the issuance of subpoenas to Mike Flynn, Trump's personal attorney Michael Cohen, and the businesses that each of them runs. Separately, several news outlets report that House Committee Chairman Nunes, who had recused himself from the committee's Trump/Russia investigation, issued subpoenas to former Obama administration officials on the issue of "unmasking" – revealing the names of persons referenced in intelligence reports.

[Added June 5, 2017]

Also on May 31, 2017: The Washington Post reports that the Trump administration is moving toward returning two suspected espionage compounds to Russia. When President Obama issued new sanctions on Dec. 29, he said that the compounds — located in New York and Maryland — were being "used by Russian personnel for intelligence-related purposes" and had given Russia 24 hours to vacate them.

[Added June 5, 2017]

July 8, 2017: The New York Times first reports the story of the June 9, 2016 meeting that Donald Jr. had arranged with Jared Kushner, Paul Manafort, and a Kremlin-connected lawyer. In response, Donald Jr. issues this statement: "It was a short introductory meeting. I asked Jared and Paul to stop by. We primarily discussed a program about the adoption of Russian children that was active and popular with American families years ago and was since ended by the Russian government, but it was not a campaign issue at the time and there was no follow up. I was asked to attend the meeting by an acquaintance, but was not told the name of the person I would be meeting with beforehand."

[Added July 11, 2017]

July 9, 2017: As The New York Times prepares to report that the Russian lawyer with whom Donald Jr., Kushner and Manafort met on June 9, 2016 was supposedly going to be offering them damaging information on Hillary Clinton, Donald Trump Jr. issues a new statement changing his story from 24 hours earlier:


"I was asked to have a meeting by an acquaintance I knew from the 2013 Miss Universe pageant with an individual who I was told might have information helpful to the campaign. I was not told her name prior to the meeting. I asked Jared and Paul to attend, but told them nothing of the substance. We had a meeting in June 2016. After pleasantries were exchanged, the woman stated that she had information that individuals connected to Russia were funding the Democratic National Committee and supporting Ms. Clinton. Her statements were vague, ambiguous and made no sense. No details or supporting information was provided or even offered. It quickly became clear that she had no meaningful information. She then changed subjects and began discussing the adoption of Russian children and mentioned the Magnitsky Act. It became clear to me that this was the true agenda all along and that the claims of potentially helpful information were a pretext for the meeting. I interrupted and advised her that my father was not an elected official, but rather a private citizen, and that her comments and concerns were better addressed if and when he held public office. The meeting lasted approximately 20 to 30 minutes. As it ended, my acquaintance apologized for taking up our time. That was the end of it and there was no further contact or follow-up of any kind. My father knew nothing of the meeting or these events."

[Added July 11, 2017]

July 10, 2017: Donald Trump Jr. tweets:


Obviously I'm the first person on a campaign to ever take a meeting to hear info about an opponent… went nowhere but had to listen. https://t.co/ccUjL1KDEa

— Donald Trump Jr. (@DonaldJTrumpJr) July 10, 2017

[Added July 11, 2017]

Also on July 10, 2017: Donald Trump Jr. confirms that he has hired a criminal defense attorney to represent him in connection with the Trump/Russia probe.

[Added July 11, 2017]

Also on July 10, 2017: The New York Times reports on the email from Rob Goldstone to Donald Jr. preceding the June 9, 2016 meeting at Trump Tower among Donald Jr., Paul Manafort, Jared Kushner and a Russian lawyer with Kremlin ties.

[Added July 11, 2017]

July 11, 2017: Donald Jr. posts his June 3-8, 2016 email exchanges with Rob Goldstone that culminate in the June 9, 2016 Trump Tower meeting with the person Goldstone described as a "Russian government attorney." In his accompanying statement, Donald Jr. says that he knew Emin from the 2013 Miss Universe Pageant in Moscow. "Emin and his father have a very highly respected company in Moscow," he continues. "The information they suggested they had about Hillary Clinton I thought was political opposition research…To put this in context, this was before the current Russian fever was in vogue."

[Added July 11, 2017]

July 12, 2017: In a Fox News interview, Vice President Mike Pence's spokesperson refuses to answer directly whether Pence ever met with any Russians during the presidential campaign.

[Added July 17, 2017]

Aug. 14, 2017: While visiting a Christian mission in Cartagena, Colombia, Pence tells reporters, "During all of my experience on the campaign, I never witnessed any evidence of collusion or any of the allegations, I'm not aware of that ever having occurred…. I made it very clear I am not aware of any contacts during the time that I was on the campaign between any officials of the Russian government and officials with the campaign, and I stand by that."


As for Pence's awareness of any contacts between Trump's former National Security Adviser Michael Flynn and Russian officials prior to the inauguration, Pence adds, "I think I was very clear what I spoke about on television is precisely what Michael Flynn had told me and I believe the president was right to move him out of the White House." [Added Aug. 21, 2017]

Cover-up #3: The Comey Firing