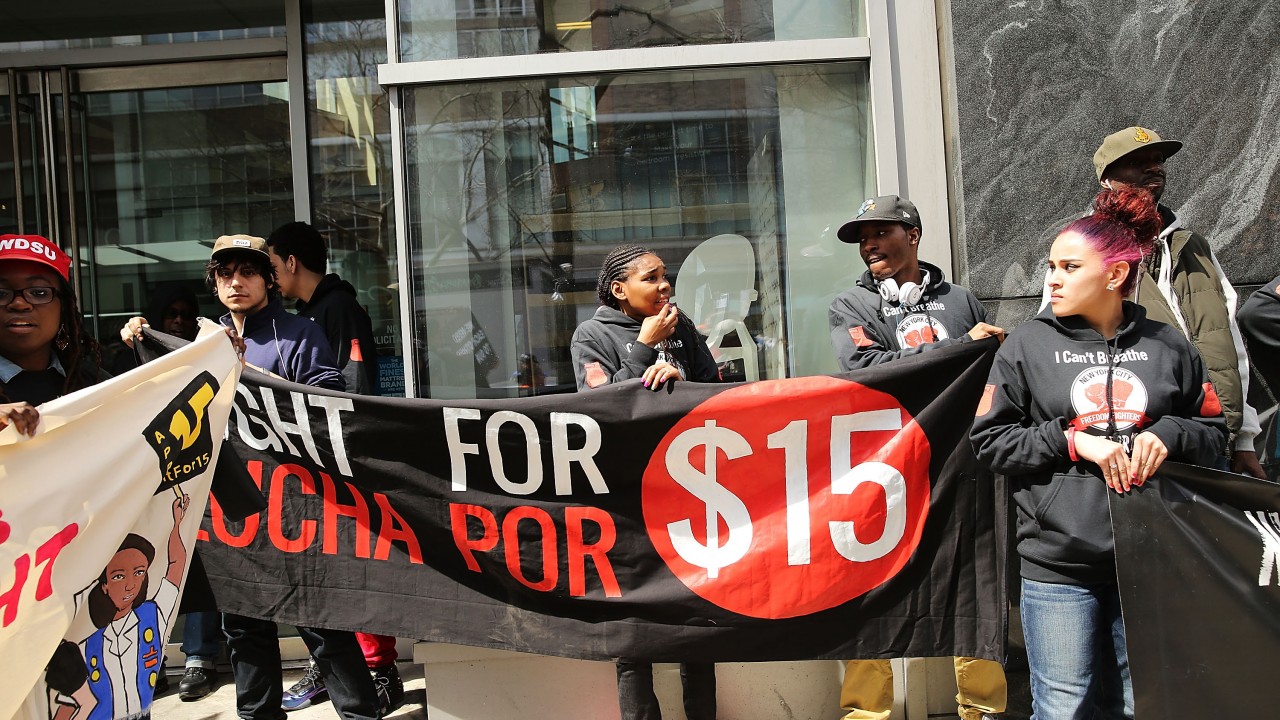 This post originally appeared at TalkPoverty.org.
Here at TalkPoverty.org and TalkPoverty Radio, we recognize strong media coverage of poverty on an ongoing basis. Here's a look back at some of the best poverty journalism in 2015. These 20 stories and op-eds drew attention to critical but underreported issues, rebutted persistent myths, shed light on barriers to economic security and mobility, lifted up policy solutions, provided insightful commentary on media coverage of poverty and even served as a catalyst for change. (Stories are listed in no particular order.)
---
by Sarah Maslin Nir, New York Times
This two-part series exposes the dark world of nail salons, from wage theft to poisonous working conditions. Soon after this reporting, Governor Cuomo (D-NY) signed legislation providing greater protections to workers in New York's nail salons.
Why New Orleans' black residents are still underwater after Katrina
by Gary Rivlin, New York Times
In this compelling excerpt from his book, Katrina After the Flood, Rivlin explores New Orleans 10 years after Hurricane Katrina through the eyes of Alden J. McDonald, who founded one of the Deep South's first black-owned banks. His examination reveals how New Orleans' African-American families continue to struggle and how many remain priced out of returning home.
The remarkably high odds you'll be poor at some point in your life
by Emily Badger and Christopher Ingraham, Washington Post's Wonkblog
A little-known fact about poverty in America is that "the poor" are not some static group of people living in poverty year after year. Badger and Ingraham smartly bust that myth and explain how economic hardship is a surprisingly common experience.
How companies make millions off lead-poisoned, poor blacks
by Terrence McCoy, Washington Post
McCoy's important reporting gives voice to one of the most disturbing revelations of the year: companies are getting rich by swindling Baltimore's lead-poisoned, poor black residents out of structured settlements for pennies on the dollar.
Under cover of darkness, female janitors face rape and assault
by Bernice Yeung, Center for Investigative Reporting
Yeung's reporting sheds light on the silent epidemic of sexual assault among female janitors working the night shift. Through powerful interviews with survivors, Yeung underscores how our civil rights and criminal justice systems are struggling to provide justice.
Last Week Tonight with John Oliver: Public defenders
HBO
John Oliver spent much of 2015 uncovering the injustices permeating our nation's criminal justice system, including this hilarious — and horrifying — look at our massively underfunded public defense system.
The deep, troubling roots of Baltimore's decline
by Jamelle Bouie, Slate
In the wake of the unrest in Baltimore spurred by Freddie Gray's death at the hands of police officers, Jamelle Bouie pens this thoughtful essay looking at the anger that "remains, fueled by recurring — and almost unending — deprivation."
The myth of welfare's corrupting influence on the poor
by Eduardo Porter, New York Times
Porter takes a critical look at the legacy of "welfare reform" and debunks the common myth—embraced by prominent conservatives such as Rep. Paul Ryan — that public assistance fuels dependency.
Michigan punishes mom for her daughter's brain cancer
by Justin Miller, The Daily Beast
It was no accident that Martha was cut off public assistance after her 12-year-old daughter was too sick to attend school due to cancer and a stroke; Miller's illuminating reporting underscores how Martha's family is one of hundreds who have lost needed aid since 2012 due to Michigan's "Parental Responsibility Act" — a misguided attempt to punish aid recipients if their children miss school.
The black family in the age of mass incarceration
by Ta-Nehisi Coates, The Atlantic
Fifty years after Daniel Patrick Moynihan's report The Negro Family kicked off our nation's failed experiment with mass incarceration, the peerless Ta-Nehisi Coates unpacks the role of the criminal justice system in "destroying the black family."
An atlas of upward mobility shows path out of poverty
by David Leonhardt, Amanda Cox, and Claire Cain Miller, New York Times' The Upshot
A child's zip code can determine her life chances. Leonhardt, Cox, and Miller unpack a watershed study showing how neighborhoods affect children and how "moving to opportunity" can boost a child's chances at upward mobility. (Don't miss the interactives on how your area compares.)
Texas sends poor teens to adult jail for skipping school
by Kendall Taggart and Alex Campbell, BuzzFeed
This story follows Serena, one of more than one thousand Texas teenagers (most of whom are poor and black or Hispanic) who have been locked up in jailed in the past three years on charges stemming from missing school. Soon after this reporting, the state of Texas decriminalized truancy.
Warren Buffett's mobile home empire preys on the poor
by Dan Wagner and Mike Baker, Center for Public Integrity
This powerful joint investigation by the Center for Public Integrity and the Seattle Timesuncovered a spate of predatory and deceptive practices perfected by the latest players to profit from poverty: the mobile home industry.
Why small debts matter so much to black lives
by Paul Kiel, ProPublica
About one-quarter of African-American families have less than $5 in reserve. Kiel's groundbreaking analysis reveals how the racial wealth gap not only renders communities of color especially vulnerable to predatory lending and aggressive debt collection practices, but also magnifies racial disparities in discriminatory policing practices and their accompanying fees and fines.
Poor women in the United States don't have abortion rights
by Maya Dusenbery, Pacific Standard
This important piece looks at how the ban on using Medicaid dollars to pay for abortions has kept many poor women from being able to end their pregnancies — and the far-reaching economic consequences of "forcing poor women into childbirth." .
'I put in white tenants': The grim, racist (and likely illegal) methods of one Brooklyn landlord
by DW Gibson, New York Magazine
This harrowing article, excerpted from Gibson's book The Edge Becomes the Center, uncovers the "racist and likely illegal" schemes of a Brooklyn landlord who paid black tenants thousands of dollars to leave his building.
by Alysia Santo and Lisa Iaboni, The Marshall Project 
Part of The Marshall Project's Life Inside series, this piece reveals how inmates in some correctional facilities are literally starving — some describe licking syrup packets to curb their hunger —as legislators seek to slash food costs.
I get food stamps and I'm not ashamed—I'm angry
by Christine Gilbert, Vox
This must-read essay from a woman receiving nutrition assistance is a poignant and in-your-face missive to everyone who has ever said poor people are lazy.
Almost half of all American workers make less than $15 an hour
by Michelle Chen, The Nation
Three years after the #Fightfor15 movement was born out of the first Fast Food Forward strikes, Chen — one of the best labor reporters out there today — explores how the fight for a living wage "is not just for economic survival but for solutions to the inequality dividing communities."
The homeless man who works in the Senate
by Catherine Rampell, Washington Post
In an eye-opening call for raising wages, Catherine Rampell introduces us to 63-year-old Charles Gladden, who has been homeless for decades despite working in the cafeteria of the US Senate.