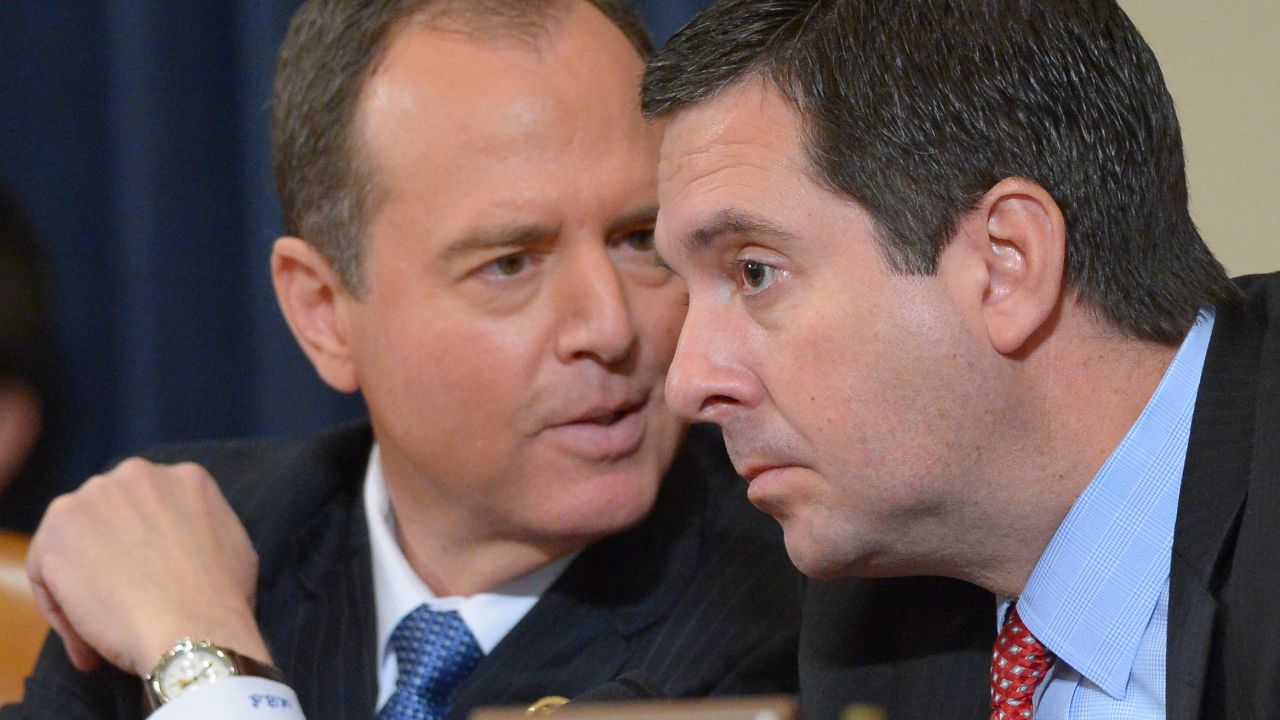 There was so much smoke being blown in Washington on Wednesday you could probably see it from the International Space Station.
And it all seemed to come from a single polluter: Rep. Devin Nunes (R-CA), chair of the House Intelligence Committee. His pants were burning from one end of Pennsylvania Avenue to the other.
Nunes seems to prefer serving the constituency of One Who Temporarily Lives in the White House over paying attention to the American people who need some answers: the facts about Russia's interference with the 2016 election; about whether or not members of Donald Trump's campaign team colluded with Russian intelligence to support and encourage that interference; and broadly, what's up with Donald Trump's business connections to Russian kleptocrats over the years?
And by the way, Mr. President, release those tax returns.
Nunes claims to have gotten hold of new information — from whom he would not say — about possible accidental surveillance of Trump and his associates that allegedly took place in the gathering of intelligence about something other than Russia. He refused to say what that something else was. But rather than do the right thing and inform the ranking member of the intelligence committee, Democrat Adam Schiff, about these revelations — or to tell anyone else on the committee — Nunes went running off to Republican Speaker of the House Paul Ryan, held a press conference and then made a beeline for the executive mansion to tell all to you-know-who.
In other words, he blabbed about the confidential House investigation to the guy who's being investigated. Nice going, Inspector Clouseau.
Oh, and then he had another press conference.
This all had the feel of a 6-year-old ineptly performing a magic trick to impress Grandpa. But Nunes was just trying to distract the rest of us from what's really going on, puffing exhaust to give Trump some cover on those nutty I-was-wiretapped-by-Obama tweets earlier in the month, and possibly to steal attention from the latest revelations about Paul Manafort, the lobbyist and one-time Trump campaign manager who has had a roster of thugs and dictators as clients, including the ex-president of Ukraine, a pro-Putin acolyte who got kicked out and now lives somewhere in Russia.
Early Wednesday morning, the Associated Press broke the story:
"Before signing up with Donald Trump, former campaign manager Paul Manafort secretly worked for a Russian billionaire with a plan to 'greatly benefit the Putin Government' …Manafort proposed in a confidential strategy plan as early as June 2005 that he would influence politics, business dealings and news coverage inside the United States, Europe and former Soviet republics to benefit President Vladimir Putin's government, even as US-Russia relations under Republican President George W. Bush grew worse."

"… Manafort's plans were laid out in detailed documents obtained by the AP that included strategy memoranda and records showing international wire transfers for millions of dollars. How much work Manafort performed under the contract was unclear. The work appears to contradict assertions by the Trump administration and Manafort himself that he never worked for Russian interests."
This news followed reports alleging that Manafort had used offshore accounts in Belize and Kyrgyzstan to launder payments from the aforementioned, pro-Putin ex-president of Ukraine, Viktor Yanukovich, and preceded by a few hours reporting from David Corn of Mother Jones that Manafort had tried to secure a visa to travel to the United States for the same guy with whom he made the deal to package Putin — Russian aluminum mogul Oleg Deripaska. Deripaska had been denied entry because of his alleged ties to the Russian mob.
If there are still grown-ups in the GOP, the Senate or the House, give Americans what they need to save the republic: the truth.
Throwing us off the stink of all this may have been Rep. Nunes' mission Wednesday, but the day did not end well for him or his friend at 1600 Pennsylvania Avenue.
CNN reported, "The FBI has information that indicates associates of President Donald Trump communicated with suspected Russian operatives to possibly coordinate the release of information damaging to Hillary Clinton's campaign, US officials told CNN."
And then when ranking intelligence committee member Adam Schiff was asked by NBC's Chuck Todd whether the evidence of collusion was circumstantial, the congressman dropped his own little grenade: "I can tell you that the case is more than that," he said. "And I can't go into the particulars, but there is more than circumstantial evidence now … I will say that there is evidence that is not circumstantial, and is very much worthy of investigation."
Oh my.
Earlier in the day, Schiff told reporters that Nunes "will need to decide whether he is the chairman of an independent investigation into conduct which includes allegations of potential coordination between the Trump campaign and the Russians, or he is going to act as a surrogate of the White House, because he cannot do both."
And early Wednesday night, Arizona Republican Sen. John McCain told MSNBC's Greta Van Susteren, "It's a bizarre situation… and I think that this back-and-forth and what the American people have found out so far that no longer does the Congress have credibility to handle this alone. And I don't say that lightly."
They're right. A political party cannot investigate itself. Clearly, Nunes no longer has the credibility to run the House investigation. Be the patriot you say you are, sir, and step down from your chairman's seat. Or Speaker Ryan, force him to resign and replace him — you have that power.
As Schiff and McCain said, yesterday's events make the need for a bipartisan investigation and/or independent prosecutor all the stronger. The crisis deepens. Is democracy unable to solve the problems it has created for itself?  Please, if there are still grown-ups in the GOP, the Senate or the House, give Americans what they need to save the republic: the truth.