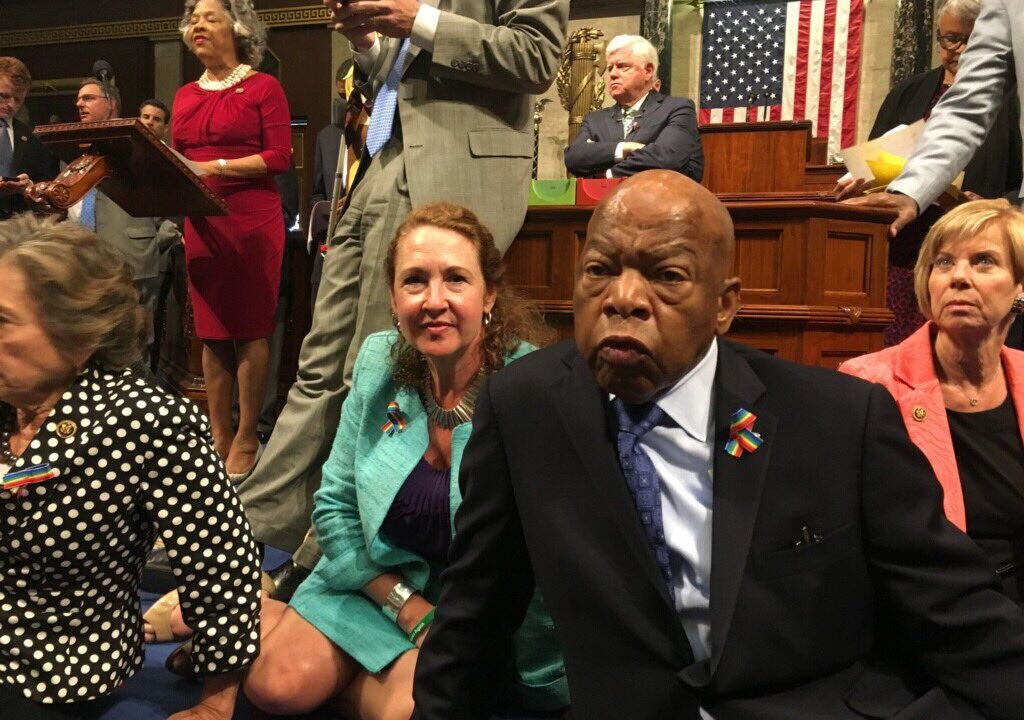 Your elected representatives have done their bit. Now it's up to their constituents.
Ten days after the gun massacre that left 49 dead and scores more injured at an Orlando nightclub, House Democrats this week combined 1960s tactics with 21st-century technology to force gun control legislation to a vote.
Led by Rep. John Lewis, the 76-year-old Georgia Democrat who rose to national prominence in the civil-rights movement, lawmakers engaged in what might be called "parliamentary disobedience," disrupting business as usual on the House floor. And when the C-SPAN cameras were turned off because the House officially had gone out of session, members took to Periscope and Facebook Live — video-streaming services — to let the public know what they were doing. To its everlasting credit, C-SPAN took the feed.
It was an extraordinary moment: Insiders became outsiders, declaring that the system they're part of is broken. And they were visibly enjoying it. "Don't you feel like a little kid?" one congressman asked his colleagues in about the sixth hour of the sit-in. It was the same kind of euphoria and solidarity that civil-rights marchers have described feeling.
Like those civil-rights demonstrators who deliberately broke Jim Crow laws, the Democrats are defying House rules in the service of what they consider true justice: Polls show that an overwhelming majority of Americans favor tighter restrictions on gun sales. Yet Republicans, who control both the House and Senate, have refused to allow the bills on the floor. Why? They don't want to expose their members to a vote that might prove unpopular in November, and they don't want to alienate the gun lobby, a source of considerable campaign funding.
As we reported earlier this week, the National Rifle Association already has ponied up more than $2 million to help maintain the Republican Senate majority. The NRA also has donated $30,000 to the National Republican Congressional Committee. And, as House Speaker Paul Ryan undoubtedly knows, there's more where that came from: The NRA has reported having $14.7 million in cash on hand.
Money talks. But not necessarily as loudly as voters. As John Morse, the former president of the Colorado state Senate and a victim of the gun lobby, has told us, the power of the NRA is not just its money but its members' "passion." He described gun-rights activists surrounding his state capital when gun legislation was on the floor, inundating lawmakers' offices with calls and emails, and most importantly, showing up at the polls. In the recall election the gun lobby engineered after Morse shepherded gun-control laws into enactment three years ago, 80 percent of registered voters in the district did not show up. But gun owners did and Morse lost by 315 votes.
Like the civil-rights protesters of the 1960s, the advocates for gun control and an end to gun violence are hoping to ignite some passion in what has heretofore been a relatively silent majority of Americans who agree with them. Will it work? Members are headed back to their districts for a long July 4 recess. The ball is in the home court.