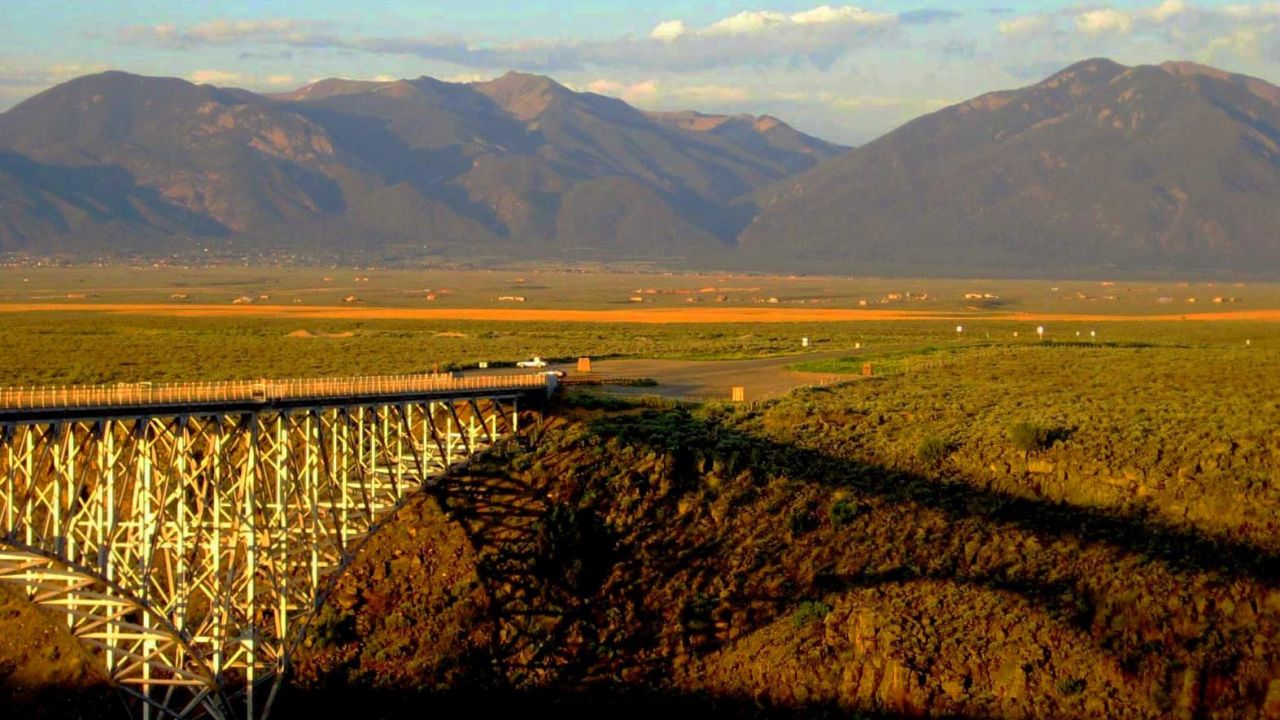 This post originally appeared at Yes! Magazine.
After two hours of public testimony, Ralph Nava was the last of 60 speakers to testify in favor of the Santa Fe City Council's resolution to reaffirm and strengthen its welcoming policies toward immigrants. As a native of northern New Mexico whose family's presence in the region dates back generations, he implored the audience and council members to consider the history. "All of this area was Mexico just a few generations back," Nava said. "All of a sudden, we're trying to make all of these artificial barriers and walls — that don't make sense."
He went on to tell a story about taking his grandmother to Mexico. On their way back over the border, she kept telling the US border agents she was Mexican, even though she had lived her entire life in New Mexico. "She wouldn't say she wasn't Mexican," laughs Nava, who insists that for her, it was not a symbolic stand. "She genuinely thought of herself as Mexican."
In 1999, the city of Santa Fe — New Mexico's capital and the oldest capital city in the United States — became one of the first so-called sanctuary cities across the country. The 18-year-old resolution, which has remained unchallenged, declares that Santa Fe will not target or discriminate against residents whose only crime is noncompliance with federal immigration laws. The city and county have even strengthened their policies by not allowing US Immigration and Customs Enforcement into their jails.
The election of Donald Trump this past November cast doubt on the future of the city's immigrant-friendly policies, but Santa Fe, its leaders and its residents refused to be deterred. Within weeks, the city's mayor, Javier Gonzales, appeared on FOX News, CNN, NPR and other national outlets defending Santa Fe's welcoming policies and touting the positive impacts they've had for the community. The new resolution, passed unanimously in mid-February, strengthens the city's policy: It establishes confidentiality practices in protecting residents' information, including their immigration status and directs city employees to refuse federal immigration agents access to non-public areas of city property. And throughout the state, residents and political leaders have advocated loudly for immigrant-friendly policies.
While the neighboring states of Texas and Arizona have tended to be more conservative, especially on immigration issues, Santa Fe and other pockets throughout New Mexico have continued their long history of welcoming immigrants and providing sanctuary.
And this is no coincidence. As Nava testified, New Mexico's colonial history remains an omnipresent part of daily life, and despite recent demographic shifts from an influx of transplants, the region's history, traditions and culture have retained their unshakeable hold over its modern character. As a result, many New Mexicans view the border with Mexico as a foreign concept, which has allowed the state's unique relationship with its southern neighbor to overshadow new federal policies.
The Spanish founded La Villa Real de la Santa Fe de San Francisco de Asís in 1610, shortly after Conquistadors began exploring north from Mexico City. For hundreds of years, the Rio Grande served as the central corridor for Spanish travel and exploration to its northern territory, so even after the United States gained control of the Southwest, Mexican and Spanish influence over New Mexico remained strong enough to resist most attempts at assimilation.
Santa Fe reinforced that connection to its heritage in the early 20th century, when leaders launched a campaign to attract tourists by preserving the city's historic character. Through zoning laws, the city mandated a uniform aesthetic that it maintains today and has since become a haven for artists, writers and other visitors attracted to Santa Fe's anachronistic, precolonial style. Because of this, the city evolved as a liberal island to the extent that even its charter includes a provision barring it from discriminating against residents based on "citizenship status."
City Councilor Renee Villarreal, one of the original sponsors of the recent resolution, asserts that the city's history of sanctuary has gone beyond immigration. Throughout the late 19th and early 20th centuries, the city served as a refuge for women escaping Victorian social norms and was also a destination for health seekers drawn to the region's dry air and pleasant climate.
We've been known, historically, to welcome the stranger and offer refuge to persecuted individuals.
But Villarreal also traces northern New Mexico's history of providing sanctuary even further. During the Pueblo Revolt of 1680, Isleta Pueblo, south of Albuquerque, offered protection to Spanish and Indian refugees, and churches in northern New Mexico have long respected the right to asylum. "We've been known, historically, to welcome the stranger and offer refuge to persecuted individuals," Villarreal asserts. "It makes sense for our history."
Marcela Diaz, executive director of Somos un Pueblo Unido, a 22-year-old statewide immigrant rights organization, agrees. "There's something to be said about that cultural and historic proximity [to Mexico] that's created a different space," she says.
Diaz, whose organization helped pass the original sanctuary resolution in 1999 and was instrumental in crafting the most recent resolution, also notes the lack of a language barrier. Because so many native New Mexicans still speak Spanish — some even as their first language — Mexican and other Spanish-speaking immigrants are able to integrate themselves more easily into New Mexico than other states. "We've been connected to Mexico through familial ties and through history," she adds.
Diaz also credits a longstanding distrust of the federal government from northern New Mexico communities, where residents have often balked at the government asserting its authority, especially over public lands and water policies. "The majority of people who have really pushed the envelope on these sanctuary policies are nortenos — local Hispanos — who are really tied to their community and already have a propensity to ensure the federal government is not encroaching."
While Santa Fe and northern New Mexico have taken the lead on promoting and strengthening sanctuary policies, the state as a whole has its own history of providing refuge to persecuted groups. In 1986, Gov. Toney Anaya declared New Mexico a "state of sanctuary," specifically for Central American refugees escaping their war-torn countries.
This declaration marked the beginning of the modern sanctuary movement that has spread from Taos to Las Cruces. In 2011, Taos County stopped honoring requests from ICE to detain undocumented immigrants with little or no criminal record. And more recently, in Albuquerque, acting University of New Mexico President Chaouki Abdallah has assured students that the university will protect community members regardless of their national origin or immigration status. A week before Santa Fe approved its new sanctuary resolution, Las Cruces residents responded en masse when ICE launched raids of local immigrant communities. Supporters immediately took to the streets protesting, first at the federal courthouse and then at a busy intersection, which they shut down for nearly an hour.
Angelica Rubio, who represents the city in New Mexico's House of Representatives, was heartened by the strong display of support.
According to Rubio, who sponsored bills to redesignate New Mexico as a state of sanctuary (a designation that was rescinded by Gov. Anaya's Republican successor) and to block the use of state trust lands for the construction of a border wall, allies must push back "on this narrative that the people from Mexico are different than we are, when in fact our cultures and economy and so much of our history [are] so intertwined that there's no way a wall could end that."
Although neither bill received a hearing on the House floor, much of this sentiment can be traced back to Nava's plea alluding to the relatively new barriers — both political and physical — between the two countries that seem wholly foreign to many New Mexicans. Growing up, Rubio and her family frequently made trips across the border into Mexican states Chihuahua and Sonora. "Although there's already been a wall built along the US-Mexico border, I think the wall that's being described now is built on this rhetoric that is just inciting false fears," she says.
Many newcomers are unified with longtime residents on immigration.
Like much of the western United States, New Mexico has experienced a demographic shift over the past few decades. The increasing number of transplants, especially retirees, who have relocated to New Mexico for lifestyle reasons risks diluting the political influence of the state's long-established Hispanic population. In Santa Fe alone, the Hispanic population dropped from around 63 percent in 1970 to 48 percent in 2010. Yet many newcomers are unified with longtime residents on immigration. "There's a spiritual, underlying history and energy that people get drawn to Santa Fe for that reason," Villarreal says.
Rubio sees the same trend in Las Cruces. Referring to these newcomers, she says that "a lot of the reason why they've moved here and made this place their home is because of the fact that we've had this rich culture and history. That's what brought them here."
More recently, the state has taken a less friendly stance toward immigration, with New Mexico's Republican governor, Susana Martinez, taking a hard line against allowing undocumented immigrants to hold driver's licenses. Diaz credits Martinez's campaign with inspiring donors to help build her organization's infrastructure and capacity to fight this new battle against the Trump administration. But while history is on the side of Diaz and her allies, the future is much less certain. Still, she is confident: "We've learned how to fight, we've learned how to win, and we will keep fighting."
Back at the city council meeting, that positive attitude was pervasive: The cheering of the audience nearly drowned out the mayor's announcement that the resolution had passed. Attendees took pictures and talked excitedly with one another during the 10-minute recess, flashing smiles and giving hugs.
Roberto Sanchez, originally from Chihuahua, was one of those milling around in the joyous crowd. He said he has lived in Santa Fe for nearly 20 years and has come to love his adopted home.
"This city is different," he declared. "There are good people here. They love us and want to protect us."