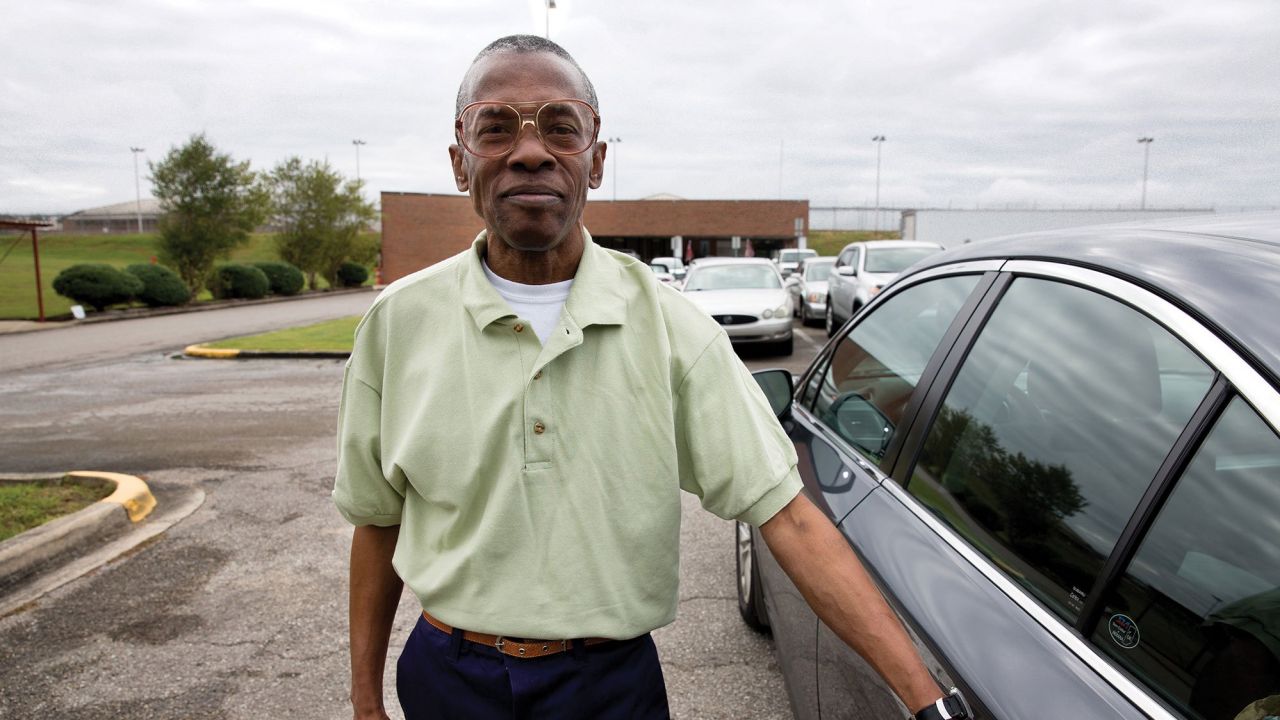 This post originally appeared at Mother Jones.
Holed up in a maximum-security prison, Ronald Elston felt a pang of regret: He'd missed the high school graduation of his daughter, Shamica. She'd been a young girl when Elston was sent to St. Clair Correctional Facility in Alabama's Appalachian foothills, a lockup known for aggressive inmates who fashion knives from fan blades. About 14 years into his stay, Elston, a former soldier with a thin build and a soft, Southern drawl, was desperate to get out and see his family again. After leaving the military in his early 20s, he'd struggled with a heroin addiction and been convicted of robbery. A three-strikes law meant he was sentenced to life without parole. "I didn't hurt or kill anyone," he wrote to a lawmaker in 1997. "For 13 years I told my daughter I would be there for her graduation…Please help me."
Years later, Elston's plea was finally answered. Alabama amended its three-strikes law in 2001, allowing lifers like Elston to retroactively file appeals for a reduced sentence of life with parole. Inmates rushed to take advantage of the change — about a third of prisoners in Alabama had been serving enhanced sentences under the three-strikes law during that time. But the state couldn't keep up with the flood of petitions for reduced sentences, and eventually the Legislature repealed its amendment in 2014. Elston was one of the last three-strikes lifers to be released under the more lenient version of the law. "When I went to the telephone to call my mama and tell her, I couldn't even dial the phone number," he told photographer Jessica Earnshaw. "I was numb."
In a light-green polo and oversize eyeglasses he'd kept from the 1980s, he drove away from the prison with his lawyer on a warm October day in 2015, rubbing his hands together as he listened to a GPS for the first time in his life. He'd decided to move from Alabama to Pennsylvania so he could live with his mother, who'd written him weekly during his incarceration. Philadelphia felt a world away from the tiny Alabama town where he'd grown up. He didn't know how to navigate the subway or the bus system — he'd never even used a cellphone or a computer — so he could only look for jobs within walking distance. He got one, briefly, at a Dunkin' Donuts, but he struggled to keep up with the computer system. He says he was asked to give more detail about his criminal record and was soon fired.
In November, 13 months after he moved to Philadelphia, his parole officer connected him with a Department of Corrections program to help him look for work. But even after applying to dozens of jobs, he hasn't found one. "It don't matter how hard I try — 9 times out of 10 I'm gonna be turned down because I don't have a GED, I'm an ex-felon and I'm 59 years of age," Elston says. His time in prison did little to prepare him for a career. While he was locked up, Alabama spent less on inmates than almost any other state, and though the understaffed prison had computer classes and trade programs, Elston wasn't eligible because of his life sentence. "I really don't actually feel free," he says. "It seems like everything that I try to do, you know, I run into a brick wall, because I'm not advanced with the way things is today. "
Elston's a great-grandfather now, but he still hasn't met one of his grandkids or spent much time with his daughter, who lives in Alabama. "I feel like my time on the outside won't really be complete until I see them." He's hoping to get a job so he can save up enough money to fly to his granddaughter's high school graduation next year.
---
This story was published in partnership with The Marshall Project, a nonprofit newsroom covering the US criminal justice system.
Photographer Jessica Earnshaw has been following Ronald Elston's reentry story since his release from prison. This work was funded through the Rita and Alex Hillman Foundation. Further images, audio, and video can be seen on the project's Instagram account, Aging In Prison.