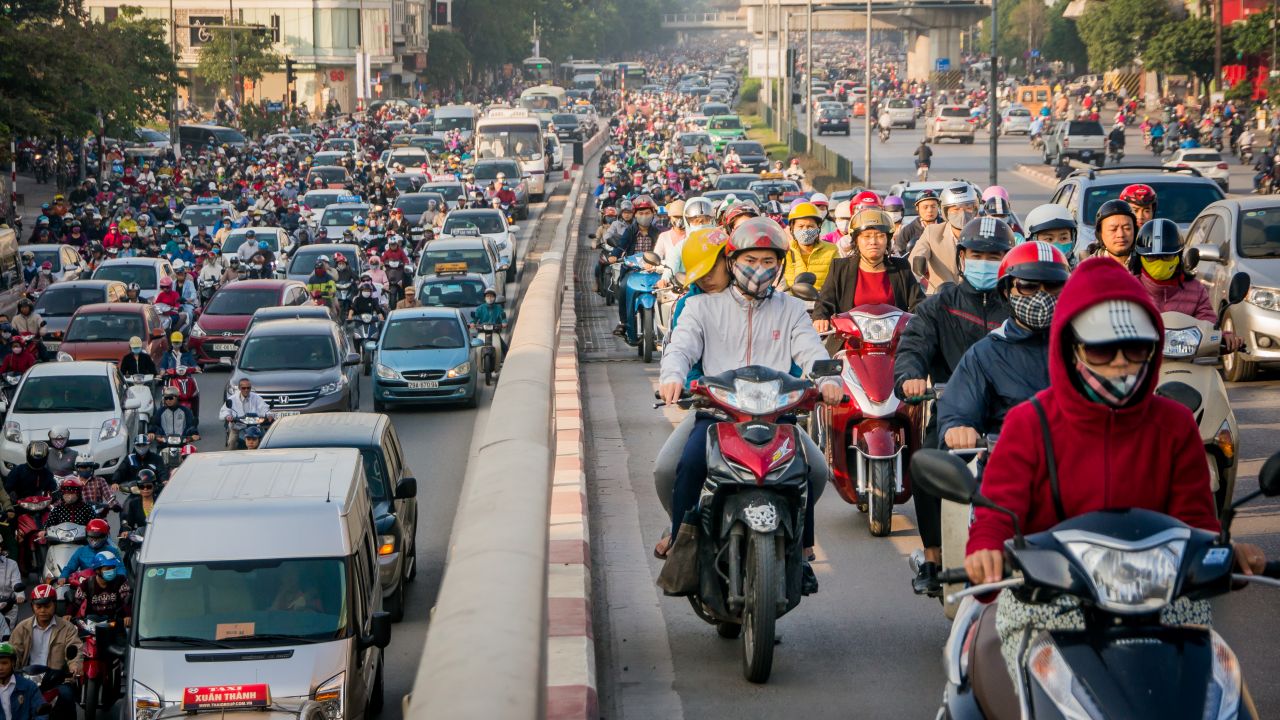 The first thing I learned when I got to Vietnam last week was how to cross the street.
"Don't rush!" advised our guide. "Just even your pace and walk slowly. Don't make any sudden lurches forward, backward or stop. The drivers will find the way to avoid you."
Wise counsel for my stay in Ho Chi Minh City (formerly Saigon), where more than 8 million people share the streets with nearly 7 1/2 million motorbikes. Maneuvering through the noisy, fume-filled, speeding scrum is not for the faint-hearted, but it's the only way to get to the other side. And stay alive.
It is also the key to survival for this complicated, seductive country, where more than 10 million foreigners visited last year, half a million of them Americans like me, strangely eager to embrace a nation that defeated us so decisively. The lure is their existence: How did a nation of underfed, overcolonized farmers on bicycles fight off 1,000 years of occupation — most recently, three decades of far superior French, then American, bombs, guns and explosive power? Slowly and steadily, as it turns out; a very special kind of resistance.
How did a nation of underfed, overcolonized farmers on bicycles fight off 1,000 years of occupation — most recently, three decades of far superior French, then American, bombs, guns and explosive power? Slowly and steadily, as it turns out; a very special kind of resistance.
I do not mean to overstate the tyranny of the traffic, nor to diminish the ghastly loss of life on both sides that led to Vietnam's independence. But the path to success for both certainly is a fine metaphor for overcoming the toxic chaos and terrifying authority of the incoming invasion of the White House. Resistance doesn't mean just standing strong; it means doing so without rushing, and without faltering.
No doubt there is a special irony that the key to fighting Donald Trump lies in a country he has avoided and belittled. Five draft deferments (including for bone spurs in at least one of his feet) kept him out of the war; during the campaign, he repeatedly lumped Vietnam with China and other Asian countries as anti-American trade villains.
Still, the lessons of the Vietnam War (known here as The American War) are painful and heartbreaking. Not to mention infuriating. Fifty-eight thousand American lives were lost, uncounted others maimed physically or emotionally. And that doesn't count the several million Vietnamese wiped out along with vast jungles and mountaintops. As a visitor from Colorado asked rhetorically, "How can they be so nice to us when we destroyed their country?"
One answer, of course, is the billions of tourist dollars now enabling massive growth in this free-market-economy. Vietnam has been industrializing and urbanizing and modernizing since the War ended in 1975. Today, luxury goods from the likes of Prada and Louis Vuitton serve the newly megarich moguls; ordinary citizens shop in streetside markets full of succulent shrimp and meat and a dazzling array of fruits and vegetables. In Hanoi, the capital, a 72-story office building shares the cityscape with narrow, balconied structures in pale cream or yellow, charming reminders of the colonial era. In Danang, the grand expanse of China Beach is turning into a mini Miami, with giant resort hotels opening onto the rolling breakers of the South China Sea (here, the East Sea, given Vietnam's territorial disputes with China). Brilliant lights in vibrant reds and blues illuminate the streets in anticipation of Tet, with good wishes for the new year.
And I have never eaten so splendidly: perfectly grilled lobster, textured pomelo that gives grapefruit an inferiority complex, light-as-a-cloud fried dumplings. Banana flower salad has become my favorite new food group.
Yes, the poverty of a developing nation persists. Taxes keep most foreign goods from reaching the average citizen. And even public school fees in the big cities can usurp much of a family's income.
And make no mistake: This is a Communist country, where the Russian hammer and sickle is displayed on street banners alongside the bright yellow star on the revolutionary red of the Vietnamese flag. But when I asked a passerby for a translation of the words on the ubiquitous displays, she went through a litany of "Support our Socialist state/We must remain strong" cliches, then grinned and said, "You know, propaganda!"
With more than half the population under 30 years old, the one-party government and its rubber-stamp elections seem to be taken seriously, but not blindly. And while freedom of the press does not exist, even the restrictions on the internet and the censorship of occasional political television programs — they get CNN, BBC, even HBO — with its "TEMPORARILY INTERRUPTED" chyrons, elicits a knowing and tolerant shake of the head. Democracy may be a distant dream, but the national enemy is no longer the United States.
"When I was growing up, I believed the moon in Vietnam and Russia was more beautiful than what they saw in the West," said our guide, who at 40 was born after the war had ended. "But now I've learned that it's the same moon."
He took us to Cu Chi, the site of the notorious labyrinth of tunnels where Viet Cong guerillas hid, lived, ate and waited out the enemy for days and weeks at a time. A cross-section diagram of the nearly 200-mile complex looks like one of those ant farms, sandwiched between plexiglass. But these passageways accommodated humans, who were in no rush to get to the other side. Their patience in the presence of our vastly more sophisticated equipment is astonishing. Although the viciousness on both sides is horrifying.
Above ground, we saw replicas of the booby traps set for unwitting foreign troops: sharpened pongee sticks at the bottom of a hole; human-sized bear traps to cripple or kill an invader. Exhibits explained how, with bare hands and simple tools, they painstakingly recycled unexploded American bombs into their own lethal armaments. And there were the famous rubber-tire sandals, with treads that could be worn backwards to make pursuers believe they'd walked the other direction.
"We had to defend ourselves," our guide said, without apology. "We had no choice."
A black-and-white propaganda video from 1967 said they did it "to protect their hallowed homeland." Amid shots of happy villagers (the guerilla Viet Cong) shown aiming their rifles and working for the betterment of the cause, the narrator describes how the "cruel Americans" — or, again, "Americans and their puppets" — dropped poisonous chemicals and megaton "bombs from Washington" on the peaceful countryside. "And who were their targets? Women and children…fertile lands." You get the picture.
But you — that is, we — also took away the bigger message: that these folks weren't giving up. That despite the uneven odds, their goal was unchanged and they were unyielding. It took time — decades — but they won the war and retained their country. And turned it into the lush destination for so many of us, well, losers.
But as someone told me here, "There were no winners and no losers. War is terrible."
In a recent article about the upcoming role of the press during the years of the new occupying force, The Washington Post's Margaret Sullivan wrote, "Journalists are in for the fight of their lives. And they are going to have to be better than ever before, just to do their jobs. They will need to work together, be prepared for legal persecution, toughen up for punishing attacks and figure out new ways to uncover and present the truth."
It won't be easy. And we don't have time to endure the decades that it took the Vietnamese. But it's our only chance. Crossing the street, our guide in Vietnam reminded us, "is like being in a 3-D video game. Everything comes at you from any direction."
We need to get used to that. And just keep moving forward.