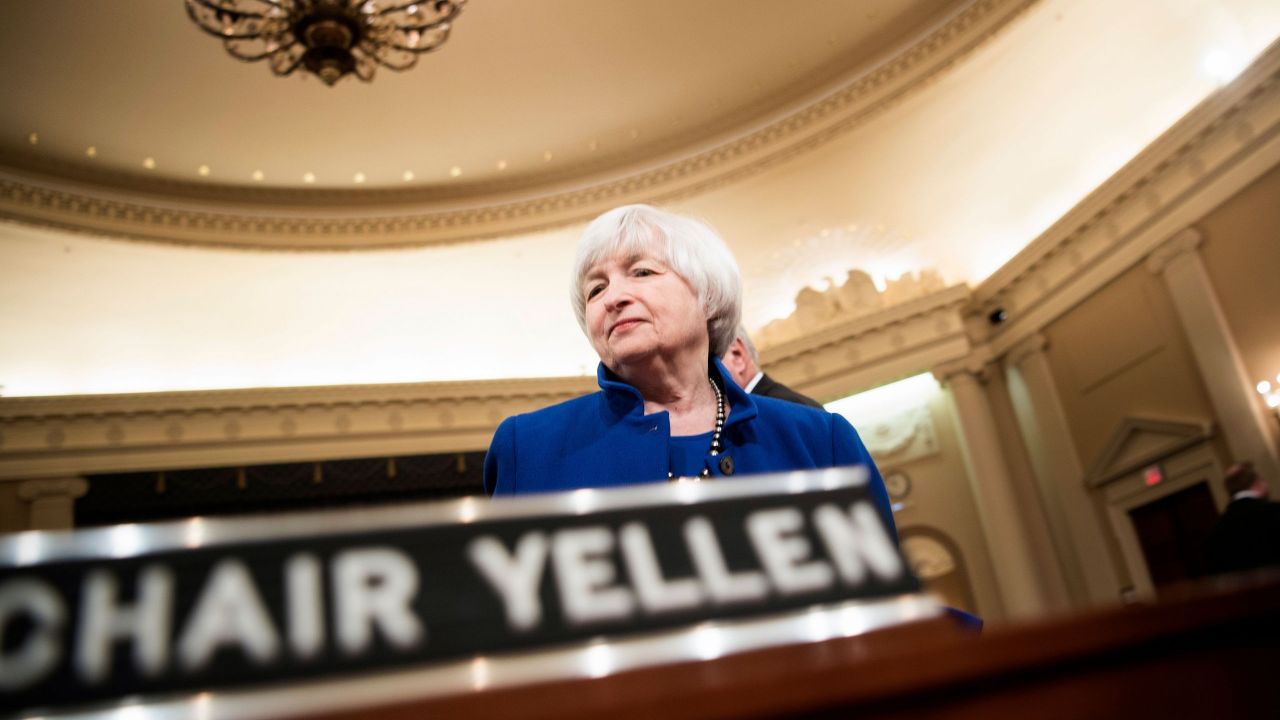 November 24, 2020
The stock market, which has been strong thanks to the good news about coronavirus vaccines, jumped to a record high today on news that President-Elect Joe Biden is planning to nominate Janet Yellen to head the Treasury Department. She will be the first woman to lead the department, and is considered an especially strong pick, particularly at this moment. Yellen is a labor economist and monetary policy expert who cares deeply about issues of inequality, and is respected by members of both parties. She served as the Chair of the Federal Reserve from 2014 to 2018, and headed the White House Council of Economic Advisers under President Bill Clinton.
Yellen's strong piloting of the Federal Reserve won her support on Wall Street, while she is also popular with labor interests: many analysts credit her with the strong labor market of the Obama years that continued until the pandemic. Former Goldman Sachs executive Gary Cohn, who advised Trump on economic policy, tweeted that Yellen "is an excellent choice…. [S]he will be the steady hand we need to promote an economy that works for everyone, especially during these difficult times." Senator Elizabeth Warren (D-MA), known as a progressive, tweeted that the choice of Yellen is "outstanding…. She is smart, tough, and principled…. [S]he has stood up to Wall Street banks…."
Yellen's expected nomination is yet another Biden pick that emphasizes stability and a return to a government to which Americans had become accustomed before Trump's election. The Biden-Vice President-Elect Kamala Harris administration appears ready to use the government to help ordinary Americans.
That return to our traditional position appears popular among financial markets as well as with ordinary voters. The Dow Jones industrial average jumped with the Yellen news, but it had topped 30,000 earlier, shortly after Pennsylvania certified its votes for Biden. Investors like political stability. Trump's erratic behavior threatened to make business success depend not on ability but on political favoritism, which business leaders actually don't like because it enables a political leader to pick winners and losers. Recently, the president's attacks on our democratic system have undermined confidence so that Biden's certified win was a relief (although later in the day Trump tried to take credit for the stock market high).
Yesterday, officials at General Motors noted that the Trump years had made the government lag behind popular opinion. They abandoned their former support for Trump's rollback of emissions standards and sided with California in its quest to modernize our automotive fleet. CEO Mary Barra wrote to leaders of environmental groups, saying: "We believe the ambitious electrification goals of the President-elect, California, and General Motors are aligned to address climate change by drastically reducing automobile emissions," she wrote. "We are confident that the Biden Administration, California, and the U.S. auto industry, which supports 10.3 million jobs, can collaboratively find the pathway that will deliver an all-electric future."
The outgoing Trump administration is not taking the rejection of their policies lying down. It appears officials are trying to use their last months in office to undermine Biden and Harris, making sure they enter office with crises at hand and a limited number of options for dealing with them.
As coronavirus roars across the country, the administration remains committed to the idea of simply letting the virus take its toll until vaccines are available. Vice President Mike Pence, the head of the White House Coronavirus Task Force, briefed reporters last Thursday for the first time since July, assuring them that while infection rates are rising, "[W]e approach this moment with the confidence of experience. We know the American people know what to do."
In the last week, the United States has seen 1.2 million new infections, bringing our total to more than 12.5 million. We are approaching an official death count of 260,000, and are losing about 1500 people every day. Doctors in Utah are having to ration care; Minnesota, Kansas, and Missouri are short of beds in intensive care units; Texas had to mobilize 36 National Guard personnel to help clear an overflow of bodies at the El Paso morgue.
Dr. Anthony Fauci, head of the National Institute of Allergy and Infectious Diseases, warns that fatalities could get worse. "Two to three thousand deaths a day times a couple of months, and you're approaching a really stunning number of deaths," he told Yahoo News. But, he noted, "It isn't inevitable…. We can blunt the curve" by wearing masks, washing hands, and social distancing until the newly announced coronavirus vaccines are widely available.
And yet, Republicans continue to downplay the dangers of the virus, although 8 of the 53 Senate Republicans have themselves tested positive for it. Last week Senator Ted Cruz (R-TX) called a request from Senator Sherrod Brown (D-OH) that another senator wear a mask to protect nearby staffers "idiotic" and "an ostentatious sign of fake virtue."
More than 125 economists this week wrote an open letter calling for a new coronavirus relief package to tide the country over until coronavirus vaccines can stem the economic crisis, especially as measures passed back in March will expire with the end of the year. They are simply echoing the many calls for such a measure, including ones from Trump-appointed Federal Reserve Chair Jerome Powell. But while the Democratic-controlled House of Representatives passed a new $3 trillion bill back in May, Senate Majority Leader Mitch McConnell has declined to take it up, and has not been able to bring Senate Republicans together to back their own version. Now, he has sent senators home for Thanksgiving without taking up a bill.
Today negotiators for the House and Senate hammered out a deal to keep the government funded past the December 11 shutdown date, but while Democrats still remain hopeful they can include coronavirus relief measures in the package, Republicans are pessimistic.
Last week, Treasury Secretary Steve Mnuchin went further to divorce the government from supporting the economy in this perilous time. He announced that he was suspending the Treasury's lending powers at the end of the year, taking away a crucial backstop for businesses and local governments. He is also clawing back from the Federal Reserve about $250 billion appropriated under the original coronavirus relief bill in an apparent attempt to keep it out of the hands of the Biden team. That money will go back to Congress, which would have to reappropriate it in another bill to make it available again, which the Republican Senate shows no sign of being willing to do. Republicans have expressed concern that the Biden administration could use the appropriated money to bail out states and local governments, which by law cannot borrow to tide them over.
The U.S. Chamber of Commerce objected strongly to Mnuchin's actions. In a public statement, it said: ""American businesses and workers are weary of these political machinations when they are doing everything in their power to keep our economy going. We strongly urge these programs be extended for the foreseeable future and call on Congress to pass additional pandemic relief targeted at the American businesses, workers and industries that continue to suffer. We all need to unite behind the need of a broad-based economic recovery."
David Wilcox, who holds a PhD in Economics from MIT and is the former chief economist for the Federal Reserve, was blunt. He told journalist Ambrose Evans-Pritchard, "The most obvious interpretation is that the Trump administration is seeking to debilitate the economic recovery as much as possible on the way out of the door."
This is why Yellen's nomination is being greeted with such relief. Observers expect her to back government spending to address the devastating effects of the coronavirus on the economy, while her background in monetary policy will help her craft a coordinated response between the Federal Reserve and the Treasury Department.
We are pleased to be presenting daily posts from Heather Cox Richardson's "Letters From an American" email newsletter. You can sign up to receive it in your inbox here.