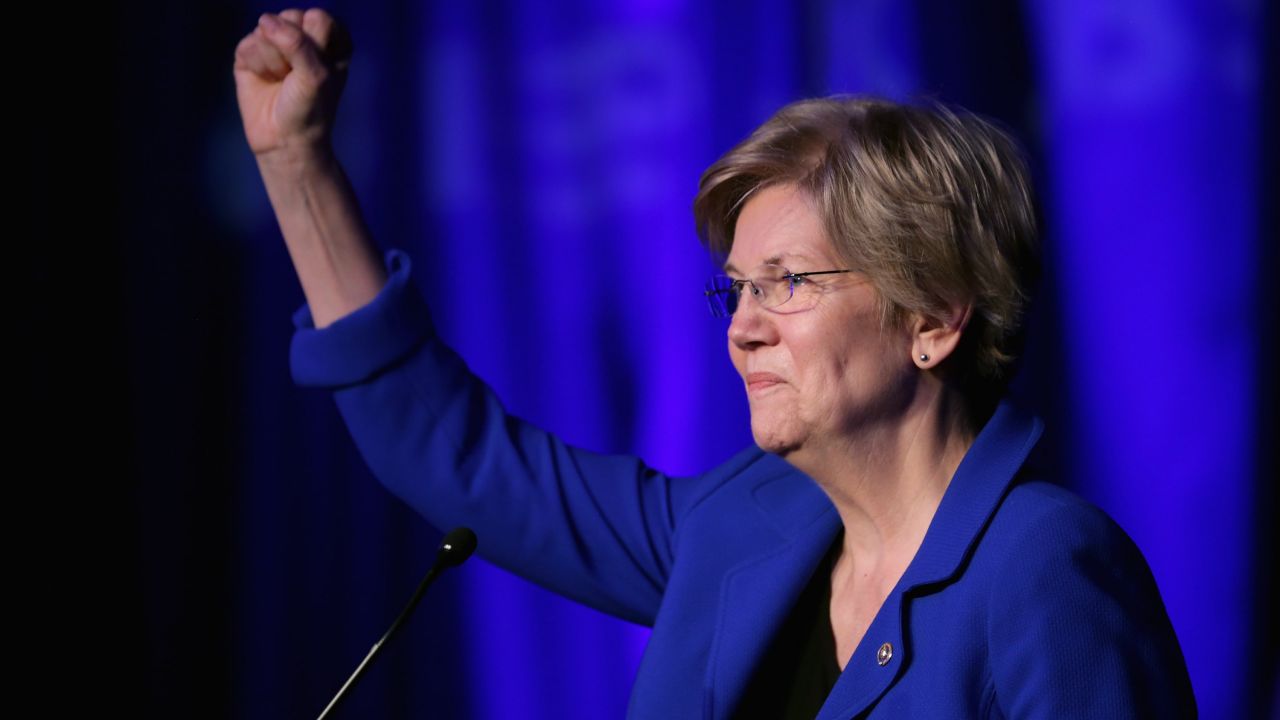 Ana Maria Archila, one of the Center for Popular Democracy's two co-executive directors, gleefully introduced Elizabeth Warren at her grassroots organization's gala Tuesday night.
"I have a feeling she's going to say some really deep stuff, some really inspiring stuff, some really tweetable stuff," Archila told the diverse crowd of progressive policy wonks and community organizers assembled in the Hyatt Regency Washington on Capitol Hill ballroom. "Those of you who tweet, get your thumbs together. Get ready because we are really going to hear something very, very awesome and important."
The senior senator from Massachusetts didn't disappoint. Warren tore into Donald Trump, caricaturing the presumptive Republican presidential nominee as a greedy narcissist. She questioned whether the billionaire real estate mogul ever pays a dime in taxes, dismissing him as "a man who will never be president of the United States" because he is prone to "kissing the fannies of poor, misunderstood Wall Street bankers" and "so desperate for power he will say and do anything to get elected."
What kind of a man roots for people to get thrown out of their house?
— Elizabeth Warren
"Donald Trump was drooling over the idea of a housing meltdown — because it meant he could buy up more property on the cheap," Warren said. "What kind of a man does that? What kind of a man roots for people to get thrown out of their house? What kind of a man roots for people to get thrown out of their jobs? To root for people to lose their pensions?"
To date, the former financial regulator, a hero to her party's progressive wing for her tough stands against corporate abuse, has refrained from endorsing either of the candidates for her party's presidential nomination — opting out of the sparring between supporters of Hillary Clinton and Bernie Sanders. While Warren's positions on many issues align with Sanders' platform, some of her comments Tuesday night echoed a damning new Clinton campaign ad that recalls Trump saying he "sort of hoped" a real estate bust would happen before the Great Recession that left millions of Americans underwater.
This synchronization prompted The Washington Post to label Warren Clinton's "new weapon against Trump." The Post also quoted Trump trying to defend his own recorded words by saying, "That's what I'm supposed to do. I mean, I'm a businessman."
Warren showed no mercy, calling called the New York City real estate developer "a man who cares about no one but himself, a small, insecure moneygrubber who doesn't care who gets hurt, so long as he makes a profit off it."
She's ready to hit the campaign trail with a powerful stump speech.
What the former law professor didn't address during her barnburner was whether she'd be willing to serve as the 2016 Democratic nominee's running mate.
Yet her remarks, sporadically interrupted by cheers and applause, showed that that she's ready to hit the campaign trail with a powerful stump speech once the Democratic nomination process concludes, either as the standard bearer's vice presidential candidate or as a surrogate.
"Whether we're talking about Donald Trump or we're talking about changing this country — you can't win if you don't fight," she said. "And we're in this fight — and we're in it to win."
According to a recent report in The Hill, many Senate Democrats are urging Warren to unite the party's centrist and progressive wings, and her remarks left at least one person in the audience convinced that she will do so.
"Warren is a transcendent figure," said Brian Kettenring, the Center for Popular Democracy's other co-executive director. "She can bring everyone together."
Media coverage of Warren's prepared remarks flooded the Internet before the $125-a-head fundraiser's guests had finished their sliders, gourmet potato chips and wine. Between the tweets emanating from attendees at Archila's request and reports appearing in The Washington Post, Roll Call, The Huffington Post, Reuters, Mother Jones and elsewhere, Trump quickly learned of the lawmaker's vow to keep him out of the White House.
He returned fire.
"Pocahontas is at it again," Trump emailed the Associated Press, recycling one of his preferred epithets for Warren — whom he also calls "the Indian — by way of ridiculing the senator's self-identification as 1/32nd Cherokee. On his Twitter feed, Trump called the senator "goofy."
Goofy Senator Elizabeth Warren @elizabethforma has done less in the US Senate than practically any other senator. All talk, no action!

— Donald J. Trump (@realDonaldTrump) May 25, 2016