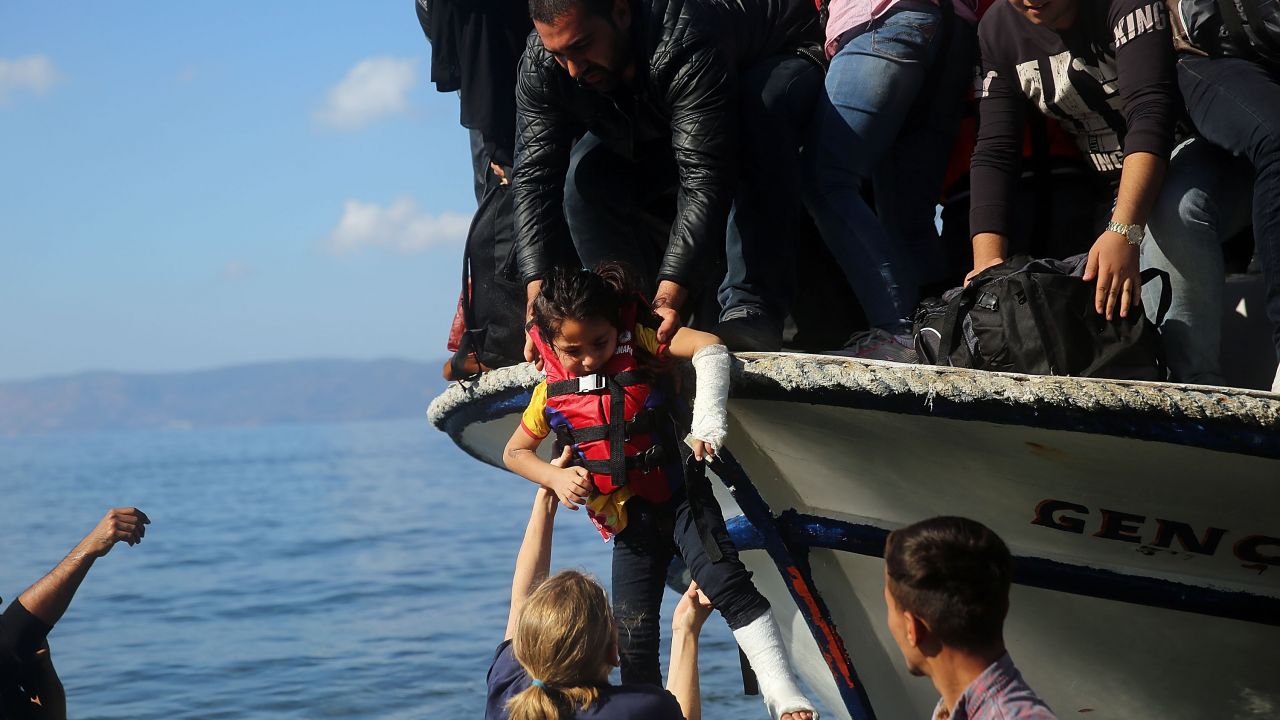 What would you do if your world erupted in war? To what lengths would you go to keep your family safe? For a better understanding of why we have a refugee crisis, the films below offer a glimpse into frightening places. They are not investigative in the conventional sense — uncovering information concealed by people in power; instead, the filmmakers bring us to places we would never go, revealing events that usually remain hidden. Many of the travelers caught up in this week's travel chaos, however, were not refugees at all. They were legal visa and green card holders visiting family, or returning home, when a stroke of a powerful pen sent their worlds spinning.
---
Battle for Iraq and Hunting ISIS
— FRONTLINE and The Guardian
Ghaith Abdul-Ahad, an Iraqi correspondent for FRONTLINE and The Guardian takes us to Mosul with the Iraqi Army to see what the showdown with ISIS looks and feels like. The two-part report, Battle for Iraq and Hunting ISIS, was broadcast this week and is now available online. There are still hundreds of thousands of civilians in the devastated city of Mosul, in Northern Iraq and it quickly becomes clear that no one is safe in this rubble of a city: not the crew, the soldiers or the trembling women and terrified children. (Jan. 31, 2017)
4.1 Miles
— The New York Times Op-Docs
This heart-wrenching short is up for an Academy Award this month. The title 4.1 Miles refers to the distance between the coast of Turkey and the shore of the Greek island of Lesbos. Six hundred thousand migrants risked their lives between 2015 and 2016 to cross this sliver of sea and escape war. Filmmaker Daphne Matziaraki documents a single day in the "deadly gauntlet, choked with terrified adults and small children on flimsy, dangerous boats." And she introduces us to a heroic coast guard captain and his small crew, who have been saving thousands upon thousands of refugees from drowning. (Sept. 28, 2016)
Syria Deeply and Refugees Deeply
— News Deeply
This is the place to go for current information and analysis of the refugee crisis. Lara Setrakian, a television news correspondent, left her job covering the Middle East in 2012 to launch the single-subject news and analysis website called Syria Deeply. After years of focus on the war in Syria, she expanded the site to become News Deeply, a media company providing deep dives into five complex issues, including refugees.
Trump's Travel Ban is Wreaking Havoc on Families, Especially Those With Valid Visas
— ProPublica
ProPublica this week began a series chronicling the infuriating experiences of legal residents of the United States whose worlds were upended Friday when Trump signed his travel ban. Nearly 150 people from the seven banned countries reached out to ProPublica to help tell their stories. They are not refugees; they are people whose visas are in order and who were working and studying in the United States legally. Visa holders like a Sudanese doctor in Detroit whose wife and infant daughter, a US citizen, are unable to return home after visiting family in Qatar; or Iranian sisters, Ph.D. candidates, who spent nine months filing paperwork to obtain a visa for their mother's visit, only to be prevented from seeing her when she landed in Philadelphia and was turned back; or a naturalized US citizen who can't return home to the US with his 12-year-old daughter, who was born in Yemen. A Sudanese doctor doing a residency at the Cleveland Clinic is now suing the Trump administration. She was denied entry and sent back to Saudi Arabia just as a judge issued the order to block the ban of people like her with legal documents. (Jan. 31, 2017)
Trump's hard-line actions have an intellectual godfather: Jeff Sessions
— The Washington Post
According to Washington Post reporters Phillip Rucker and Robert Costa, the blizzard of executive orders spreading chaos across the country this week has Sen. Jeff Sessions' fingerprints all over it. They write, "The senator lobbied for a 'shock-and-awe' period of executive action that would rattle Congress, impress Trump's base and catch his critics unaware, according to two officials involved in the transition planning." The reporters reach out to Trump's inner circle, including chief strategist Steve Bannon, who confirms that he and the senator are at the center of Trump's "pro-America movement" and that Sessions is "the clearinghouse for policy and philosophy." Read this piece to understand how a longtime Senate outsider is now a powerful White House insider. (Jan. 31, 2017)
Steve Bannon had a big weekend in the White House. Get to know him
— Reveal, from The Center for Investigative Reporting
This is one-stop-shopping for reporting on Steve Bannon. But if you can't make yourself read it all, for important insight into Bannon, just reread this 2015 profile by Bloomberg reporter Joshua Green: This Man Is the Most Dangerous Political Operative in America. He writes, "Bannon is a kind of Jekyll-and-Hyde figure in the complicated ecosystem of the right — he's two things at once. And he's devised a method to influence politics that marries the old-style attack journalism of Breitbart.com, which helped drive out Boehner, with a more sophisticated approach, conducted through the nonprofit Government Accountability Institute, that builds rigorous, fact-based indictments against major politicians, then partners with mainstream media outlets conservatives typically despise to disseminate those findings to the broadest audience." (Jan. 30, 2017)
This Senator Is Hell-Bent on Getting Out the Truth About Trump and Russia
— Mother Jones
Last October, David Corn, Washington Editor of Mother Jones, was the first to report on the existence of the now-infamous and still unverified dossier of Russia's operation to subvert the presidential election. In this long profile, Corn sits down with Democratic Sen. Ron Wyden of Oregon, who, as a member of the Senate Select Committee on Intelligence, is in a powerful position to keep the Russian hacking investigation alive. Wyden says he is prepared to push hard for transparency and speed. And if the administration does not cooperate, he tells Corn, the Senate Intelligence Committee will have to be prepared to use subpoenas. (Feb. 3, 2017)
Read more in our series highlighting the best investigative reporting. And don't miss our list of 10 investigative reporting outlets worth following.