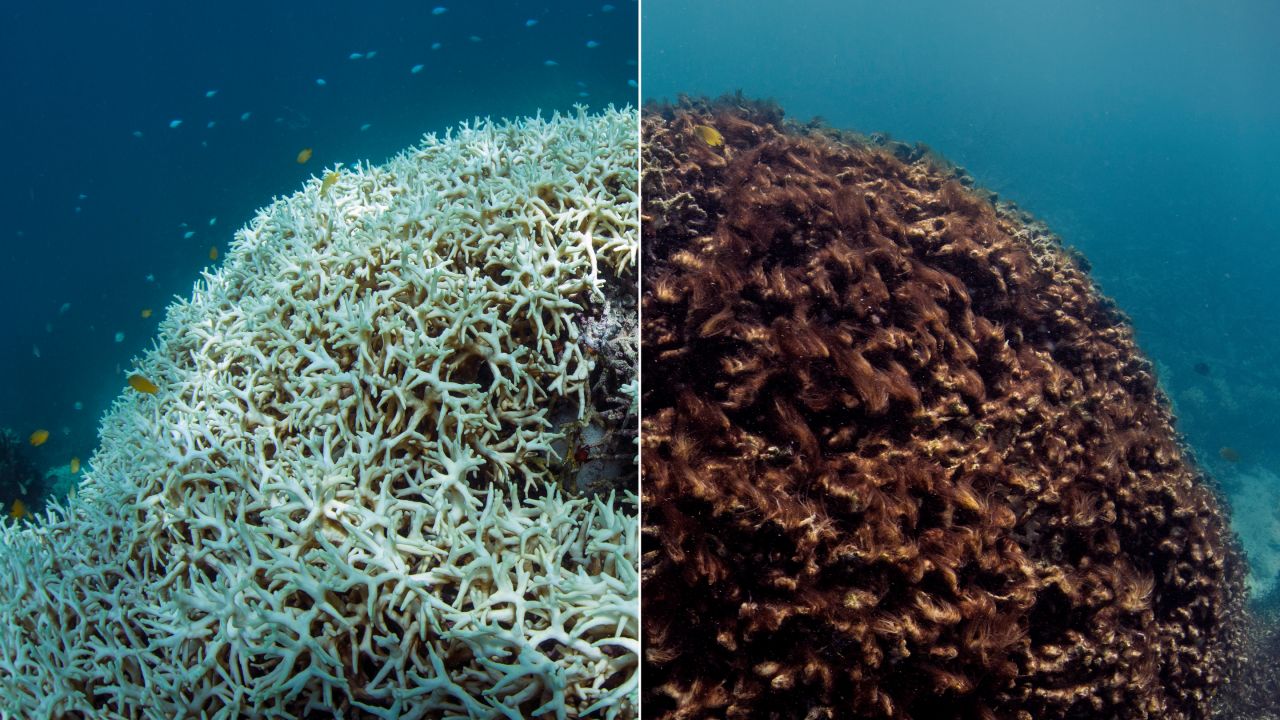 Chasing Coral is an alarming new documentary by Director Jeff Orlowski on a mass extinction that is happening worldwide in our oceans.
Over the past 30 years, about half of all coral reefs have become extinct. In 2016 alone, 29 percent of coral on the Great Barrier Reef — the world's largest collection of coral reefs — died as a result of "coral bleaching."
The phenomenon is the result of stress on coral from rising ocean temperatures caused by climate change, according to scientists. Scientists believe that if coral colonies such as the Great Barrier Reef off the coast of Australia disappear, then the disruption to the Earth's ecological system will have dire consequences not only for marine life, but for humans as well.
Chasing Coral follows former advertising man turned ocean conversationist Richard Vevers, founder of The Ocean Agency, on his quest to bring worldwide attention to this unfolding disaster.
To highlight the devestation, Vevers aimed to do something that's never been done before — to capture the coral as they die slowly over time. To that end, he and Orlowski assembled an extensive team of photographers, filmmakers and scientists, armed them with the newest cameras, lenses and computers, and had them shoot over 500 hours underwater over three years.
What they captured on film is truly remarkable. Like Orlowski's previous film, the Oscar-nominated Chasing Ice, in which he captured time-lapse photos of glaciers collapsing into the ocean as the clearest evidence of rising global temperatures, the haunting footage of coral dying en mass is a clear indication of the devastating effects of climate change.
Vevers answered questions via email about Chasing Coral, which is streaming now on Netflix.
---
Titi Yu: What made you fall in love with coral? 
Richard Vevers: I've always been drawn to the ocean. I was born in London, but my parents were from a coastal town in the North of England and that was always my favorite place to visit as a boy. To me, the ocean was magical. I learned to scuba dive when I was 16 and it has always been my passion. Being underwater feels completely natural to me.
TY: What is the single most important thing to know about coral?
RV: They're amazing! These tiny animals have created far bigger structures than man has ever built.
It's predicted up to 90 percent of the world's coral will die by 2050.
— Richard Vevers
TY: Why is coral so important to the ecosystem?
RV: Coral reefs provide food and livelihoods to over half a billion people around the world and support 25 percent of all marine life. Coral reefs also provide protection by acting as a buffer zone to coastal communities. They also support other ecosystems, like mangroves and seagrasses, and potentially hold the key to many new medical discoveries and advancements.
TY: What is the biggest threat to corals?
RV: Coral reefs are on the frontline of climate change. Nearly 93 percent of climate change heat is absorbed by the ocean, resulting in higher water temperatures and a phenomenon known as "coral bleaching," which led to the 3rd Global Coral Bleaching Event — the longest and most severe bleaching event ever witnessed. That event led to the making of Chasing Coral. 
We've already lost about 50 percent of coral reefs in the last 30 years, and without urgent action, it's predicted up to 90 percent of the world's coral will die by 2050. This is an ecosystem we simply cannot afford to lose.
TY: What can each of us do to help save corals?
RV: Less than 1 percent of people will ever put on a mask and snorkel and see the ocean firsthand. As a result, the ocean is very much out of sight and out of mind. We really need everyone to help spread the word — whether it is sharing our virtual dives in Google Earth and Google Street View or hosting screenings of the film — it all makes a big difference.
We want to catalyze support for the protection of coral reefs through our 50 Reefs initiative, an initiative funded by Bloomberg Philanthropies, The Tiffany & Co. Foundation and Paul G. Allen Family Foundation. 50 Reefs will rapidly bolster efforts to protect those reefs that are least vulnerable to climate change, which are the most important in terms of reseeding other reefs. This also means protecting reefs on a local basis from all the usual issues like fishing and pollution. We need to buy them time while we act to rapidly stabilize the climate system.