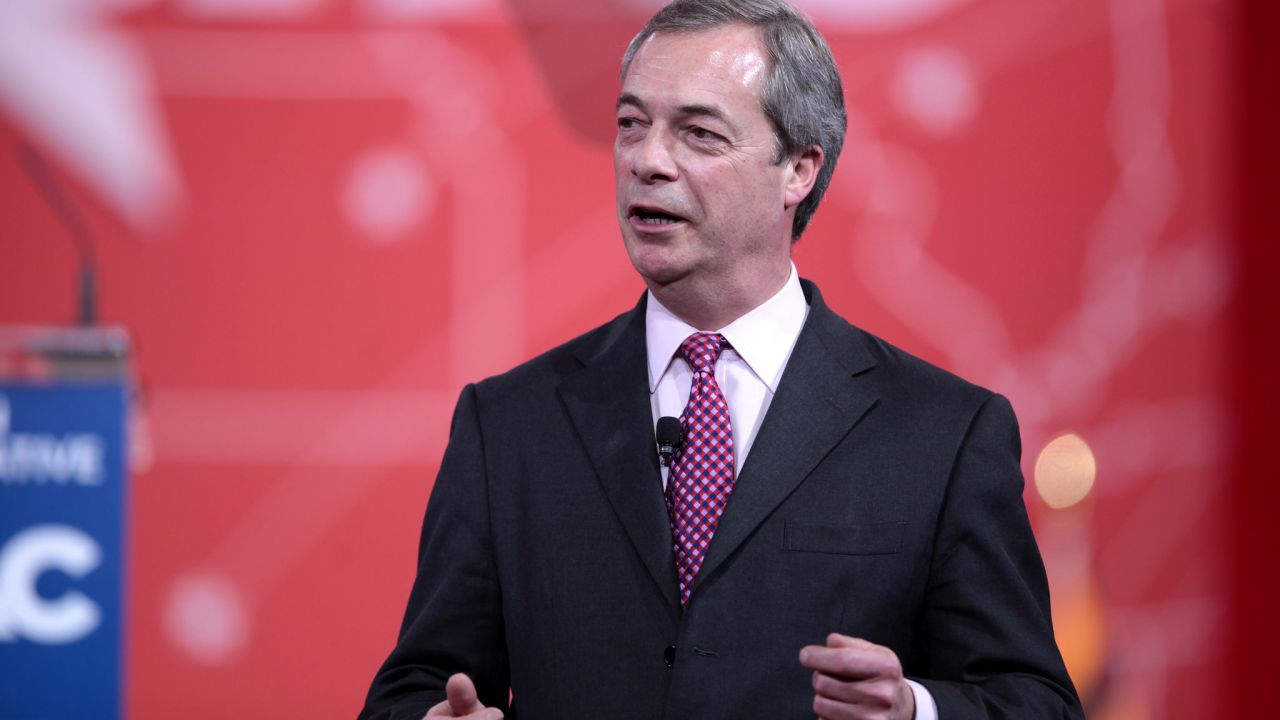 In the words of a Trump Fox News announcement, Nigel Farage will soon deliver "political analysis across [Trump Fox News] and FOX Business Network's daytime and primetime programming."
Fox News' new talking head is Britain's most venomous demagogue. The immigrant-hating Farage was a founder of the UK Independence Party (UKIP) and a leader of Britain's Brexit campaign. He is a one-man incarnation of hatred, a fake populist, and a media darling wherever viciousness is welcome. In the spirit of barbarian globalization, Farage, in his own person, helps cement Rupert Murdoch's worldwide empire of lies.
Farage is an all-too-familiar type: the kind of well-born demagogue who panders to "ordinary people" and "little people." He wins this plaudit from James Dellingpole, the founder of Breitbart.com's London operation: "He talks from the gut. He doesn't edit himself." However, Farage's unedited gut does not waste so much time genuflecting before the riff-raff, the rabble and the poorly educated, though he does use them as props for photo ops in pubs. He prefers the company of men such as Breitbart's Stephen Bannon: "I have got a very, very high regard for that man's brain," Farage told The New Yorker's Sam Knight. Breitbart has amply returned the tribute with intimate connections. Breitbart's London editor, Raheem Kassam, a former Muslim, worked as Farage's chief assistant. Moreover, as Media Matters wrote,
Farage has been writing for Breitbart London on a semi-regular basis since June 11, 2015, predominantly about Brexit and praise for Donald Trump. He has also made at least three appearances on Breitbart's SiriusXM radio show Breitbart News Daily, including a victory lap after the Brexit vote.
Buzzfeed reported that "Breitbart helped Farage get close to Trump." Farage, like Trump, chose a wealthy family to be born into, and they revel in being resentment twins. "Trump and I have probably been the most reviled people by the liberal media in the world," boasts Farage.
Hatred of the political establishment is playing well on both ends of the "special relationship," and so snapping up Farage must bring special joy to the paragon intercontinental broker of lucrative and nasty arrangements, Rupert Murdoch. Fulminating before the European Parliament in Strasbourg (where he held a seat for 17 years), Farage has denounced the Belgian president of the European Union to his face for pathetically being a man "nobody's ever heard of," and for having "all the charisma of a damp rag and the appearance of a low-grade bank clerk." Farage has declared that the chief joy of no longer being UKIP's leader (he resigned after taking his victory laps for the Brexit vote) was not "having to deal with low-grade people every day." Perhaps this kind of penchant helps explain why Farage lost seven elections for the British Parliament, but no obstacle there — he's moved on to a higher place.
The Guardian columnist Marina Hyde writes about Farage's other penchant for false claims like this one, also delivered in Strasbourg: "I know that virtually none of you have ever done a proper job in your lives, or worked in business, or worked in trade or indeed ever created a job." Trenchant and aghast, Hyde added:
You may remember the classic reaction shot to one of these, where the EU official with his face in his hand just behind Nigel turned out to be a cardiac surgeon born in the Siberian gulag to which Stalin deported his parents, who began his political career in the underground anti-Soviet social democrat movement. Shoulda been a very average metals trader, mate.
Metals trading was Farage's previous contribution to human progress.
It must please his new boss Rupert Murdoch that Farage plays well in the woo-woo zone of America's right-wing punditry, though for reasons best known to himself, Rush Limbaugh scarcely mentioned Farage during the campaign. Sean Hannity did not demur when Farage fed him this fragrant pellet of falsehood "We've got no-go zones in most of the big French cities." But aside from Breitbart.com, Laura Ingraham is most effusive, calling him her "friend." America needs "someone like Farage," she opined in 2014, and after the Brexit vote, she congratulated him for perhaps "schooling some of our politicians." "Multiculturalism," she wrote, "has been a pathway toward subjugation." This Dartmouth graduate especially scorned "all these elites…trashing Nigel Farage. This is what they always do. They trash the people who question the mass migration of Islamics [sic] into a particular country." (Of course, Farage's prime target in campaigning for Brexit were not "Islamics." The countries that send the most emigrants to the UK are China, Spain, Australia, Poland and, yes, India — though how many of those are Muslim I cannot discover.)
Speaking of Ingraham, by the way, Trump sidekicks make up a tight little constellation. One of Ingraham's former assistants, Julia Hahn, is one of the Breitbart alumni on their way into the White House to supplement chief propagandist Stephen Bannon.
Since the election, Trump has gone hog-wild about how "dishonest" mainstream media are. As ThinkProgress put it, "Trump says he doesn't need facts as long as 'very smart' Fox News viewers agree with him." For Trump, such declarations do double duty: They aim to frighten the mainstream who are not in his tank, and promote the network that promotes him. For, Twitter and Breitbart aside, the Fox News viewing niche remains an important pipeline for Trump. He needs more than one conduit directly into the nervous system of his adoring base. Fox is prime turf for this strategy. "In a survey conducted just before the election, while the country as a whole split 50-50 on Hillary Clinton, 84 percent of "people who rate[d] Fox News as their most-trusted source of news" viewed Hillary Clinton unfavorably, versus just 13 percent favorably." Fox's viewers are not nearly as numerous as most people think, but they are loyal.
When Trump, following Bannon, brays that the mainstream media are "the opposition party," he aims not only to discredit them but to heighten his true believers' inflamed sense of righteous indignation. Perhaps he can peel away viewers from "the media," who are — says the projector-in-chief, the most dishonest president in American history — "among the most dishonest human beings on earth."
Just wait for Trump's Federal Communications Commission to start making trouble for the still-big three networks — ABC, CBS and NBC — when it comes to license renewal time. Their wholly owned stations are licensed even though the networks are not. Those stations are located in major markets and account for a big chunk of the networks' aggregate profits. As both Trump and the major networks know well.
During this past week — the first of the 208 weeks that will make up Trump's term — they're making halfhearted, on-again-off-again efforts to give truth a chance. But at this rate he stands a decent chance of neutering them. Trump is banking on the future of a White House-Breitbart co-production, call it White House TV. If the broadcast networks exert themselves to accommodate him, they'll only give viewers more reason to dump the half-hearted milquetoast version and veer toward the raw propaganda. This is Stephen K. Bannon's vile dream, which is our nightmare.
Thanks to Media Matters and Elena Maria Egawhary for research assistance.