This week, MorningConsult polling found that there was widespread support for expanding Medicaid across the political spectrum. Seventy-one percent of respondents said it was a good idea, including a slim majority of Republicans. The pollsters asked, "Do you think all states should offer Medicaid to low income adults who make below the federal poverty line?"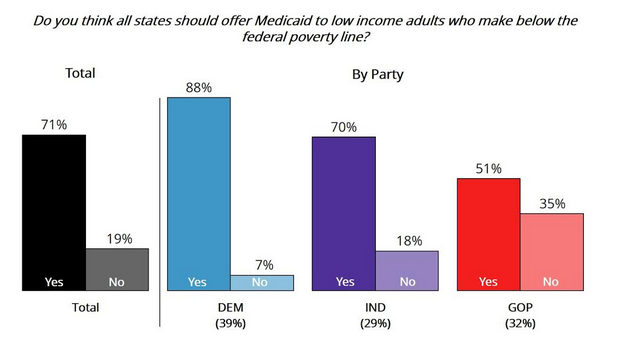 But when they asked a slightly different question — "Do you think all states should expand Medicaid as encouraged under the Affordable Care Act?" — the response was quite different. Democrats still liked the idea, but with the mention of the ACA, Obama's signature legislative accomplishment, support among Republicans and independents fell by 15 and 13 points, respectively.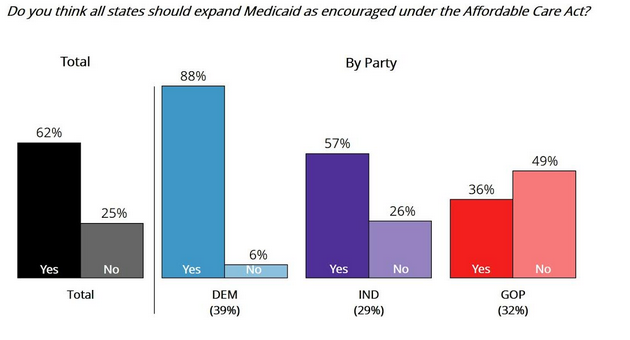 Other polls have also suggested that perceptions of the health care reforms are colored by partisanship. When the Kaiser Family Foundation asked respondents whether the law had directly helped or hurt them or members of their families, very few Republicans acknowledged that the law had had a favorable impact.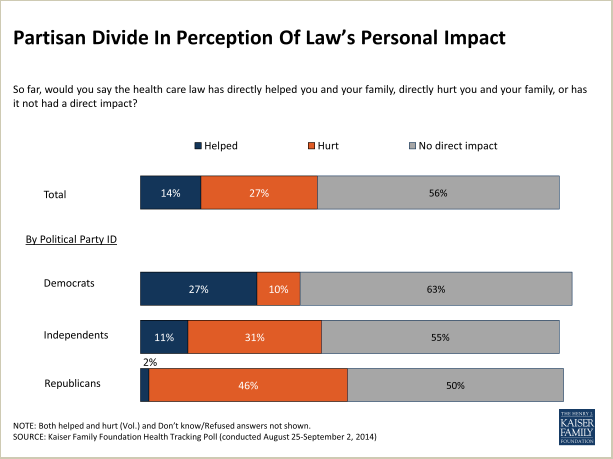 But the disconnect also reflects the public's poor understanding of what the law actually does — even now, five years after its passage. While polls show that "Obamacare" and the "Affordable Care Act" are not popular with the public, Kaiser's tracking poll has consistently shown that when the law's individual provisions are explained, all but one — the individual mandate — enjoy broad popular support. And the most popular provisions are those that the fewest people are aware of.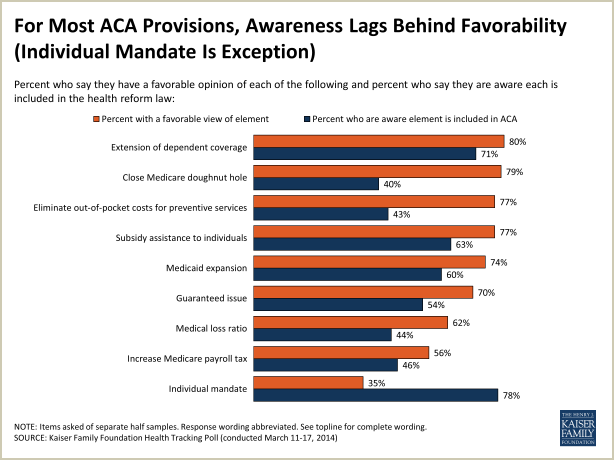 At the same time, Kaiser notes that "misperceptions also persist about things the ACA does not actually do. For example, nearly half the public (46 percent) think the law allows undocumented immigrants to receive financial help from the government to buy health insurance, and another two in ten (22 percent) are unsure whether it does."
In light of these data, it's worth noting that many Americans who interact with the Affordable Care Act won't know it; they'll be dealing with their state exchanges — Kynect in Kentucky or New York State of Health or BeWellNM in New Mexico, etc.
---
This work is licensed under a Creative Commons Attribution-NoDerivatives 4.0 International License.

A rose by any other name may smell as sweet, but in our hyper-polarized political environment, a single word can make a huge difference in how people view public policy.