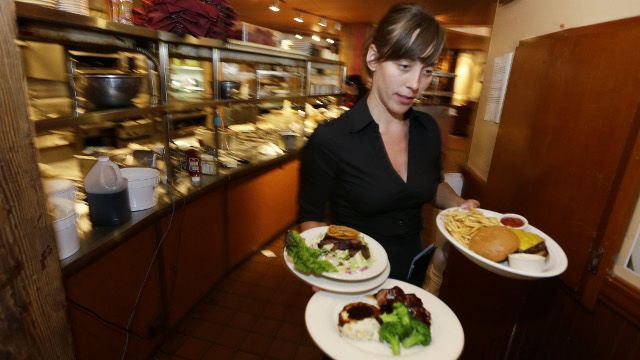 In this June 2, 2014, photo, Wendy Harrison, a waitress in Seattle, carries food to a table as she works during lunchtime. (AP Photo/Ted S. Warren)
Besides struggling to make ends meet because of low wages, millions of part-time workers in America also face uncertainty over when they will be called in to work. Irregular schedules and last-minute notice make it hard for these workers to find other work, go to school and make arrangements for child care or caring for aging parents.
As The New York Times reported last week:
About 27.4 million Americans work part time. The number of those part-timers who would prefer to work full time has nearly doubled since 2007, to 7.5 million. According to Bureau of Labor Statistics data, 47 percent of part-time hourly workers ages 26 to 32 receive a week or less of advance notice for their schedule.

In a study of the data, two University of Chicago professors found that employers dictated the work schedules for about half of young adults, without their input. For part-time workers, schedules on average fluctuated from 17 to 28 hours a week.

"Frontline managers face pressure to keep costs down, but they really don't have much control over wages or benefits," said Susan J. Lambert, a University of Chicago professor who interpreted the data. "What they have control over is employee hours."
According to the National Women's Law Center, food service workers experience a 70 percent average variation of work hours every month. For retail workers, the variation is 50 percent and for janitors and housekeepers, it's 40 percent.
Lawmakers across the country are beginning to notice how irregular schedules complicate the lives of part-time workers, and are taking measures to address the problem. Employees of federal agencies now have the right to request work schedule flexibilities. Workers in San Francisco and Vermont can ask for a more flexible or predictable work schedule. In a report released in June, New York City comptroller Scott M. Stringer made a case for a legislation that would give employees the chance to make such requests "without fear of reprisal."
Congress is swinging into action on this issue as well. On Tuesday, Representatives George Miller and Rosa DeLauro introduced the Schedules That Work Act. Miller admits that the bill may meet with opposition, but thinks that it will highlight "often callous scheduling practices."
The Guardian reports that another version of the bill is brewing in the Senate:
Senators Tom Harkin and Elizabeth Warren are co-sponsoring of the Senate's version of the bill. Carrie Gleason, co-founder of Retail Action Project, said [that] Warren will introduce the Senate version in upcoming weeks.

A single mom working two jobs should know if her hours are being canceled before she arranges for daycare and drives halfway across town to show up at work," said Warren. "This is about some basic fairness in work scheduling so that both employees and employers have more certainty and can get the job done."
Although some businesses are saying the bills would represent government overreach, the clothing store Zara has already promised to start giving its part-time employees two weeks notice on their work schedules.