Every week Moyers & Company producer Gail Ablow shares her must-read money and politics stories.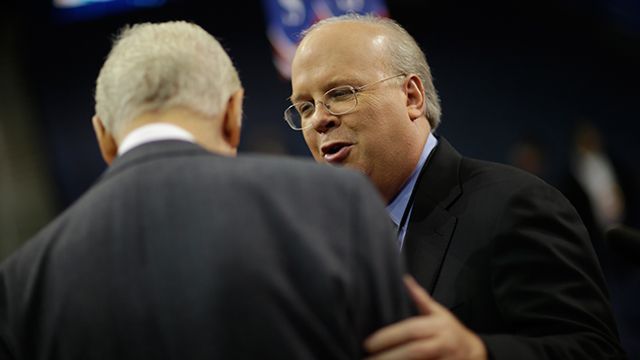 Karl Rove on the floor of the Republican National Convention in Tampa, Fla. August 2012. (AP Photo/David Goldman)
If the IRS was targeting Karl Rove's shadowy group, it was doing its job –> The so-called "IRS scandal" investigation has become "a folly wrapped in a charade and shrouded by farce," Dana Milbank wrote recently in The Washington Post. If you are still confused about the underlying facts of this non-scandal, read Alec MacGillis' piece in The New Republic. By all reports the story of the IRS targeting small tea party groups was overblown. But according to MacGillis, this has not deterred Republicans who want to whip up a new round of outrage over any IRS scrutiny of conservative nonprofit groups. The latest cause is Crossroads GPS, co-founded by Karl Rove. MacGillis concludes that, in this case, the IRS was actually doing its job by attempting to monitor election spending after the group (which claims not to be political) dropped $123 million on the 2012 election. Writes MacGillis, "The rules are a joke, and Crossroads GPS is not only chortling at them, it has now broken into an open guffaw." On The Huffington Post, Michael McAuliff provides additional detail in his piece, "Republican Outrage At IRS Is All About Protecting Karl Rove, Dark Money, Dems Say."
Rove's super PAC reports raising $5 million in one month –> American Crossroads, the super PAC companion to the Crossroads GPS, is also raking in cash. The political action committee co-founded by Karl Rove raised $5.5 million in the first three months of this year alone. Julie Bykowicz, of Bloomberg News, writes that the March cash infusion can best be seen on TV: "The group has put up more than 1,500 commercials in the Alaska, Montana and North Carolina Senate races, where Democrats are trying to hold seats." Despite spending $176 million in 2012 and failing to unseat President Obama, Rove's campaign finance groups seem to be returning with new credibility. We will soon learn if wealthy conservatives have confidence in his super PAC's renewed efforts: Unlike the secretive Crossroads GPS, American Crossroads must disclose donors. It is scheduled to file its first-quarter report by April 20.
First quarter fundraising winners (and losers) –> Washington Post reporters Sean Sullivan and Aaron Blake provide a rundown of the fundraising horse race, while USA Today reporters Fredreka Schouton and Christopher Schnaars introduce us to the top five individual givers and the groups that got their money: "Meet the 5 biggest super PAC donors of 2014."
Obama's real job: fundraiser in chief –> With money making the electoral wheels turn, President Obama is also tirelessly working the fundraising circuit. The Atlantic's James Oliphant reports:
President Obama has attended 373 fundraisers during his five-plus years in office. That's just about one every five days or so. Assuming he speaks for close to 15 minutes at each event, that's well more than 5,000 presidential minutes consumed by the dirty business of asking people for money. And that doesn't include the prep, the glad-handing and hobnobbing, the photos, the private asides, the travel.
President Obama shows no signs of slowing down in his second term, writes Oliphant, "He is, in fact, way ahead of the second-term fundraising efforts of not only Bush but also of Bill Clinton, another man who could work a room."
McCutcheon lawyer brings new campaign finance case –> Dan Backer, the attorney who brought the McCutcheon case to the Supreme Court, is trying to further dismantle campaign finance regulations. Byron Tau, of Politico, writes that Backer is now representing a tea party PAC, a local Virginia political party and a Republican congressional candidate from Nevada, who claim the rules that prevent wealthy donors from setting up a network of new PACs (in an effort to avoid contribution limits) violate the equal protection clause in the Constitution.
And if you want to understand how the Supreme Court encourages these attacks on campaign finance regulations, read "An Indecent Burial," Linda Greenhouse's excellent op-ed in The New York Times. She says Chief Justice Roberts undermines precedent by not taking it seriously. For years after Buckley v. Valeo the court defined corruption broadly, but in McCutcheon Roberts craftily circumvents its significance, according to Greenhouse, by writing in his decision: "We are confronted with a different statute and different legal arguments, at a different point in the development of campaign finance regulation." She continues, "In other words, that was then and this is now. (Am I the only one who in these words heard the voice of the justice who declared just 10 months ago that the Voting Rights Act of 1965 had been overtaken by events?)" But when principles are tossed, concludes Greenhouse, events have a way of slipping out of control.
15 executive actions –> If you've read this far, you might be feeling more frustrated about the flood of money eroding our democracy than you ever have. Michael Waldman and Inimai Chettiar at New York University's Brennan Center for Justice have come up with a place to vent your frustrations and demand action — the Oval Office. They write that President Obama can — on his own, if need be — turn our government around. In a recent report they propose 15 steps. "None require congressional approval," they write. "All are explicitly within the legal authority of the president or other executive branch officials. Taken together, they would help address the quiet crisis of American democracy." Their proposal is well worth a read.