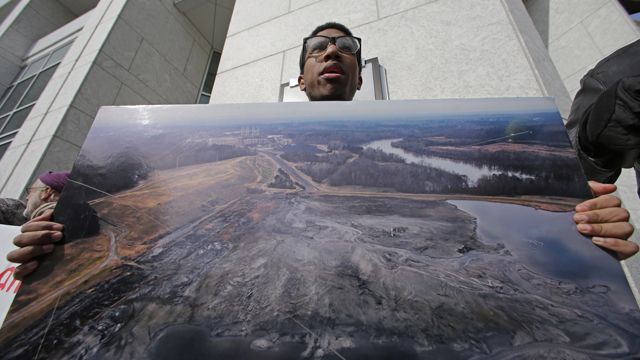 Johnny Collins, of Kernersville, NC, holds a large photo of a Duke Energy coal plant during a protest near that company's headquarters in Charlotte, NC, Thursday, Feb. 6, 2014 over its coal plants. (AP Photo/Chuck Burton)
News broke last week that Duke Energy and its North Carolina regulator had worked together to minimize penalties the utility would have to pay for leeching chemicals into the drinking water. And this was before a coal ash spill last month dumped thousands of tons of poisonous coal slurry into the Dan River.
But these emails are just the latest evidence of a problematic coziness between the politically influential utility and the North Carolina Department of Natural Resources (DENR).
In this case, a coalition of environmental groups headed by the Southern Environmental Law Center sued Duke Energy for violating the Clean Water Act. The groups hoped to bring Duke before a federal court, but DENR intervened, filing its own lawsuit in a state court so that it could control the outcome. The result: Duke was fined $99,000 — a negligible sum for a company with an operating revenue of $19.6 billion in 2012.
This week, emails emerged suggesting that Duke lobbyists may have asked DENR to intervene in the litigation on the company's behalf — a regulator doing the bidding of a company it was tasked with overseeing. The Charlotte Observer reported:
Internal emails the [Southern Environmental Law] center released include one from an NC Department of Justice lawyer in March of last year, seven weeks after the law center had filed a 60-day notice of its intent to sue Duke.

The lawyer wrote that she needed to learn under what corporate name the state would file its own lawsuit against Duke. Duke merged with Progress Energy in July 2012, combining two fleets of coal-fired power plants.

"I need to check with (DENR general counsel Lacy Presnell) about how Duke wants to be sued," she wrote.

The next day, according to the emails, the same lawyer wrote Presnell: "I need to know from you if Duke is expecting us to sue them or Progress."

DENR spokesman Drew Elliot said he didn't know whether Duke asked regulators to sue.

"But the point is, Duke is not our legal counsel," he said. "We had a choice to make: Do we enforce the Clean Water Act, or do we let a citizens group enforce the Clean Water Act? There was only one choice, and that's what we did."
When Duke was fined last year, another lawsuit against the utility by the Southern Environmental Law Center was still pending.
But then disaster struck. A pipe running under a 27-acre toxic waste pond collapsed and poured — by company estimates — 39,000 tons of coal ash mixed with 27 million gallons of contaminated water into the Dan River, which serves as a source of drinking water for a number of towns and cities. It was the third worst spill of its kind in US history.
State of Conflict: North Carolina
The environment is one area hit hard by the deregulation of North Carolina, where state government has taken a decidedly pro-corporate turn in recent years. (Moyers & Company dove into the GOP's successful push to take control of both houses of the state legislature and the governor's office in "State of Conflict: North Carolina.")
Duke in particular has been the recipient of what The New York Times editorial board dubs "regulatory favoritism." The company is a heavy-hitter politically, both in the Tar Heel State and nationally, reporting $6 million in lobbying last year alone. The Republican governor of North Carolina, Pat McCrory, worked for Duke for 29 years before becoming mayor of Charlotte. The man he appointed to head the DENR, former businessman John Skvarla, sees his agency as a "partner" with the industries it regulates, with a "customer-friendly" approach. (He's also a climate change skeptic who opined that if every environmental group "gets what they want, we would live in lean-tos and wear loin cloths.") Former employees of DENR told Salon that the ethos in the department changed dramatically when Skvarla took control: "They told us that industry and business do a better job of regulating themselves than we do," one said.
The US Justice Department has launched a criminal investigation into both the spill and the relationship between DENR officials and Duke that may have kept it from being prevented.
Amy Adams, a former DENR employee who now works for the environmental nonprofit Appalachian Voices, said in a statement: "While Duke Energy and DENR have clearly been shirking their responsibilities to adhere to environmental practices that would have protected the Dan River, a federal investigation raises the stakes considerably. We'll be watching the process closely and, like citizens in North Carolina and Virginia who have been impacted by the coal ash spill, we're eager to find out what was truly going on that caused this crisis."