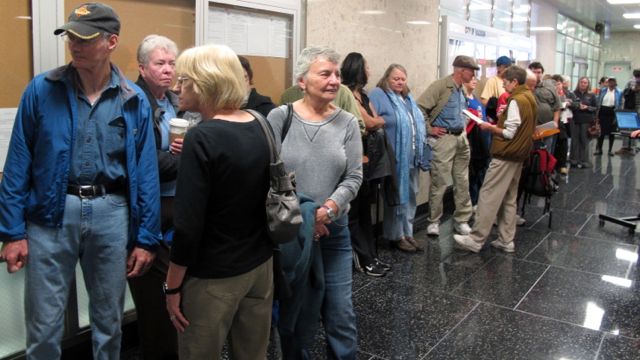 Voters line up outside the Madison city clerk's office to be among the first to cast ballots in the Nov. 6 election on Oct. 22, 2012, in Madison, Wisconsin. (AP Photo/Scott Bauer)
This post originally appeared at the Brennan Center blog.
It may soon get a lot harder to vote in Wisconsin.
State and federal courts are currently deliberating the outcome of Wisconsin's enjoined strict photo ID law. Gov. Scott Walker this week said he would call a special legislative session to modify the law if it's struck down, so voter ID could be in effect for the November 2014 election. And, this Wednesday, Senate leadership muscled through a bill, SB 324, which would cut back on early in-person absentee voting in that state. The measure passed 17-16, with one lone Republican joining the state's Democratic senators in casting nay votes. If the vote in the Assembly falls along party lines like it did in the Senate, the rollbacks could very well become law. Gov. Walker has stated that he is open to instituting cutbacks on early voting if the measure reaches his desk.
In Wisconsin, all voters who apply may vote absentee in advance of Election Day, either by mail or in-person at the local municipal clerk's office. Early in-person absentee voting starts the third Monday before the election and is available through the Friday preceding Election Day. The bill passed by the Senate would eliminate early voting on weekends and require that all early voting during the week conclude no later than 7 p.m. The bill also proposes a 45-hour weekly cap on early voting. Under the current law, which has no such restrictions, two communities that are home to nearly 15 percent of the state's total population and nearly half of the state's non-white population, Milwaukee and Madison, offer extended hours to serve more voters.
When people can choose to vote on a day and time that does not conflict with work, family care or other obligations, they are more able to wait in lines and undertake the other administrative costs involved in voting.
Cutting back on early voting puts up obstacles to civic participation. Voters like it and they use it. When people can choose to vote on a day and time that does not conflict with work, family care or other obligations, they are more able to wait in lines and undertake the other administrative costs involved in voting. Over the last three presidential elections, an average of 14 percent of voters in Wisconsin cast early ballots. Despite what some lawmakers are doing to make it harder to vote, citizens around the country support increasing access to the ballot. For example, a recent Iowa poll found that people there overwhelmingly believe that ensuring every eligible voter gets to cast a ballot outweighs concerns over ineligible voters. And, as the Brennan Center found in its comprehensive 2013 study of early voting, it's also popular with the people who administer elections, because it reduces stress on the voting system on Election Day, leads to shorter lines and allows for more opportunity to discover and correct problems before the polls close.
In producing our report, we looked into which jurisdictions have most successfully implemented early in-person voting and were able to distill a set of seven best practices. Wisconsin does begin its early voting period a full two weeks before Election Day, which is one of the identified best practices for administering early voting. Another is to offer early voting on weekends, including the last weekend before the election. In fact, in eight of the nine states with the highest early-voting turnout in recent elections, jurisdictions are required by law to offer early voting on at least one weekend. Not only does current Wisconsin law not mandate any weekend hours — instead leaving that decision up to the individual jurisdictions — but under the proposed changes weekend voting would be actively prohibited. A third best practice is to offer extended early-voting hours during the week outside of business hours. The bill approved by the Wisconsin Senate, conversely, limits how many early voting hours may be offered each week and likewise prohibits evening early voting after a certain hour.
Given the popularity of early voting among those who vote and those who administer elections, it's hard to understand why Wisconsin lawmakers are intent on limiting early voting systems and throwing up more and more obstacles to the franchise. Their efforts would be better spent making elections more free, fair and accessible for their constituents.
For more Brennan Center news, connect with them on Facebook and Twitter.