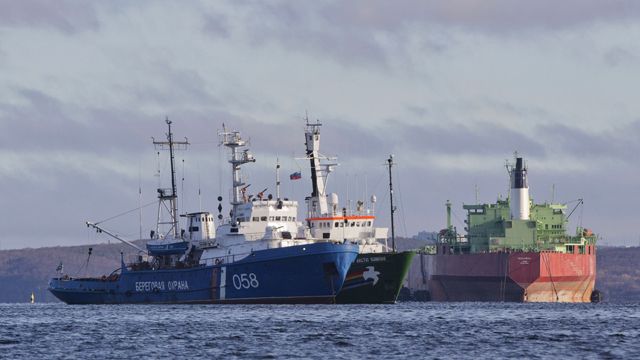 The Greenpeace ship, the Arctic Sunrise, center, is anchored side by side with a Russian Coast Guard ship, left, near Murmansk, Russia on Oct. 9, 2013. Thirty Greenpeace activists and freelance journalists were initially charged with piracy after protesting at an oil platform in the Arctic. (AP Photo/ Evgeny Feldman)
As climate change transforms our planet and the polar ice caps recede, new, previously inaccessible areas of the Arctic are opening up for business. Ironically, a notable amount of that business has to do with extracting and transporting the fossil fuels that drive climate change.
In September, a large freighter made it through the Northwest Passage, traveling from Vancouver, BC, to Finland. It was the first vessel of its type to ever make the journey and demonstrated the potential to cut costs and shipping times using the new route. The ship was carrying coal for use by a steel producer.
Elsewhere in the Arctic, the Northern Sea Route (NSR), a passage maintained by Russian nuclear-powered ice breakers, saw 71 vessels pass through it. According to the Russian fleet, that figure is up 50 percent from last year. As recently as 2010, only four vessels made the voyage between the Barents Sea, north of Scandinavia and Western Russia, and the Bering Strait, between Siberia and Alaska. While the mandatory icebreaker escort costs, on average, $200,000 per voyage, NSR is becoming an increasingly viable shipping path from Europe to Asia — an alternative route, through the Suez Canal, would have taken two weeks longer. Supertankers carrying crude oil were among the most common vessels making the crossing.
Though summer ice cover in the Arctic has dropped by more than 40 percent over the past few decades, shipping companies remain divided over the promise of Arctic shipping. "It's early days," Gary Li, a senior maritime analyst with IHS in Beijing, told the Financial Times. "The Northern Sea Route probably needs another 20 or 30 years of climate change to make it fully viable. And even then, it's got so many constraints."
But the Arctic is seeing an increase in other new business as well. It is rich in fossil fuels. Experts guess that 22 percent of the world's remaining undiscovered oil and gas reserves lie below ice at the top of the globe. One US Geological Survey study estimated that 43 of the 61 significant arctic oil and gas fields are in Russian territory, and the country has been ramping up fossil fuel exploration since 2008. Norway, Greenland, Canada and the US have followed suit.
It's an issue that came into national focus this year when Greenpeace activists and freelance journalists were arrested by Russia and charged with piracy while attempting to board the first oil platform to drill in the Arctic Circle. The charges were later reduced to "hooliganism" and the activists were released.
In the US, Shell Oil began exploring for oil up north in 2012. But after a drilling rig ran aground and the company encountered a slew of other problems — including fines for air pollution — it suspended its operations in 2013. They may remain suspended through 2014 as well.
In an attempt to control access to these new shipping routes and natural resources, nations are also moving to gain military influence in the Arctic. In 2007, a Russian submarine planted a titanium Russian flag at the base of the North Pole. And in September of this year, Russian President Vladimir Putin announced that the country was re-opening a Soviet-era military base in the Arctic, abandoned for two decades, to help support (and secure) the region's sea lanes and natural resources. Canada is also holding an increasing number of military drills in the Arctic and is looking at stationing a permanent force there. Norway and the US are watching the region closely.
But the jockeying for control of the region — to the point of countries establishing military bases — makes shipping executives concerned about routes like the NSR. "One thing that makes me nervous is that this route is in Russia's hands," a Norwegian shipping executive told the Financial Times. "If they suddenly want to triple rates or impose this condition or that condition, they can."
And there's a further irony: the effects of climate change could present new impediments to shipping and drilling in the region, like unpredictable weather.
Environmental groups are opposed to tapping Arctic fossil fuels that will in turn contribute to continuing climate change. Advocates point to the disastrous effect that pollution — in one worst-case scenario, an oil spill — could have on animal and human populations.
"Even the best-prepared, best-equipped and most technologically advanced oil company has no business drilling for oil in the Arctic," Frances Beinecke, president of the Natural Resources Defense Council, wrote in June. "It is simply not possible to do it safely here."