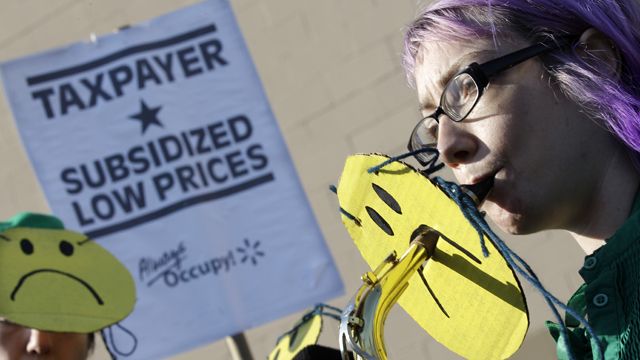 A Black Friday, 2012, protest against Wal-Mart in Secaucus, N.J. (AP Photo/Mel Evans)
It's an odd thing we Americans do: The day we stay home and give thanks for what we have butts right up against a day when we go out and try and get a bunch of other stuff at low prices. And with six fewer shopping days this year and sales still down as a result of the recession, retailers are asking more from the low-wage workers who staff their stores. At the same time, with ongoing cuts to the safety net, these low-wage workers have even less to be thankful for this November.
But some workers, from Target to Whole Foods, are making their voices heard.
"Largest mobilization"
Wal-Mart has been in the eye of the gathering storm. The store's employees are protesting at 1,500 stores today in what organizers are calling "one of the largest mobilizations of working families in recent history." They point out that, even as the company earns $17 billion annually, Wal-Mart still continues to pay its workers poverty-level wages.
"We know that this company can do more with $17 billion in profits. We know the Walton family can do better with $44 billion in wealth," Martha Sellers, a California Wal-Mart employee, said today.
Wal-Mart was the subject of large protests during last year's Black Friday as well. In the wake of the protests, the retailer punished some workers by firing them for violating their stores' attendance policies. But the National Labor Relations Board ruled earlier this month that the reprisals were illegal, and ordered Wal-Mart to reinstate the workers and award them back pay. It also noted that Wal-Mart couldn't threaten to punish its employees for protesting or striking.
This year, the protests' organizers want the retail giant to commit to paying its full-time workers $25,000 a year. More than half of the store's full-time, hourly employees make less than that, the chain's CEO, Bill Simon, told Goldman Sachs last month.
The cost of low-wage work
The store's low-wages weigh heavily on the social safety net. A May congressional report found that "a single 300-employee Wal-Mart Supercenter in Wisconsin may cost taxpayers anywhere from $904,542 to nearly $1.75 million per year, or about $5,815 per employee. Wisconsin has 100 Wal-Mart stores, 75 that are Wal-Mart Supercenters."
But low-wage workers also have less help available to them this year than during recent Thanksgiving holidays. Food stamps have been cut, leaving recipients to exist on $1.40 per meal. The payroll tax increase at the beginning of this year also hit workers hard.
And some employers' attempts to "help" low-wage workers without actually raising their wages have resulted in embarrassment — McDonalds faced criticism earlier this year for an online guide to budgeting that encouraged its workers to get a second job, and Wal-Mart recently drew cries of outrage when a Canton, Ohio, store asked its low-wage workers to donate food to help its other low-wage workers.
Black Friday on a Thursday
The Wal-Mart protests come as many more stores have rolled Thanksgiving and Black Friday into one. The Associated Press reports:
Macy's, J.C. Penney and Staples will open on Thanksgiving for the first time. Toys R Us will open at 5 p.m., and Wal-Mart, already open 24 hours in many locations, will start holiday deals at 6 p.m., two hours earlier than last year. In recent years, some retail employees and their supporters have started online petitions to protest stores that open on Thanksgiving — but shoppers keep coming.
But such potentially profit-maximizing moves like this may not even be worthwhile. Consumer confidence is shaky this year, and the push to get customers to come out for the lengthened shopping weekend may backfire.
"In many cases, they're doing so much business that provides very little margin that they're really not generating enough business to really be worthwhile anymore," Marshal Cohen, the chief retail analyst with NPD group, a consumer market research firm, told NPR's Morning Edition. "They've only created an even greater level of promotion, rather than what used to be high-volume based on profit margin."
Reuters notes that whether retailers' Black Friday gambits succeed is largely dependent on the wealthiest Americans.
Some say retailers' fortunes depend a lot more on wealthier shoppers who have benefited from rising share and home prices this year.

"There are two sides to the story. If you look at households with over $100,000 of income, those folks are going to spend twice as much as people of incomes under $100,000," said FTI Consulting's Steve Coulombe.
It's a fitting metaphor for an increasingly divided country. New York Times labor reporter Steven Greenhouse yesterday quoted Chardé Nabors, a mother of two who works as a $9-an-hour cashier at Sears in Chicago, and who can't afford a Spider Man doll her 3 year-old son wants.
"I'm here watching shoppers buy all these items, and I'm working to help these people, and I can't even buy my children the same products," Nabors said.
The less Americans are paid, the less they can spend. And as the recovery drags on, Sellers, the California Wal-Mart employee, is quick to point out that low wages aren't helping. "We can't raise our families on these poverty wages," she said. "And we can't support local businesses and the economy without enough money in our pocket."
---
The Huffington Post is aggregating video and tweets on the strikes here.