A new report from the Department of Agriculture released today notes that many Americans continue to struggle to put food on the table. About 17.6 million households — or 14.5 percent — were food insecure last year. About 7 million — or 5.7 percent — had very low food security, meaning some members of the household had to skip meals.
This post by Dr. Mariana Chilton, the director of the Center for Hunger-Free Communities in the Drexel University School of Public Health — and a recent guest on Moyers & Company — first appeared on the Drexel News Blog.
---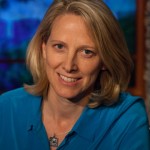 Too many Americans are still going hungry. Proven programs that help are still not helping as much as they should.
Through research conducted at Drexel University's Center for Hunger-Free Communities, we know that food insecurity can have lifelong impacts especially on young children – hunger can impact a child's cognitive, social, and emotional development.  Today's USDA data tells us that 22.7 percent of children under the age of six are living in food insecure households. Almost a quarter of young children in the U.S. could suffer these lifelong impacts.  This becomes especially noticeable upon arrival at kindergarten where children who suffer food insecurity are likely to be unprepared and may never catch up.
The food insecurity numbers released by the USDA have not changed much since 2008. While the problem has not gotten substantially worse, it is also not getting any better.  From our research with Children's HealthWatch we know what helps to solve hunger – programs like the Supplemental Nutrition Assistance Program (SNAP) and Women Infants and Children (WIC).  Young children whose families received SNAP, compared to those whose families were eligible but did not receive SNAP, were less likely to be in fair or poor health, under weight, at risk developmental delays, or to be hospitalized. In addition, children under the age of three who receive WIC are more likely to be in good health as compared to children not receiving WIC.
Despite the positive effect programs like WIC and SNAP have, benefits received by the families are often not enough to ensure they can be food secure.  Families receiving SNAP are scheduled to lose some of these essential benefits as the benefit increase that was part of the 2009 stimulus is scheduled to expire on November 1.  As more than 14 percent of households currently suffer from food insecurity, these cuts will only cause more chaos and suffering.
While funding for such critical nutrition programs continues to be debated, the data from the USDA and our research show that these programs can help to solve hunger in America – if they are accessible and adequate for those who need them.  America can and must do better for the health and wellbeing of its children and families.
Watch an interview with Dr. Chilton on Moyers & Company: