Largely because of a recent money explosion, with billions and billions pouring into our nation's capital to influence policy, Washington, DC, is the richest city in America. It is also one of the most unequal. There are two Washingtons, something that Mark Leibovich — New York Times Magazine journalist and this week's interview on Moyers & Company — acknowledges in his newest book on the city's incestuous elite, This Town. In it, he dubs late Meet the Press host Tim Russert the "mayor" of This Town, but for many living in the DC metro area, Russert's prestigious social status was completely, ridiculously irrelevant, Leibovich writes:
Yes, Russert was the mayor of This Town. To be sure, the "real" city of Washington has an actual elected mayor: black guy, deals with our city problems. But that's just the DC where people live, some of them (18.7 percent) even below the poverty line, who drag down the per capita income to a mere $71,011 — still higher than any American state but much less than what most anyone at the Russert funeral is pulling down. Yes, Washington is a "real city," but This Town is a state of belonging, a status and a commodity.
Income inequality of the sort we see in Washington has been growing in America on the whole over the last few decades. On average, incomes fell by close to 6 percent among the poorest 20 percent of American households between the late 1990s and the mid-2000s but rose by 8.6 percent for the richest 20 percent. The trend in DC, however, has been far worse: over that same short period, the incomes of the poorest 20 percent fell by 18.5 percent, while the incomes of the richest 20 percent rose by 16.3 percent.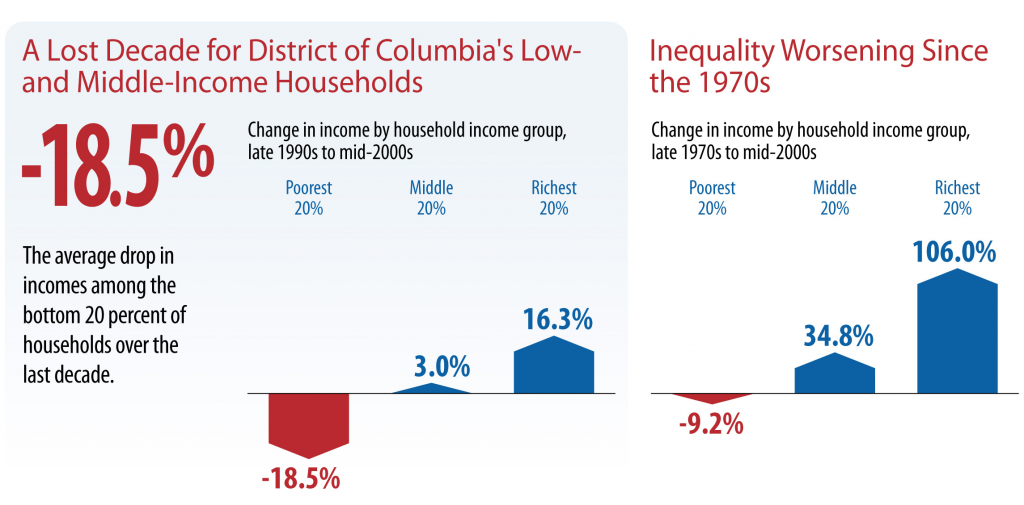 The Fiscal Policy Institute, a DC-based think tank, released a report on income inequality in the city last year. Researchers found that the top fifth of DC income earners made about 29 times more than the bottom fifth. "This wide gap in income points to a city with two economies," report author Caitlin Biegler wrote. "Residents with a college degree largely are thriving in DC's government and information-driven economy. Meanwhile, those who lack higher education have far fewer opportunities for economic success."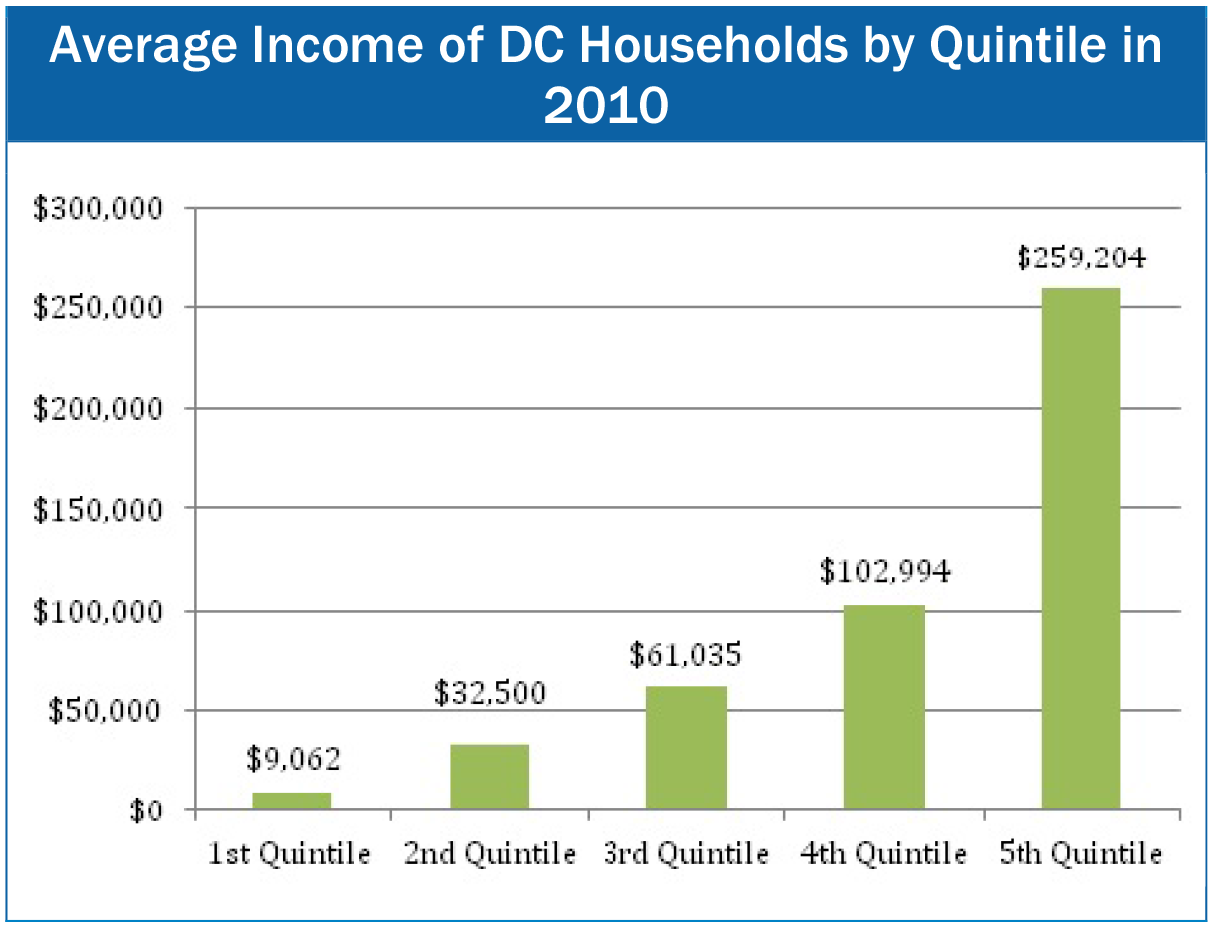 The opportunity gap begins early in life — in this richest American city, 30 percent of children live in poverty. The nonprofit group DC Kids Count found that 45 percent of children live in high-poverty neighborhoods, defined as areas in which child poverty is above 30 percent.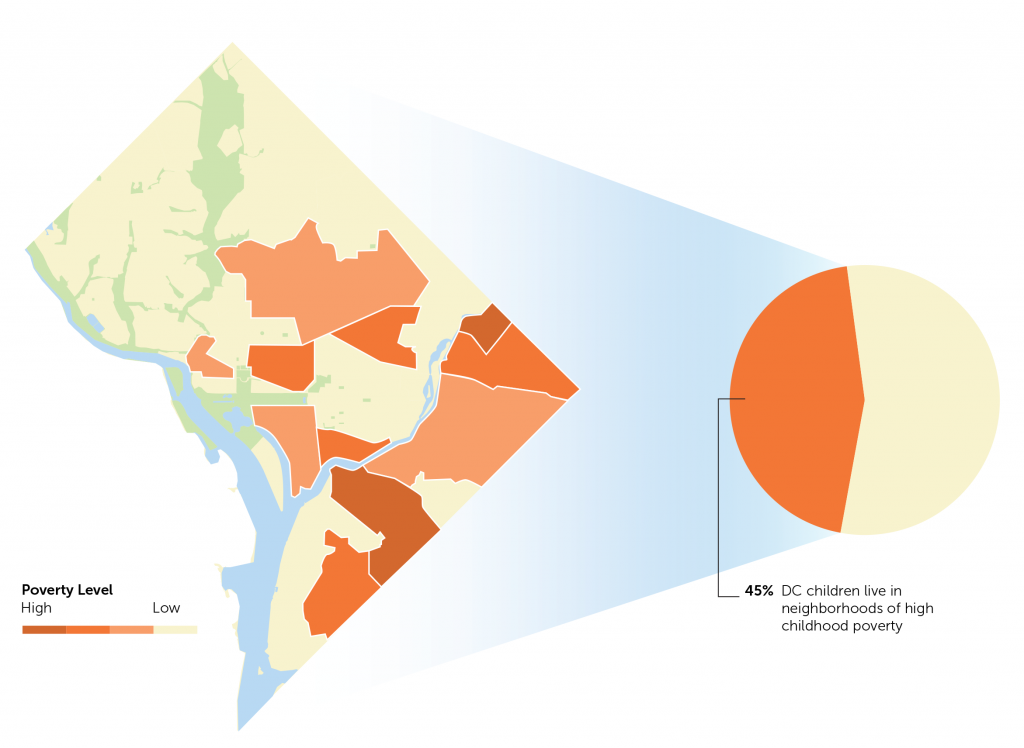 Washington — like many large metro areas today — is astoundingly segregated. After the 2010 Census, programmer and artist Eric Fischer mapped segregation in a number of large cities. His depiction of DC shows the dramatic divide between the northwest city and suburbs (largely white) and the southeast city and suburbs across the Anacostia River (largely black). The city is less segregated than it was in 2000, but the rate of integration is slowing. In this map, each dot represents 25 residents; red represents white residents, blue represents black, green represents Asian, orange represents Hispanic and yellow represents "other."