We're proud to collaborate with The Nation in sharing insightful journalism related to income inequality in America. The following is an excerpt from Nation contributor Greg Kaufmann's "This Week in Poverty" column.
---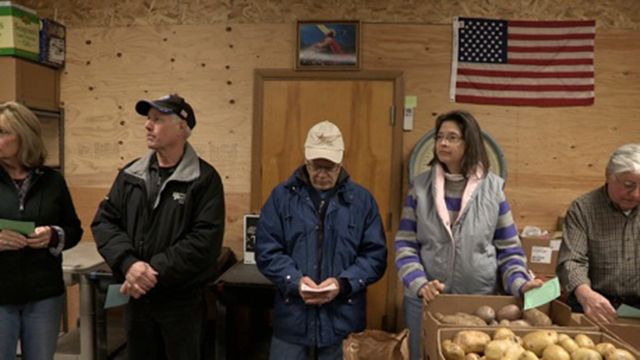 Americans wait in line at a food bank in a scene from American Winter.
A Patriotic Fix for America's Hunger Epidemic
By Michael Shank
"One nation, underfed."
That's the tagline for the new film out by Participant Productions, entitled A Place at the Table, which looks at America's growing hunger epidemic. Participant Media, which produced Lincoln, The Help and Food Inc., does not disappoint with its latest take on what America must tackle. And in light of the March 1 sequester cuts to social programs, the film's timing couldn't be more appropriate.
Table's statistics are overwhelming, but they are intended to overwhelm. Whether it's the 50 million Americans who are living in food-insecure households (which means they are struggling with hunger), or the fact that 1-out-of-2 kids in America will, at some time in their childhood, have to rely on federal assistance for food. This is happening in the richest country in the world, and the problem is only getting worse. Under President Reagan there were 20 million Americans living with food insecurity. We're well over double that figure now.
Table's stories will overwhelm too. Whether it's the 5th grader who is so hungry that she envisions her teacher as a banana and her fellow students as apples, or the single mother of two who finally gets a fulltime job only to realize that she is no longer food stamp eligible, a loss of $3-per-day that puts her family into serious food insecurity. That means her kids no longer have breakfast or lunch at daycare, and her youngest is already developmentally disabled due to improper nutrition. Lest we think she's living large off her new job, food stamp eligibility ended once her salary passed $23,000, a figure hardly sufficient to pay for rent, utilities, insurance and transport, let alone food. (Most Americans are surprised to learn that the parents of hungry children typically have fulltime jobs.) Those who think food stamps breed dependency are wrong. As a child, raised singly by my mom after my dad died early, I too depended on food stamps. For many of us, they are critical lifelines of support while we get back on our feet.
Actor-director Jeff Bridges, who is featured in the film for his fight against chronic hunger, says we're in denial about malnutrition in America, a country that maintains the highest rates of food insecurity in the International Monetary Fund's ranking of advanced economies. The fix could be so patriotic; what could be more patriotic than caring for the nation's children? But Bridges goes further: We would go to war with any country that did this to our kids. How true.
So what's the hang-up? Why is it so difficult to feed America's future properly? When all expenses are accounted for, we spend roughly $1 per child per school meal. One wonders why President Barack Obama couldn't get the $10 billion over 10 years that he wanted to improve childhood nutrition in schools. (Contrast this with the $10 billion we spend monthly on our military in Afghanistan.) In fact, Obama was only able to get $4.5 billion allocated — improving by .06 cents what we spend on children's lunches — and much of that was paid for by siphoning money from the food stamp program. The irony.
The film's producers hold lobbyists particularly culpable here. Congress, for example, had no problem doling out hundreds of billions to bail out big banks, expending hundreds of billions on tax cuts for the wealthy, or even subsidizing tens of billions to big corporate agribusinesses, which is what farms America's soil these days (not the small farms that relied on federal assistance after the Depression destroyed America's crops). And yet Congress claims to have insufficient funds – not even $10 billion over 10 years – to bail out the millions of kids in this country who go malnourished every day.
It's shocking and deplorable. In 1980, we had 200 food banks. Now we have over 40,000 food banks, soup kitchens and pantries, and yet the problem persists. Our government thought charities could pick up the tab. While they're certainly helping with critical lifeline support, they don't have the kinds of resources necessary to take on a crisis of this magnitude — only the federal government does.
Here's a big part of the problem: Fresh fruits and vegetables — largely unsubsidized in comparison to the heavily subsidized corn, wheat, soy, and rice crops — remain out of reach for much of America's poor, both rural and urban. Since 1980, costs for fruits and vegetables increased by roughly 40 percent leaving financially struggling families with little choice when it comes to cheapest calories at the local mini-mart. Junk food is often all that's affordable and accessible, with fresh food markets located many miles away.
But beyond reforming the formidable lobby that prevents Congress from fixing kids' nutrition in America, the film hints at what else is needed. At the end of the day, even if we're funding healthy meals for all Americans and feeding our kids properly, we haven't fixed the root problem of poverty. While we've cut down on long-term healthcare costs — because a better fed population means lower rates of heart disease, diabetes, and blood pressure, all of which will lower the taxpayer burden — a systemic flaw remains: if working American families aren't afforded a livable wage, then we will forever be reacting to hunger, not preventing it.
The first step is to ensure all Americans have access to affordable and healthy food, but the second and simultaneous step is to lift the 50 million Americans out of poverty and the 106 million Americans who live on less than twice the poverty line (less than $36,000 for a family of three). We can start by reversing trade trends, which undermined America's working class through the outsourcing and offshoring of U.S. manufacturing and the erosion of labor protections. We can also reinvigorate U.S. labor policies, which failed to increase minimum wages for the majority of America. The minimum wage is worth less now — adjusted for inflation — than it was in 1968.
The President's State of the Union promises to raise the minimum wage and rebuild American manufacturing is a start, but more is needed. If we want to reserve "a place at the table" for everyone in America, we must first start by making sure that everyone has access to that table.
American Winter Screening and Discussion
By Greg Kaufmann
Since the beginning of the Great Recession, I've been waiting for a documentary to make the case that low-income people and the middle class are now in the same boat — that old distinctions people created to divide them are obsolete, with so many people living near poverty, or an illness, lost job or disaster away from poverty.
106 million Americans, or more than 1 in 3, now live below twice the poverty line — on less than $36,000 for a family of three, forced to make choices between basic necessities like food, housing, health care and education, and with little to no savings to help through tough times; wealth is increasingly concentrated, with the richest 1 percent now possessing 40 percent of the nation's wealth. Certainly the numbers suggest a convergence of interests among the poor and non-rich.
Now, finally, a movie has arrived that shows the precariousness of the U.S. economy for the majority of Americans, refusing to distinguish between a deserving and non-deserving poor: American Winter.
Filmed over the winter of 2011-12 in Portland, Oregon, the documentary tells the stories of eight families, showing the human costs of a frayed safety net and a proliferation of low-wage work. Emmy Award-winning filmmakers Joe and Harry Gantz, creators of HBO's Taxicab Confessions, worked with the nonprofit organization 211info in Portland, monitoring calls from distressed families who were turning to the emergency hotline in search of help. They then followed the stories of some of these callers over many months.
Most of these families never imagined they would be in the situation they suddenly find themselves in, needing support to get through a tough time, and finding that that support just isn't there: a husband loses his job, he and his wife try to support their three kids on her minimum wage work, losing heat and electricity in the dead of winter in order to pay the mortgage; a 50-year-old accountant is laid off and struggling to care for his 10-year-old son who has Downs Syndrome, now faces the loss of his ranch and sole asset to provide for his son's future; a husband loses his $22-per-hour job, and his wife and their two sons turn to a women's shelter for assistance; a college educated woman is laid off and so she sells scrap metal and donates plasma to help support her family of five — even after she finds minimum wage work; a woman's husband dies, and she and her 11-year-old son can't keep their home — they sleep in a garage and in their car before ending up in a shelter; another mother has to take three months off of work to care for her daughter who is hospitalized with a stomach condition — she's stuck with a $49,000 bill that insurance won't cover.
"Forget the dreams, how do we make it to tomorrow?" says a father. Laid off from the credit branch of a car company, he and his wife lose their home to foreclosure and now struggle to provide their kids with the basics. "Tomorrow's the dream. This dinner is the dream. You can turn the water on, turn the lights on — that's a dream."
Woven into the film are interviews with local economic experts, policy analysts, religious leaders and social workers, all of whom provide context for the families' stories.
"If capitalism is not regulated or checked, there is a harsh logic and it will always seek out the lowest costs, highest return, which is why we have historically viewed government as a check and a balance on that," says Portland City Commissioner Nick Fish. "Over the last quarter century, we have reduced regulations, degraded wages, cut back on health care, we've reduced taxes, and now people are more vulnerable…. We have a one strike and you're out economy."
As we now begin sequester cuts that will further strain supports to working families and families that are unable to work, this is a timely movie to say the least.
I'm very pleased to be moderating a great panel following a screening of the film at the Economic Policy Institute (EPI) next Thursday. The panel will include filmmakers Joe and Harry Gantz; Diedre and Jalean, a family featured in the film; Elaine Weiss, national coordinator of the Broader, Bolder Approach to Education; Algernon Austin, director of the Program on Race, Ethnicity, and the Economy at EPI; and Mariana Chilton, director of the Center for Hunger-Free Communities at Drexel University School of Public Health. Senators Sherrod Brown and Jeff Merkley have also been invited.
---
| | |
| --- | --- |
| | Greg Kaufmann is a Nation contributor covering poverty in America. He has been a guest on NPR, including Here & Now, Your Call, Radio Times with Marty Moss-Coane and various local radio programs including the Matthew Filipowicz Show. His work has also appeared on Common Dreams, Alternet, Tikkun.org, NPR.org, CBSNews.com and MichaelMoore.com. He serves as an adviser for the Economic Hardship Reporting Project. |
---
| | |
| --- | --- |
| | Michael Shank is a senior aide to a Democratic member of Congress and a professor at George Mason University's School for Conflict Analysis and Resolution. |